When engaging in sporting activities, knee sleeves are a must-have accessory. The main reason for having them is to prevent injuries. For nearly all athletes, knee injuries including runner's knee, torn cartilages, and ligament injuries is a big setback. The sad thing is that injuries happen when we least expect them. A major concern for every athlete is what he or she can do in such cases to protect their knees. To begin, Knee sleeves for Running are elastics bands that slide over the knee compress the joints providing protection and relieve knee pain. Knee sleeves are made from synthetic materials such as nylon and spandex, which allows mobility and motion, which you need as an athlete.
There are hundreds of available knee sleeves currently available on the market. This makes it daunting for running enthusiasts to find the best product. Besides, the unfamiliarity with using knee sleeves makes it challenging finding the best sleeve. If you are in this fold, however, the guide in below outlines some of the best products available in the market and a detailed guide on how to pick the right one.
Benefits of Knee Sleeves For Running
Best knee sleeves for running provide the following benefits;
Warmth- Knee sleeves provide warmth to ligaments reducing the chances of inflammation.
Increased blood flow- When working out, blood flow is needed for oxygen circulation. Knee sleeves provide a healthy flow of blood to the muscles allowing you to work out more without winding up.
Patella stability- Knee sleeves reduce the movement of the patella by compressing the knee. This helps in injury prevention and shock absorption.
Increased proprioception- Sleeves allows you to be aware of joints movements. This helps in to prevent any injury.
11 Top Pick Knee Sleeves For Running
1. Mcdavid 4-Way Seamless Knee Sleeve
The McDavid 4-way seamless knee sleeve is one of the best knee sleeves to spend your money on. The sleeve is designed with materials, which not only protects you from injuries but also provide mild relief pain. McDavid is designed with nylon and other materials, including combined spandex, which provides it with elasticity. It is also streamlined to ensure comfort, stability, and flexibility.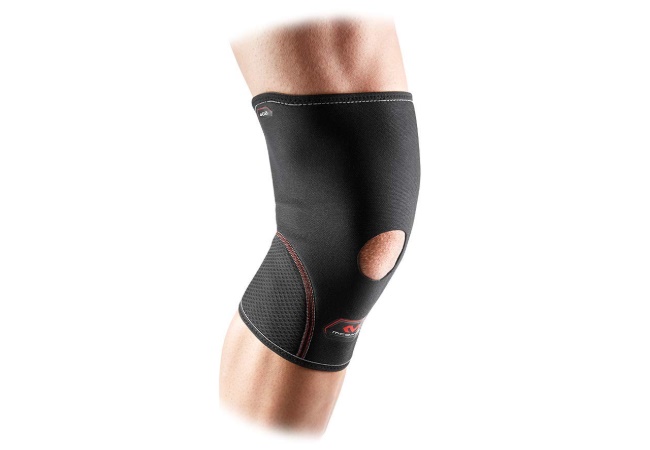 PROS
Anti-slip design offering required compression for workouts.
Lightweight.
Durable.
CONS
Difficult to size.
Loses its grip after several washes.
2. Mava Sports Knee Support Sleeves
The Mava Sports knee support sleeves are flexible suiting a variable of sports. It is lightweight, thus can be worn every day. It is anatomically shaped to ensure perfect injury prevention and helps to speed up the healing for those with problematic knees. The sleeves are best for those with arthritis and joint pain relief. The sleeves can also be used for gym workouts, weight lifting in other physical activities.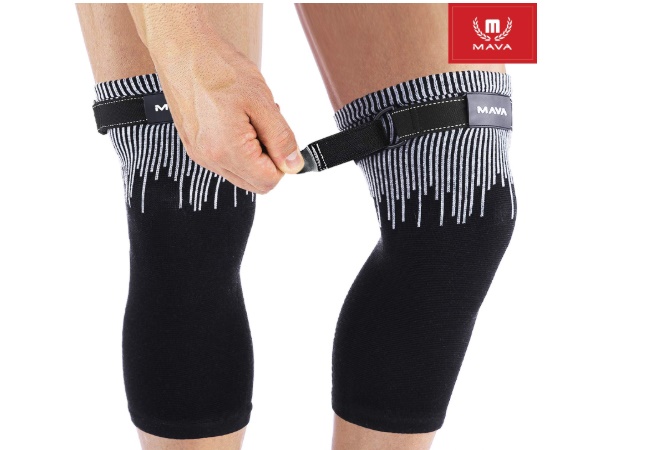 PROS
Durable thus offers stability for all kinds of workouts.
Inexpensive.
Provide excellent compression, providing better performance.
Relieves pains caused by arthritis and strains.
Available in a variety of sizes.
CONS
Lose support after several washes.
Difficult to size.
3. The Powerlix Compression
If you are looking for a best knee sleeves for recovering and supporting your knee,the PowerLix compression is the best choice. The PowerLix Compression sizes come in between 11"- 25".the brand is crafted to improve blood circulation and to provide joint stability. The silicone gel makes it possible to stay in place with anti-slip. PowerLix compression comes with a four-way compression system for better mobility and support.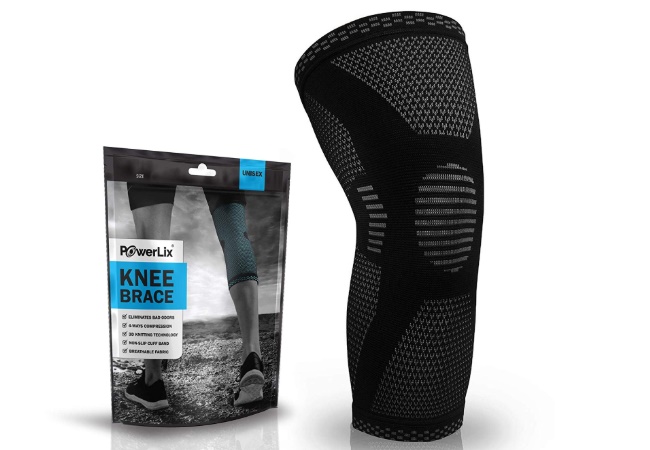 Features
Lightweight for everyday workout
Sweat absorption keeping your leg dry
Waterproof preventing your legs from becoming wet
Anti-slip material
PROS
Comfortable to wear all-day.
Stabilizes the knee helping you to relief pain.
Ant-slip thus fitting.
Lightweight.
CONS
Difficulty in choosing of size.
4. Ultra Flex Knee Compression Sleeve
The Ultra Flex athletics knee compression sleeve is specifically made for runners. The sleeve contains a double-padded silicone gel anti-slip that holds it in its place. The sleeve is also among the best knee sleeves for arthritis due to its patent features. This condition involves wear and tear of the knee cartilages that often acts as a shock absorber. Ultra Flex knee compression sleeve is best for mild arthritis pain during exercises.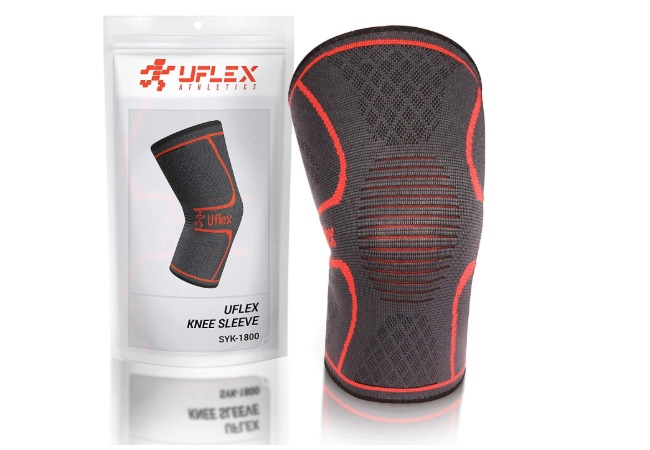 PROS
They are inexpensive.
Durable.
Anti-slip silicone which holds the sleeve in place.
CONS
Too tight for muscular thighs.
Sizing the sleeve is hard for some people.
Requires underpants wearing when you wear it every day.
5. The Donjoy Knee Brace
When choosing a reliable knee brace for football, the DonJoy knee braces are an excellent choice. An option from the variety of knee braces offered is the DonJoy Legend SE-4
The distinguishing feature of the DonJoy knee brace is its strength. The aircraft-gradee aluminum is used, making it strong. The brace is also coated with Kraton, which ensures its durability.
The brace contains Velcro for adjustments and comes with heavy end elastic nylon straps ensuring a more secure and snug fit. It offers support for severe cases of ACL. The DonJoy knee brace can be used in other activities demanding contacts. The universal design makes it suitable to be used by both genders.
PROS
Strong due to the aircraft-grade aluminum used.
Can resist rust, corrosion, and chips.
Prevent knee subluxation.
Can be used by both genders.
CONS
Time-consuming to put on.
6. Cambivo 2 Pack Knee Brace.
The Cambivo 2 pack brace is designed to provide support and pain relief. They are best knee compression sleeve for meniscus tear. Injuries to the meniscus are very painful and slow you down when working out, especially when you love being active.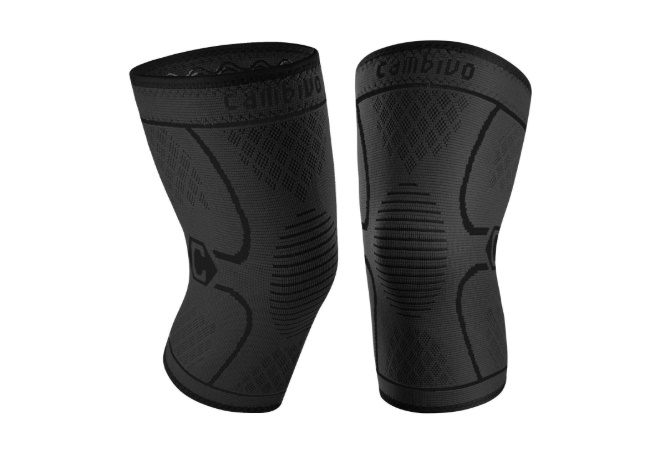 Another best future about the Cambivo 2 pack brace is the ability to support swelled knees. It provides tight compression of the knee, which makes it the best choice after surgery physiotherapy.
It's made up of nylon and premium latex, giving it a great elasticity. The brace has non-slip material keeping it firmly to the knee regardless of the activity. They are easy to wear and remove and don't require straps to loosen or tighten them.
PROS
Anti-slip.
Various sizes.
Lightweight.
CONS
Difficult to choose size.
7. Sable Knee Brace Support Compression Sleeves
Sable knee sleeves are designed to offer maximum compression in the knee area. They are tight to ensure they remain firmly in the knee. Despite its tightness, they are soft and does not irritate the skin.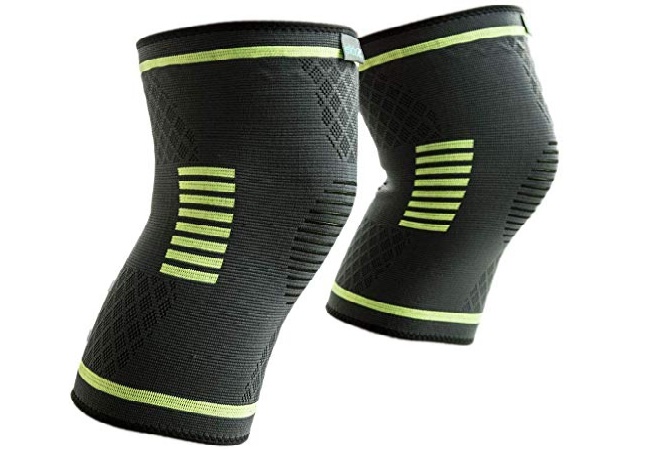 They are recommended when recovering from knee injuries or when experiencing arthritis. They are tested and approved by the FDA; thus, you don't need to worry about its ability to deliver.
The sable knee sleeve helps prevent inflammation and has an anti-slip material, which ensures it fits in the right place. It easily absorbs sweat keeping it dry and reducing odors. Due to this, it can be used for workouts, volleyball, running, and other physical activities.
PROS
Lightweight.
The anti-slip design thus fitting.
Various size.
CONS
Tears after washing for a long period.
It loses its elasticity over time.
8. Bauerfeind Sports Knee Support
Bauerfeind provides knee stabilization that is required in fast-paced sports. It has an air knit fabric, which allows easy movements. It also helps in breathability. For heavy sweaters, it is designed to absorb and expel moisture normally experienced with long training periods. Due to its accompanying features, it is the best knee sleeves for Crossfit.
PROS
Durable, breathable and washable.
Non-slip design.
Kneecap stabilization and pain relief.
Various size range.
CONS
Its various sizes changes make it difficult to choose.
9. Blitzu Flex Plus Compression Knee Brace
The Blitzu flex plus compression knee brace sleeves are among the highest-rated knee sleeves. They are ultra-durable and have a reinforced patella stabilizer. This sleeve comes with a lifetime warranty and it can be used not only for running but also for other daily activities. Both men and women can use the sleeves and help you recover faster and reduce pain.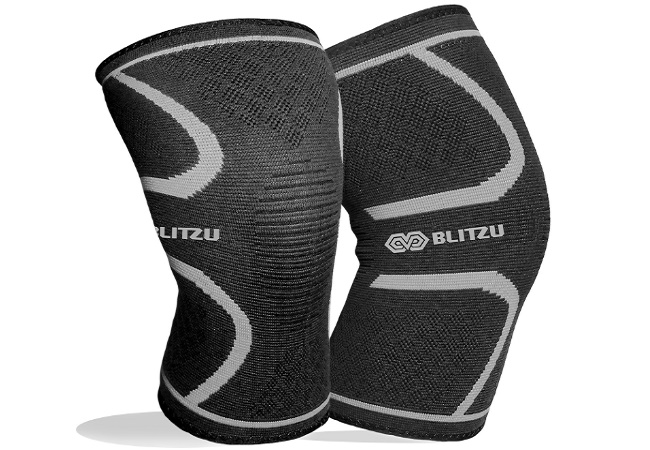 Features
Reinforced patella stabilizer– The patella stabilizer holds the patella in position and stabilizes the ACL and PCL ligaments. It has a heating effect which improves circulation and muscle recovery.
High-grade quality – Blitzu sleeves are made of power+ fabric. It is antibacterial, 100% UV protection, and moisture-wicking.
PROS
They are comfortable to use.
Helpful for sore knees.
Available in different sizes.
10. Alvada Knee Brace Compression Knee Sleeves
Alvada sleeves are designed to reduce pain and inflammation. They have optimum compression encouraging blood circulation. The sleeves are best for running, lifting, skipping, and jumping. The sleeves come with a low price, and you will not have to worry about durability as the sleeves are durable and you will not.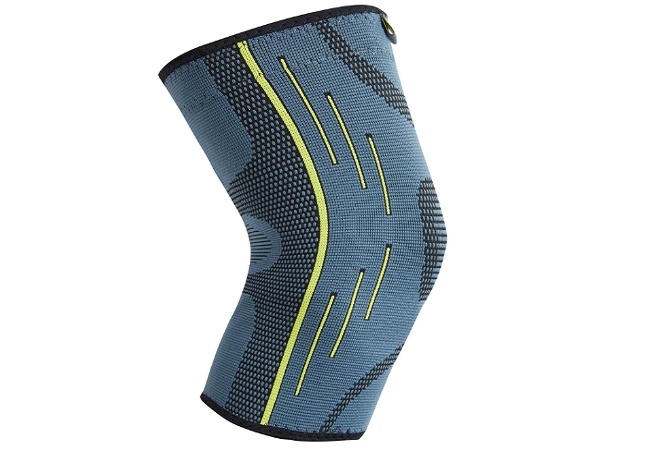 PROS
Helpful in dealing with arthritics.
Reduces inflammation.
Various sizes.
CONS
Size choosing is difficult.
11. Nike Closed Patella Knee Sleeve
Best Knee Sleeves for Running, check out the Nike closed patella knee sleeves that are breathable sleeve designed with ventilation construction to provide you with comfort. They are lightweight, allowing excellent airflow and the quick-drying feature prevents the sweat from accumulating and reducing odor. It is also designed with an easy pull-on that is flexible, making it easy to wear.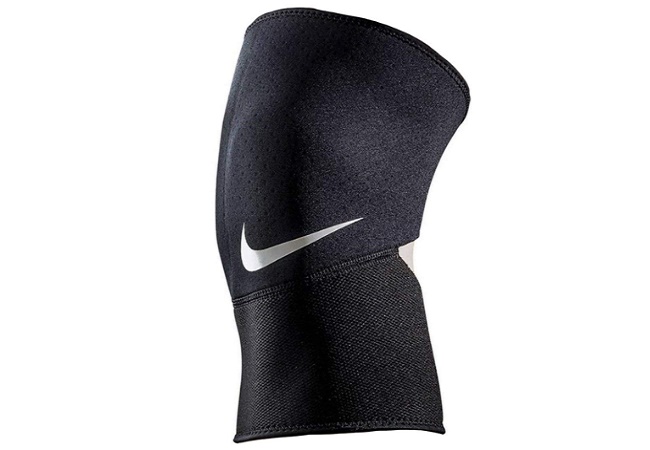 PROS
Lightweight, comfortable, and breathable.
Easy to pull on design.
Ventilated and machine washable.
It easy to wear.
Provide more support to the kneecap.
CONS
It can cause knee injuries by applying pressure to the patella while working out.
How to Choose The Best Knee Sleeves for Running
Shopping for knee sleeves for running might be a problem for many people, especially beginners. When choosing a knee sleeve to buy, you should take into account your expectation about the sleeve and what you intend to use it for. That said here is a guide on what to look for when shopping for a knee sleeve for running.
Padded Vs. Un-Padded
When searching for the best knee sleeve, you have to decide between padded and unpadded sleeves, especially when for basketball players. Padded sleeves are sleeves made with extra padding, which helps to absorb impact when falling while unpadded running sleeves are standard sleeves.
That said, which one should you buy? It all depends on your personal preference. If you feel like padded sleeves are good for you, go for them. Padded knee sleeves are the often the best knee sleeves for basketball.
Size
Before making any purchase, make sure you have the right size. The sleeve should not be too tight preventing you from moving freely and limiting blood flow and should not be too loose, which will not provide any benefit. When measuring your knee sleeve, measure the circumference of your calf, knee, and ankle while standing.
Level of Protection
When shopping for braces, the level of protection is a factor you have to consider. You may want to buy a brace that protects you without worrying about injuries.
Knee braces for running have different levels of protection that vary from 1 to 3+. The level 1 braces provide less protection. Despite its low level of protection, they are very flexible. Level 2, on the other hand, provides more protection than level one but are not as flexible as level 1. Level 3 braces provide more protection compared to the other two levels but are known to be heavy and limit your movements.
Types of Knee Sleeves
There are two main types of knee sleeves. They include:
Open knee sleeve : The open knee sleeve has a hole in the center. The sleeves support the kneecap and provide relief to knee pressure.
Closed knee sleeve : The closed knee sleeve is the same as open knee sleeves except that they lack the hole in the center. The closed knee sleeves work like other sleeves.
Built-in Stabilizers
Some sleeves that have extra mechanism besides the sleeve itself. The sleeve is suitable for those who have undergone knee surgery or recovering from knee injuries as they provide crucial stability and support.
Conclusion
When engaging in any sports, it's advisable to protect your body from injuries. If you are an athlete or run on a regular basis, it is better if you wear knee sleeves. Knee sleeves are designed to give support to the knee and protect it from injuries while allowing free movement. Nevertheless, knee sleeves can help you recover from injuries or pain. When choosing a knee sleeve to buy, take into consideration the size, level of protection, durability as discussed above. Mcdavid knee sleeve and Mcdavid knee pads are among the best choices.