Dinosaurs are gone but mosquitos are still roaming almost every corner of the earth from an era predating the dinosaurs. So, sometimes it seems like we are not paying as much attention as they deserve (unless there are pandemics like zika virus or dengue fever outbreak). During these outbreaks, people declare war against them literally! Now, you might be living in an area where the situation is not that extreme right now but it's prudent to explore some options to control if not completely exterminate the mosquito population of your locality.
Among many other measures like mosquito coil, aerosol spray, bug zappers, fogger machines, mosquito repellents, etc. mosquito trap is a comparatively new one and less hazardous too. Because insecticides are also harmful to humans. Mosquito traps utilize the biological features of the mosquito to attract and kill them. Hence, it causes minimum pollution. There is a broad range of products having different mechanisms and effectiveness available in the market. So, take a look at some options before buying one.
Main Types ofMosquito Traps
CO2 Traps
These types of traps emit carbon dioxide from artificial sources to imitate human breath and mosquitos can't resist it. The carbon dioxide is stored in a cylinder and the gas is released when the unit is on. Insects can detect the presence of this gas from a long distances. Once they are in the vicinity, they get sucked in by a vacuum and trapped inside.
H2O Traps
As water bodies are the potent breeding ground for mosquitos, the air rich in humidity can lead blood-thirsty female mosquitos inside the trap and once inside they get trapped or drowned. This type of trap is the safest and most eco-friendly device. It is also very effective as well as inexpensive.
Heat Traps
From a distance of ten feet, mosquitoes can sense body heat. This is more effective in a humid environment. Heat traps utilize this phenomenon. They are very effective and they can cover a wide area, almost 2 acres. You can also install them safely inside the house. However, these are complex equipment and hence, rather costly.
UV Traps
The mosquito can see the visible light. It has special eyes called "compound eye". Actually, it is the composition of many eyes. The UV traps attract the bug by a source of UV light inside the trap which is surrounded by a high voltage net. In some units, the light source oscillates at frequencies proven to be attractive to mosquitos. This trap is by far the safest among others effective when placed indoors. You can hang it on your wall and forget about it. It's very low maintenance and easy to set up too.
The only downside is that they also kill good insects too which is bad for the environment. It's not suitable for a large open area with lots of mosquitoes. Apart from that, it's cheap, releases no foul gas or odor, and is easy to operate, a very good choice for indoor use.
Propane Traps
These types of traps are for outdoor use and most expensive. Propane traps have propane tanks and most of the time, a built-in power supply for cordless outdoor operation. They burn a small amount of propane to generate heat, moisture, and CO2. Since they release multiple attractants, it is a sure kill. When mosquitos come near the trap they get sucked by the silent vacuum pump of the machine. This trap can cover a huge area and attract insects from far away.
What Really Attracts Mosquitoes?
All mosquitos are not a bloodsucker, only female mosquitos are. They need special protein from the blood of a warm-bodied animal to reproduce. So, generally male mosquitos won't get attracted by humans.
As mentioned earlier, there is a number of factors the scientists have determined to be factor attracting the female mosquitos towards the prey. Primarily, mosquitoes can detect carbon dioxide released from a person's lung along with 340 different chemicals by their antennae. Octenol is one of those chemicals releases from human perspiration. This chemical also attracts mosquitoes. The mosquito has maxillary pulp as which is sensitive to heat, helps to locate warm bodies near it. The mosquito can also see through its compound eyes in the visible light spectrum. So, both heat and light can lure the mosquito into the trap.
Water bodies are the breeding ground of mosquitoes. So, humid air is also a matter of interest for mosquitoes.
One other interesting fact is that the mosquitos especially like biting the person shortly after consuming beer. Also, scientists have suggested that some people are more attracted to insects than others due to their genetics. If you are staying in a rural area, you will find that mosquitos are more attracted to cows than humans!
Indoor Mosquito Traps or Outdoor Only?
Mosquitos can hide inside your house during the daytime and hence only outdoor units can't destroy all of them. Indoor units are cheap and have small area coverage. They use heat or UV light to lure the insect and for the best result, leave the room or the mosquito will target you instead of the trap.
Most outdoor units emit a significant amount of CO2 gas and sometimes moist air to draw the insects near them. They can be cordless or with a power cord and cover acres of area. But they are not very effective near water sources. Besides you have to put them in a strategic place to get better results. It takes almost six to eight weeks to produce noticeable change. So, you have to be patient and willing to experiment for the best outcome.
7 Best Mosquito Traps For Indoor & Outdoor
1. DynaTrap Insect Trap (DT2000XL) Mosquito Traps For Indoor Usages
DynaTrap is a quite popular brand among mosquito traps. This trap is literally a silent killer as it operates rather quietly. There is not even a zapping sound as it keeps the insects locked inside by its fan where they die from dehydration. The area it covers would be 1 acre. It only emits CO2 and has two powerful fluorescent UV lights to lure the insect.it is designed to work inside or outside and it's completely weatherproof.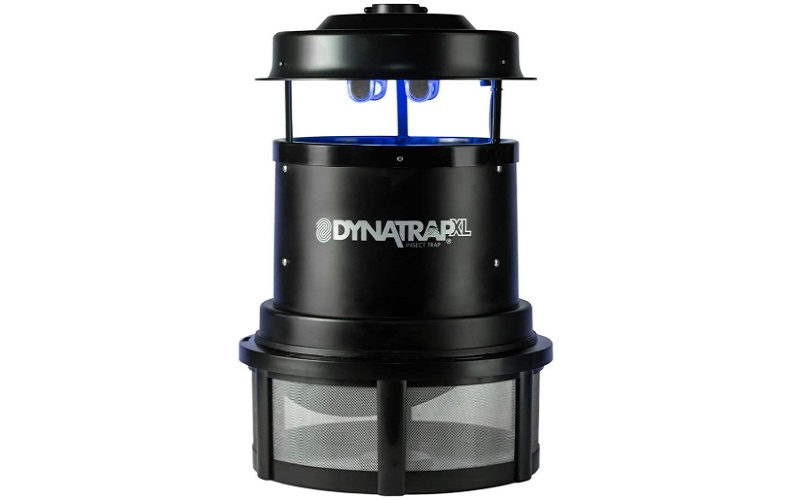 PROS
Very effective.
No hazardous chemical involved.
Silent.
Large area coverage.
CONS
No built-in power source. So, can't be place far from wall outlet.
Power hungry.
2. DynaTrap Insect Trap (DT1050) Mosquito Traps For Indoor Usages
This is a cheaper model with less area coverage (like1/2 acre). But it is quite effective and has three baits: CO2, UV light, and a little bit of heat from the lights. There is a power cord attached for the power supply from the mains. It is suitable for indoor as well as outdoor use and it's weatherproof. For long life, you have to clean thoroughly the inside and fan as well every 4-6 months.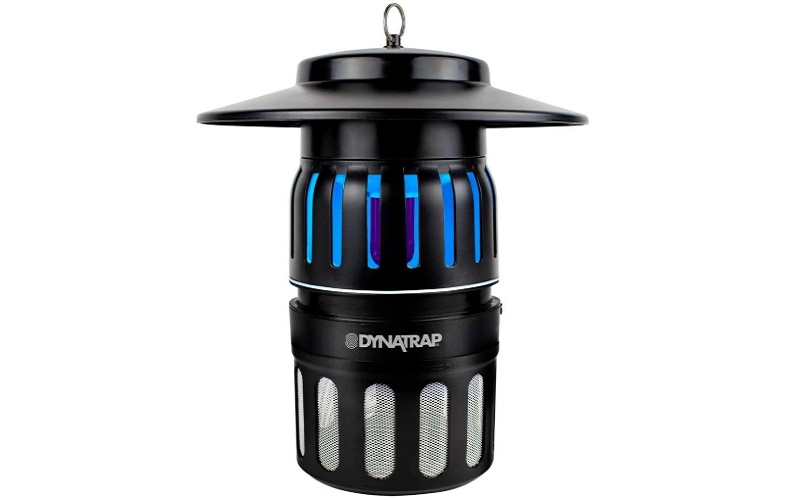 PROS
Chemical free.
silent and unobtrusive.
Effective.
Cost.
CONS
Large electricity consumption.
Limited distance from the power outlet.
3. Mega-Catch Pro 900 Ultra Mosquito Traps For Indoor Usages
This is one of the best outdoor traps you can think of. Mosquito-Attracting-Stimuli (MAS) settings help you to adjust finely the attractant emission and target specific species of mosquito. There is also a programmable timer and onboard diagnostic packages for self-service. Customer service is also excellent. The main feature of this trap is the hi-tech lighting system to attract insects. It doesn't just shine but oscillates at a specific frequency.
The CO2 canister is optional and it is claimed that it will increase the capture up to 400%! The operating voltage level is 12 volts and there is a universal (works both on 120 volts and 220 volts) weatherproof power supply. It will cover an area of 1.5 acres.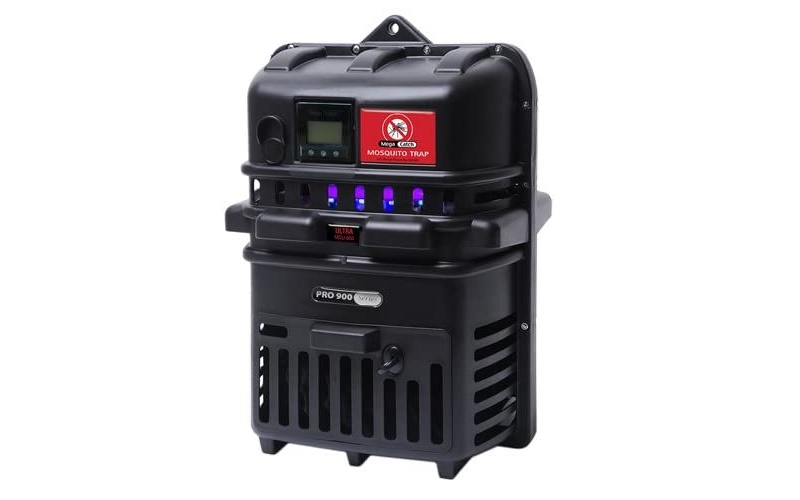 PROS
Superior performance.
Wide area coverage.
Chemical free.
Universal power supply.
CONS
A little bit complicated.
Power cord .
4. MOSQUITO MAGNET MM4200B Patriot Plus Mosquito Traps For Indoor Usages
It's a propane trap for a large open area. Although it uses a power cord, it's 50 feet long. So, you get the freedom to place it in a suitable place. It combines CO2, heat, and water vapor generated from propane burning with secondary attractants. Once the insect is in the vicinity, it is sucked by the fan of the trap. Its counterflow technology stops sucking its own CO2 by its fan.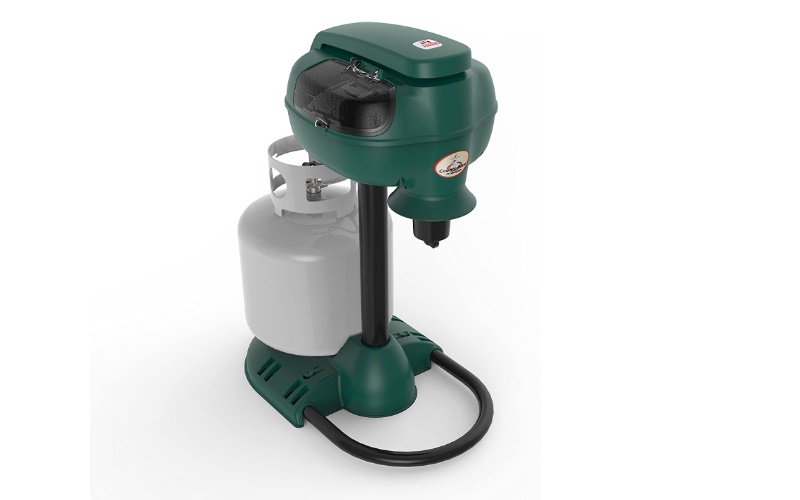 PROS
Long power cable.
Multiple attractants increase performance.
Innovative technology.
Covers up to 1 acre.
CONS
Doesn't deliver expected performance after repair in case of break down.
Bad customer service.
5. DynaTrap DT3019 Mosquito Traps For Indoor Usages
This sleek-looking device lives up to its expectation. This trap shines warm UV light to attract the annoying insects and they get stuck on the non-toxic glue card. It will easily cover 600 square feet area but remember not to obstruct the light source. The best result is expected when it is placed close to the floor. It has two AC outlets to provide power for other devices.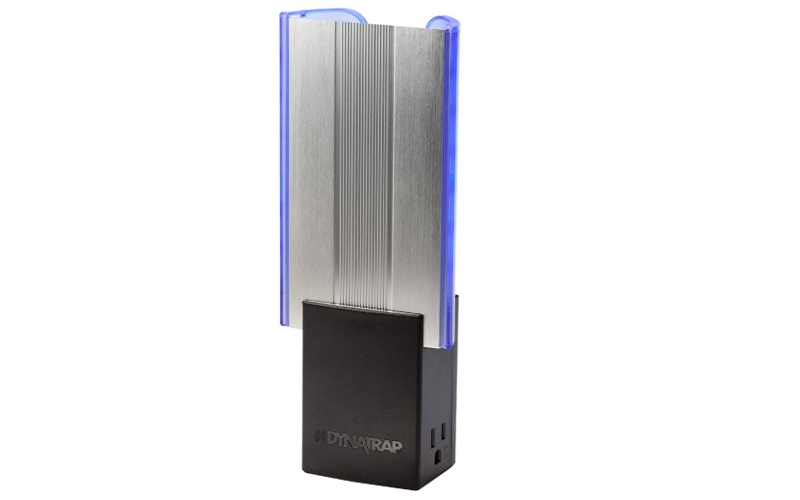 PROS
safe for indoor use.
Kills mosquitos as well as other insects like fruit fly and gnat.
Extremely quiet.
No chemical involved.
UV light is warm and doesn't feel disturbed at night.
Additional AC outlet facilitates other devices during operation.
Low power consumption.
CONS
No on/off switch.
Glue card has to be replaced after 3 months. You will get 3 glue card free during purchase.
6. Aspectek Bug Zapper Mosquito Traps For Indoor Usages
This is one of the proven and trusted insect traps that performs as expected. It's not perfect but provides some comfort from the insects. This trap has two UV light tubes and a high voltage grid surrounded by a protective net. It's very simple to install and maintain. Dead insects are collected on the removable plastic plate at the bottom and it's easy to clean afterward. You can hang it from the wall with the built-in chain or put it on a hard surface.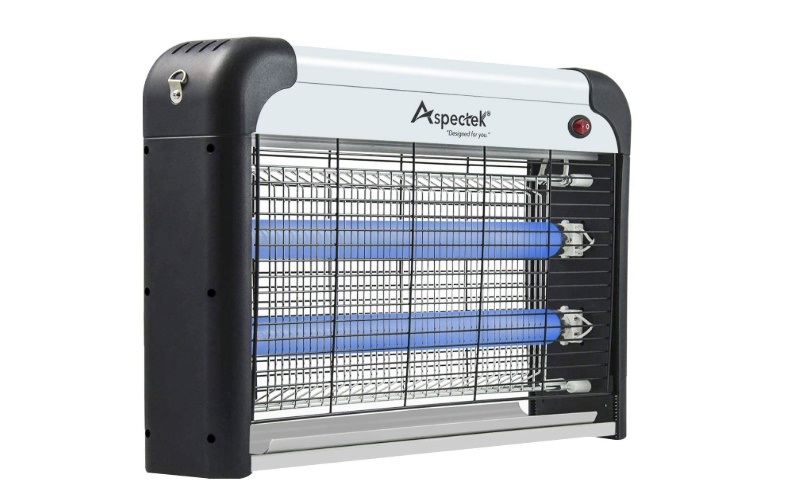 PROS
Low energy consumption (20 watt).
Safe for use.
Easy operation and maintenance.
Powerful high voltage grid kills.
CONS
Noisy (zapping sound).
Short power cord.
7. Flowtron BK-15D Electronic Insect Killer Mosquito Traps For Indoor Usages
This is not an indoor type device and it is advised by the manufacturer to place it not within 25 feet range of human presence. Along with 15 watt UV light, it incorporates Octenol cartridges for attracting bugs. Complete weatherproof and rugged outer casing made from polycarbonate.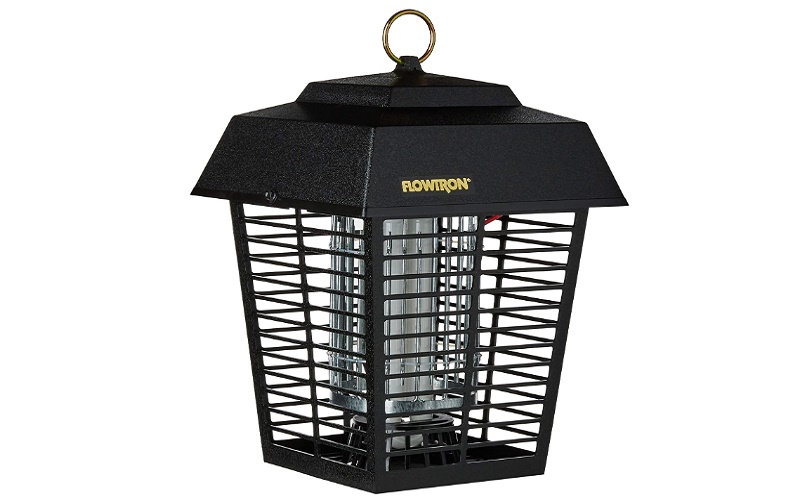 PROS
Low operating cost (negligible amount of Ocetanol required).
Energy efficient.
No pollution.
½ acre area cverage.
Specially designed high voltage grid doesn't get clogged.
CONS
Noisy (zapping sound).
Ocetanol cartridge has to be replaced every month.
How Do Mosquito Traps Work?
You may have experienced at some point that it's very hard to kill mosquitoes by hand. Even if you use fly swatter or bug zappers, it's not possible to make a kill every time. This is because evolution has perfected its biological features and made them the ultimate survivalist. They have rather powerful and accurate biological sensors and special compound eyes to detect the prey and react at the slightest sight of movement. Also, they can fly and land more efficiently than the latest fighter jet that exists today!
The first challenge for any mosquito trap is to attract the mosquito and trick them to think the trap is their pray. Mosquitos are attracted to their pray by a number of factors like body heat, chemicals emitted from the breath and body sweat, etc. and the traps use these markers artificially to lure them into death.
Once the mosquito comes closer to the trap, the next stage is killing. This part is relatively easy. High voltage nets or water traps or sticky tape will do the job. High voltage nets have two separate mesh wires and high electrical voltage is applied between them. When the insect touches them both, it completes the circuit and the insect gets electrocuted. It's the same principle of a bug zapper. Although there is high voltage involve, it's not lethal to humans or big animals, only to insects.
In the case of a water trap, the container of the trap has a mixture of water, liquid soap, and soda. Liquid soap breaks the surface tension of the water. So, when an insect fall on the water surface it drowns. Soda vapor attracts mosquitos.
Sticky tape makes the insect stick to its surface. This method is the least effective one because dust accumulates easily on the surface and it stops functioning.
Some traps just keep the mosquitos contained inside the trap and blow air to dehydrate and eventually kill them.
One thing you should know is that no matter how effective these traps are a mosquito trap alone cannot solve the problem entirely. The most effective mosquito control program associates measures like reducing the mosquito breeding grounds, keeping the grass and plants trimmed, deploying fish and other insects like dragonfly as they are the natural predator of mosquito larva, and treating the water sources like ponds appropriately. Besides these, there are dozens of different species of mosquito live in a locality and each of them exhibits unique characteristics. Some species even prefer birds or frogs to humans. So, it's simply not possible for a single trap to eliminate all of them.
In short, you will find verities of traps deploying different strategies. Not all of them function perfectly and consistently but some of them will keep out the bugs from your yard or home on a scale. In a scientific study, it was revealed that some commercially available units can kill thousands of insects per night. At this rate, the local population of mosquitoes will completely collapse within two months. So, it's definitely worth trying.
What to Look For When Buying a Mosquito Trap?
There are about 3,500 different species of mosquitos in the world and each possesses unique taste and behavior. So, a good amount of research work is involved to buy a suitable trap otherwise even the best trap will fail to deliver the result.
If you love to spend most of your time in your yard, you should try to reduce the insect population over an extended period. In that case, powerful propane traps or other CO2 traps are advisable.
A smaller trap is recommended when you are not very frequent in your backyard. The heat or UV light and not necessarily CO2 trap will suffice.
When you are bothered by the mosquitos inside your house, the outdoor unit will not be of much help. There are plenty of indoor items that are efficient and affordable.
You should also be concerned about the budget. Large outdoor units consume a significant amount of electricity. Besides propane traps need propane refilling every month. So, apart from the initial investment, don't forget about the annual cost. If you are on a tight budget, indoor traps are suitable for you.
After sell service is also an important factor if you are about to buy an expensive one. Those traps are quite high end and troubleshooting can be rather complicated. There are many famous brands whose traps work fine but customer service can be disappointing.
In conclusion, you should look for more versatile features, effective and consumer-friendly design, proven reliability, and of course the money you have to pay initially and annually.
Frequently Asked Questions (FAQ)
Are Mosquito Traps Safe for pets and human?
Both indoor and outdoor traps are pretty safe for you or your pet. But there are a couple of things you need to be careful about. If the trap has any high voltage source then be careful not to put your finger inside. The sock it delivers is not lethal but it can be painful.
Also, the propane tank should be handled with care. Do not put it near the flame. Be sure not to put the outdoor type trap inside your living room.
Do Mosquito Traps Work?
Although it's not 100% accurate, it can be beneficial if other measures are adopted besides the trap. There are other factors like the size of the population, location, and habit of the specific mosquito which affect the performance of the trap.
If you are living near a major breeding ground then things might get worse. The long-range trap will lure more insects from the distance. The indoor units work best when you are not inside the room. Also, outdoor units deliver the best result if combined with other eradication methods and you must place them downwind.
Where Should You Put Mosquito Traps?
As mentioned earlier, the outdoor unit should be placed downwind. Also, dark and humid places are ideal. If there is a source of standing water or dense vegetation, place the trap near these locations.
Inside the house, you can mount them on the wall and away from the illuminated area.
When mosquitoes are active and it is the best time to strike?
Although some species of mosquito are active in daylight, most of the mosquitos are nocturnal. So, the trap functions best during dusk time.
How to clean Mosquito Traps?
Each model has a unique design. So, you have to consult the manufacturer's literature for this issue. Normally, you have to wipe the nets and vents with a cloth to avoid clogging. Some units may require thorough washing.
Do I need any extras (fuel, insecticide, etc.) when buying a mosquito trap?
This also depends on the model you want. The CO2 type trap has a gas canister to reserve gas and for the first time, it is free. But when it is empty, you have to buy the gas. Also, extra attachments like a propane tank, Octenol, etc. have to be brought separately.
Final Thoughts
Mosquitos are a real threat to you, your children, and your pets. They transmit diseases like dengue, malaria, zika, chikungunya, and more. There is no vaccine for most of them and hence you have treated the mosquito problem seriously. There are many other options for killing mosquitoes or repel them apart from mosquito traps. But most of them pose health hazards and sometimes they fail to meet the expectation. Mosquito traps are new additions and they won't exterminate mosquitoes 100% either. But they emit no pollutants and many studies have shown them to be effective to some extent.
The war against the mosquito is a tough one and you have to be vigilant, inquisitive, and willing to experiment and explore new options.