Enjoying yoga practice is not fully dependent on your mat. However, it is a prerequisite requirement for practicing yoga. There are two reasons as to why you are reading this article. First, the communal yoga mats provided in the studio are no satisfactory for beginners, or you have never used a yoga mat, and looking to find one.
For both reasons, you are in the quest for finding the best yoga mat for beginners. For novice yogis, the several models, brands, and types of yoga mats make it challenging to find the best. Besides, there are several qualities to consider when finding this most important yoga accessory.
Regardless of your search criteria, there are mats there that can suit your needs. Best yoga mat for sweaty hands or below are some of the best yoga mats on the market, with a slight guide on how you can find your best product.
Top 6 Best Yoga Mat For Beginners On The Market
1. Jade Fusion Yoga Mat
The Jade Fusion Yoga Mat is not a new name in the yoga industry. It is an excellent choice due to its unbeatable performance. This version comes with a 68-inches length, perhaps a good choice for individuals of 5.7" height and beyond.
Among the many reasons why this mat is favored by many are the comfort and excellent grip it brings along. The mat is made from open-celled natural rubber that has a high sticking factor and leaves no residues on the hands. The mat is also biodegradable and very durable, providing an assurance that enthusiastic yogis will enjoy for years to come.
What may come as a limitation due to its construction is that the mat is heavy and has a natural rubber smell due to its natural rubber design. The smell can be felt once your face touches the mat, but not exceedingly overwhelming. As for the heaviness, it is a drawback that comes with quality construction.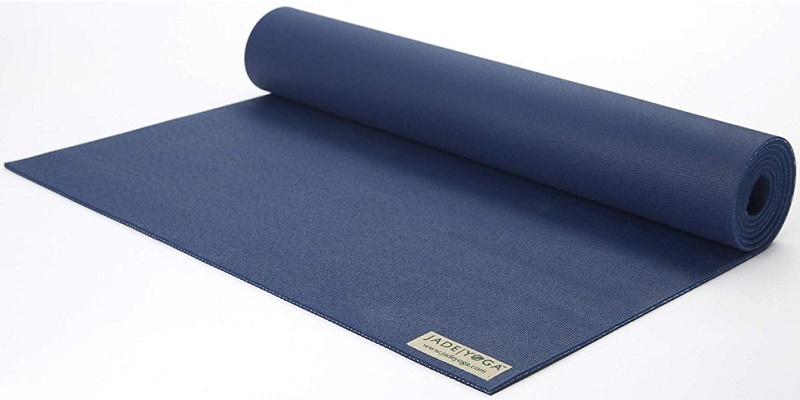 PROS
Strong and durable make.
Extra thick thus good for those with sensitive knees.
Great grip with no residues.
Perfect length.
CONS
Slight rubber smell.
Quite heavy.
2. Yoga Accessories Non-Slip Yoga Mat
The Yoga Accessories Non-Slip Yoga Mat measures 74 x 24 inches, making it 0.25 longer than standard mats. This makes it a perfect choice for tall yoga enthusiasts who will take advantage of the extra length. Its width, however, is not satisfactory for those who need extra space on the sides.
The mat features a thick design and does an excellent job of minimizing the pressure from the floor underneath. It has a spongy foam of medium density and doesn't have latex, heavy metals, and phthalates thus body friendly. For several people who have used it, it provides exceptional comfort. Such thickness makes it the best yoga mat for bad knees.
Some people express that they experience slippage when using the Yoga Accessories Non-Slip Yoga Mat, but an overwhelming majority agree with its sturdy and non-slippery construction. That said, those who practice hot yoga regularly or are heavy sweaters will find this the best yoga mat for hot yoga. You can as well cover the top with a yoga towel.
Compared to other products on the market, this is a budget-friendly mat that provides adequate cushioning for novice yogis. However, it slightly ranks low on the durability scale.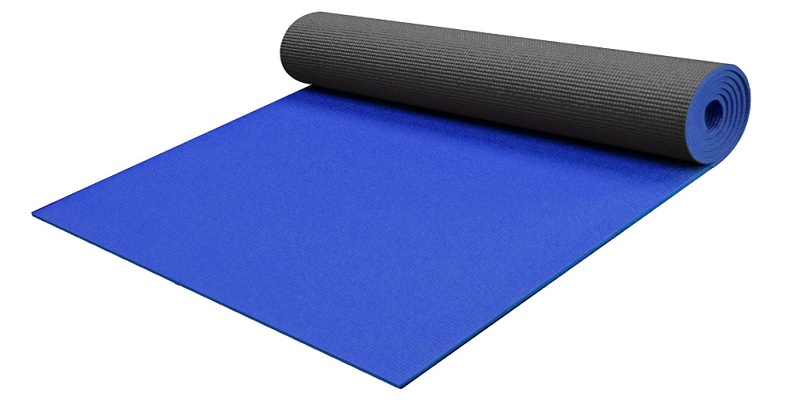 PROS
Large in size.
Affordable mat.
Non-slip construction.
Sticky texture for additional grip.
Wide color options.
CONS
Slight slippage troubles.
May not last long.
3. Healthyoga Eco-Friendly Non-Slip Yoga Mat
The Healthyoga Eco-Friendly Non-Slip Yoga Mat, as the name suggests, is another non-toxic yoga mat available on the market. The mat provides a perfect balance between quality for beginning yogis and affordability. It is made from non-toxic TPE material, which is responsible for medium density foam that does not indent or affect your balancing.
An outstanding feature of this product is its extra width. Unlike the common standard yoga mat size of 24", this unit measures 72 x 26 inches providing extra room on the sides. The 2 extra inches prevent sliding into dirty yoga floors.
The top part of this mat is covered with microdots that help in preventing slippage and provides a nice grip. The upper part also has alignment lines that enable yogis to remain centered through the exercise. Overall, the Healthyoga Eco-Friendly Non-Slip Yoga Mat is a good wallet-friendly mat for beginners.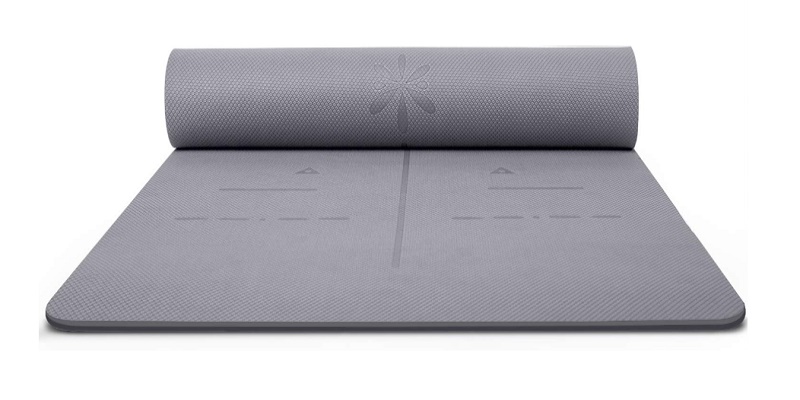 PROS
Available in various colors.
Microdots prevent slippage.
Made from non-toxic TPE material.
Large in size.
Has alignment lines.
4. Aurorae Classic Eco Safe Yoga Mat
The Aurorae Classic Eco Safe Yoga Mat offers another great beginners mat option for beginning yogis. This classic unit is slightly longer than standard mats, measuring 72 x 24 inches. It accommodates individuals of 6" height or those on the borderline between standard mats and ultra-long mats.
Like other high-quality mats, the Aurorae Classic Eco Safe Yoga Mat is made from non-toxic PER with a guarantee that it is free from harmful chemicals and off-gassing. It is also biodegradable thus provides a good way of disposing of it once you outgrow the mat.
The Aurorae Classic Eco Safe Yoga Mat comes with a rosin bag that increases stickiness and protects users from slipping. Besides, the durability of the mat is guaranteed long. It works exceptionally well, and the two-year warranty cover ascertains its high quality.

PROS
6mm thick provides good cushion.
Medium-density material make.
Large to accommodate tall people.
Made from non-toxic PER material.
CONS
Curly top and bottom edges.
Slight slippage.
5. Prana Revolution Mat
The Prana Revolution Mat is a good yoga mat of choice for those who need a lot of space when exercising yoga. The mat is 86 x 36 inches long and wide, making it among the largest yoga mats available on the market. Tall yoga enthusiasts, those who want to practice at home, or those who want something that separates them from other yogis will find it a great choice.
The mat is composed of 100 percent rubber, implying its great grip that prevents slipping. The only downside is the 4mm thickness that may not be thick enough to support those with sensitive knees. Regardless, the natural rubber make is high density and provides better cushioning than foam made mats of equal thickness.
Besides, since Prana Revolution Mat is made from rubber, it lasts longer. You can buy it as a beginner and stick with it for long periods. Overall, it is a solid yoga mat for beginners who want more exercising space.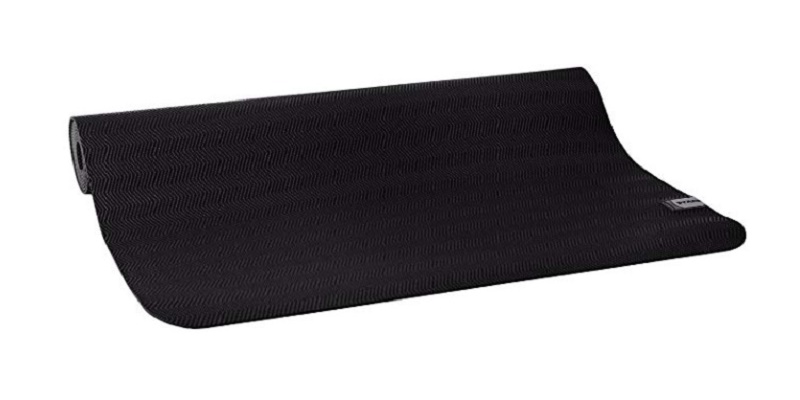 PROS
Extra large.
Good grip prevents slipping.
Available in two colors.
Made from natural rubber.
6. Manduka Pro Yoga Mat
The Manduka Pro Yoga Mat is a perfect choice for both beginners and advanced yoga enthusiasts. One of the reasons is its reassuring quality backed by a lifetime warranty. With this, once you buy the unit, there are no worries about buying another mat again.
The Manduka Pro Yoga Mat is available in various sizes, offering versatility. The common size is 71 x 26 inches that provide an extra 2-inches on its sides. The second big mat measures 85 by 26 inches. It is super long and wide, perhaps great for tall people who fancy extra space.
As for its thickness, it is 6mm and made from dense PVC that is non-toxic and latex-free. The cushioning of the Manduka Pro Yoga Mat is relatively similar to that provided by natural rubber. It provides excellent padding and does not indent much to interfere with balance.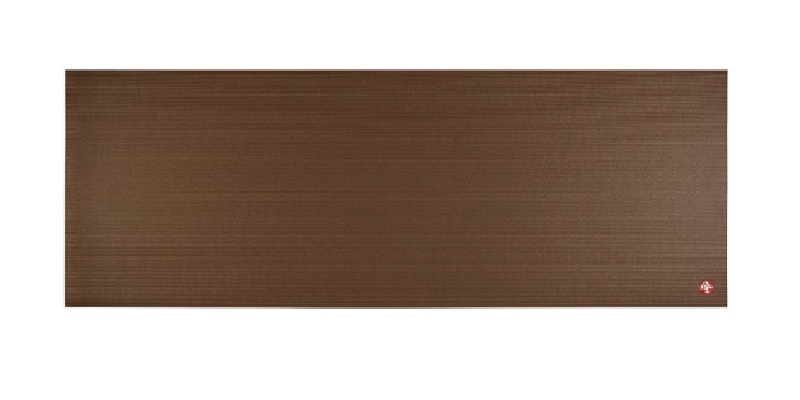 PROS
Available in two different lengths.
Lifetime warranty.
Non-toxic.
Easy to clean.
How To Know Which One is Best Yoga Mat For Beginners
Purchasing a yoga mat that works great, doesn't cost much, and offers excellent cushioning from the hard floor requires discerning eyes. Like other products, no single product that suits everyone. Each yoga enthusiast has different needs and preferences that might not work for another. For this reason, below are some qualities to check to find the best yoga mat.
Thickness
It is important to consider the thickness of any yoga mattress. However, this shouldn't be done as a conclusive factor as it can be misleading. Most soft yoga mats are ½ inches or thicker. Upon seeing them, you can think that it will provide ultimate cushioning to your knees.
However, most mats use soft foam that results in deep indents and stretch, thus can interfere with your yoga exercise balance. Bearing this in mind, pay extra attention to not only the thickness of the mat but also the density of the material. Most dense materials that don't thick provide the best yoga experience. They are typically made from dense foam, natural rubber, or any other dense material.
Yoga Mat Grip And Material
Before setting out to make a purchase, it is important to ask yourself what are yoga mats made of. Defining a mat to be having the best grip varies from one person to another. For instance, some beginner yoga mats work well with individuals who have sweaty hands and feet while others prefer lightly textured mats.
However, you shouldn't worry as the mats outlined in our review above provide incredible grip. Always ensure that a mat has a light texture, sticky surface, and is made from medium to high-density material.
Yoga Mat Durability
The materials make of the yoga mat play a crucial role in determining its durability. Mats made from cheap plastics and foam may work for a few months before tearing down with wear holes in places where your feet and hands rest. When watching out for durability, ignore the notion that eco-friendly mats or biodegradable models wear out quickly as they are made to break down. This isn't the case.
Most biodegradable mats are made from dense materials that will wear out once disposed of due to high heat, sunlight, and pressure. They, however, take a long time before breaking down despite continuous use. Eco-friendly mats may cost more, but they are definitely worth their value.
Yoga Style
Note that this doesn't imply design preference or fashion style but the individual type of yoga practice. For instance, a yogi who likes practicing hot yoga should go for a mat that doesn't get slippery easily, such as the Jade Harmony Mat. If your style is Ashtanga or Vinyasa, you should go through formats that provide excellent grip and stability to avoid slipping or accidents when transitioning between the two styles.
How Often Do You Practice Yoga
Devoted yoga enthusiasts should consider an extremely durable mat that can withstand frequent use and abuse. Beginners and weekend warriors, on the other hand, should go for inexpensive yoga mats that are perfect for occasional use. Similarly, for those who travel and practice yoga on the go, ultra-light, and portable mats are an excellent choice.
Price
It is always important to consider your budget when setting out to buy anything unless you have access to unlimited finds. The market is flooded with both high-end and cheap yoga mats. Choosing either depends on the individual budget.
Is It Possible To Try It Out
A crucial step when choosing beginner yoga mats is testing the product before purchase. Whereas reviews and product specifications provide a good idea of how the mat fits, this can only be confirmed by trying it out. Testing the mat provides a real feel and functionality of the mat. Note that this might not be possible if you are making an online purchase.
The Bottom Line
The best yoga mat is one that fits individual needs. The product grounds your initial experience during practice, provides stability, and makes it effortless to practice yoga. By identifying your yoga style, preference, frequency of practice, and body size, you will find it easy to select the best yoga mat as a beginner. Don't forget to consult widely with experts and check your available budget for the item.