Our pooches are not different from us. They also need all the protection they can get during a motorcycle ride. Therefore, grabbing your bike carrier and your pup without proper preparation isn't recommended. If you love your four-legged pet, proper motorcycle gear is necessary. Top on the list should be the dog Motorcycle helmet. Just as you need a helmet to protect you in case of an accident; it serves a similar purpose with dogs.
It also ensures safety against flickering debris during the journey. Other crucial wearables you can get for your dog include goggles, booties, and jackets. If you are searching for the best motorcycle helmet for your dog, this guide makes it easier for you. It has all the information you need as well as a list of the 8 best models in the market. So, without further ado, let's get started.
Why You Should Use Dog Motorcycle Helmet
Yes, dogs need motorcycle helmets. However, as is the case with any other safety gear, it's still possible for your dog pet to ride without it. Although, riding with a pet without a helmet subjects it to unwarranted risks. For example, if an accident occurs, your pooch will receive the blow in its entirety on the head. Worse if you happen to land on a rocky surface. So, basically, the helmet is designed to reduce the blow on the head thus minimizing the effects.
We can't promise you that the helmet will prevent the accident or prevent the entire impact. The function of the helmet is reducing the magnitude of the blow on the head. Another crucial role of a motorcycle helmet is shielding the canines from all types of flying debris. These may be pieces of rocks, noggins, or sticks. The helmet ensures that they don't hit the head. So, if you love riding with your pup, before the next ride; get him a helmet.
Best 8 Dog Motorcycle Helmet
Are you ready to get your dog a brand-new helmet for the next ride? Look no further. We have the best collection of helmets. These will transform your pup to a real biker dog while offering a good level of protection.
1. Stock Show Dog Helmet
If you want your furry friend to be adorable and protected during a ride, Stock Show is the helmet. It is made from a quality certified ABS material to offer utmost protection. Not only during motorcycle rides but also against bad weather, insects and flies. The quality of the plastic ensures that it can last for years. Moreover, the inner spongy lining ensures that your pup is comfortable during the entire trip.
The adjustable chin strap mounted on this helmet is necessary for fitting. You are free to adjust the helmet to the desirable position. The sizes also vary. You can get from small to medium-sized Stock Show helmets for different breeds.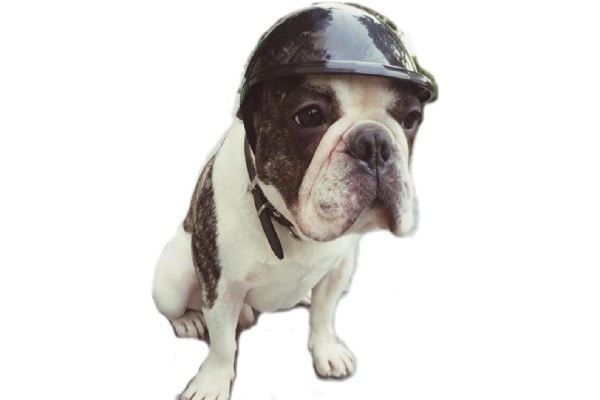 PROS
It has an internal lining provides comfort.
You can customize the fitting using the chin strap.
It is very quality and durable.
Exists in different sizes from small to medium.
The ABS plastic material used is non hazardous.
It effectively shields your pet from sunrays and heat.
CONS
Not available for bigger dogs.
The chin strap doesn't tighten properly.
2. LESYPET Dog Helmet
LESYPET must have had aesthetic factors really taken good care of in this model. It looks so cool dressed on your puppy. And on top of that protect its head against trauma or flying debris when riding together. The interior padding makes it even more comfortable for puppies to wear. This doesn't mean that this helmet is available for only puppies. Actually, it can even fit cats. It comes in two sizes. The small one for 4-inch dogs and also a medium which can serve bigger heads.
However, even if the helmet doesn't fit well, it also has a nylon strap and buckles. These you can use to adjust the sizing. When purchasing it, you need not worry about durability. LESYPET uses the top-quality ABS materials. So, your pooch's head is safe under this crown.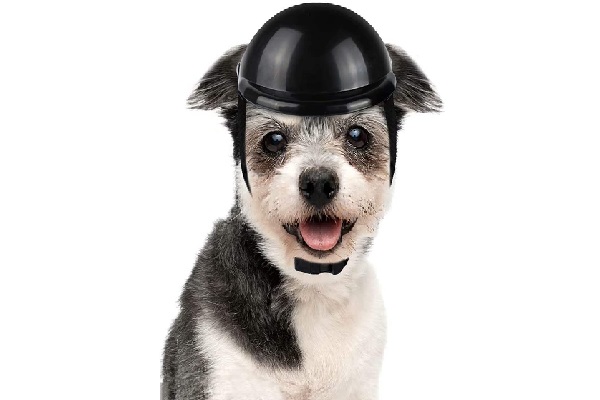 PROS
It is made of quality ABS material.
Has a nylon strap to adjust the sizing.
Comes in two sizes for small and medium dogs.
It is durable.
Its interior has a padding for comfort.
CONS
It is too slippery.
It tends to get too hot and may burn the dog.
3. Enjoying Doggie Helmet
This is a versatile dogs' helmet from the great Enjoying company. The good thing is that you can use it with both motorcycle and bicycles when riding with your pooch. Just like her predecessors, this helmet is also made of ABS material. That means it is equally lightweight and durable. Even though it can serve a variety of breeds, its best for the small headed breeds. Besides, the chin strap and padding guarantee adjustable sizing without causing discomfort.
The protection peak on the front part meant to shield eyes is a unique feature. Instead of buying separate googles, this helmet serves both purposes. To prevent possible heating on the inside, it has vents at the back for air circulation. Hence, the chances of heating up are rare.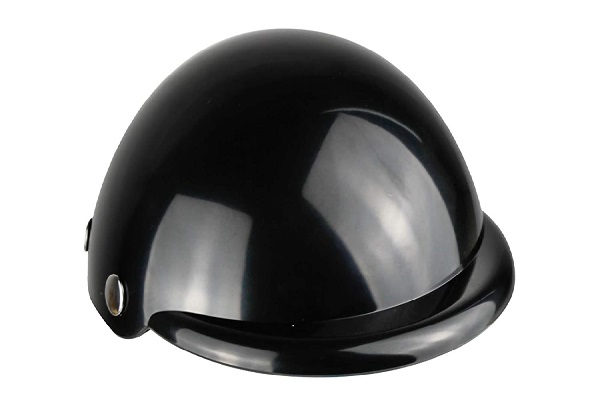 PROS
It's a versatile model that can work on bicycles and motorcycles.
It is also quality thus durable.
Has ventilation holes at the back.
It has eye protective peak in front.
It is perfect for small and medium dogs.
Includes an adjustable strap.
CONS
The strap is poorly designed.
It is a bit slippery.
4. Braceus Cool Pet Dog Helmet
If you are looking for a way to keep your furry friend safe while riding, Braceus got you. Their helmet is lightweight, durable and very sturdy. The lightweight property is crucial for helping dogs when running on the rain or wind. So, the helmet cannot weigh them down in such conditions. The ABS plastic material ensures that the dog's head is safe from rain, sun and bumps.
The strategically positioned cushion and the strap help to keep the helmet in position. The cushion prevents the helmet from heating and cause discomfort. This improves the comfort because even if the interior is rough, the padding eliminates. The strap ensures proper sizing to prevent the helmet from falling off.
Its availability in different colorsoffers options to the shoppers. This is where you can exploit your dog's preferences. Ensure that you get the color that best attracts your pup. The appearance of the helmet is a critical aspect in increasing the ride morale.
Braceus helmet also comes in varied sizes. Therefore, you can almost any size you want for your dog. Their fit is considered okay based on the manufacturer's specifications.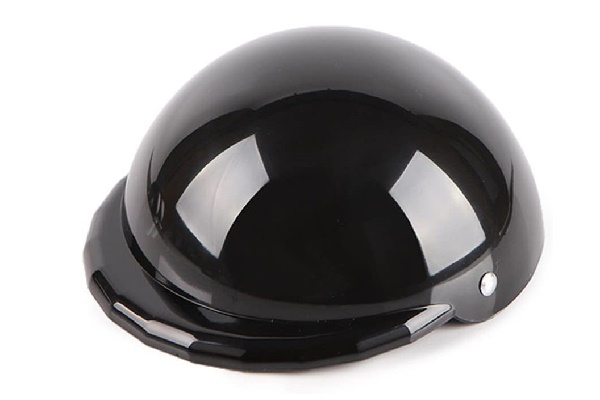 PROS
It is available in different sizes and colors.
Very quality.
It is also durable.
It has an interior padding and chin strap.
Equipped with visor to keep the sun off your pets' eyes.
CONS
It is flimsily designed.
Not good fit.
5. Lifeunion Funny Cool Pet Doggie Cap
Lifeunion is a renowned pet care company. Their dog motorcycle helmet is one of the most versatile and that guarantees your pet a good level safety on the road. It comes in four colors and three sizes. That grants you a chance to get the best fit for your pet. Not only that, the efficiency of this helmet is superb.
The ABS plastic material used in its manufacturing is known for its resistance to impacts. Therefore, your pup's head is always safe in this helmet. It guards from any flying objects, rain, sun and minor trauma.
Unlike some helmets that are hard to get used to, the Lifeunion is easy. This is due to the hick padding on its interior side. That provides comfort to the head thus causing no discomfort. The adjustable strap also plays a role in enhancing the comfort. Even if the helmet doesn't fit well, you can easily adjust the sizing with the strap.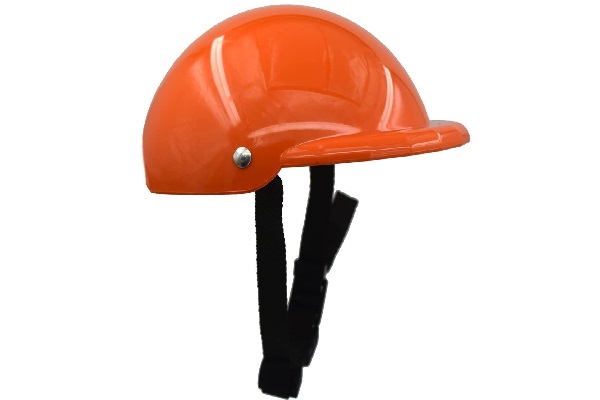 PROS
It is a product of impact resistant and non-corrosive ABS material.
It has a thick padding for enhanced comfort.
Comes in a wide variety of sizes and colors.
It is capable of safeguarding dogs from rain, sun, wind and flying debris.
Its small visor protects the eyes from sun.
The adjustable strap makes sizing easy.
It is also lightweight.
CONS
No proper design to accommodate the dog's ears.
The shaping doesn't accommodate all heads.
6. ShopTrend Dog Hat with Goggles
This is probably the best protection package for your pooch you will ever get. We're saying a package because it comes with a helmet and sunglasses. As the helmet protects the head, the goggles ensure your eyes are free from all harmful elements. Be it UV rays, dust or debris.
You can secure your dog's head from the sun, wind and projectiles when riding. It is equipped with a sponge to ensure that the head remains comfortable. Fort hat reason, the dog's adaptation doesn't take long. Coming in three sizes, its easy to choose your size. The smallest helmet measures about 4 inches whereas the large size is approximately 6inches.
The sunglasses sizing can be problematic. There is only one size currently. So, any dog with bigger or smaller size cannot enjoy the protection well. The strength of this helmet though isn't the best. So, it is best to use it only where you don't expect excessive impact.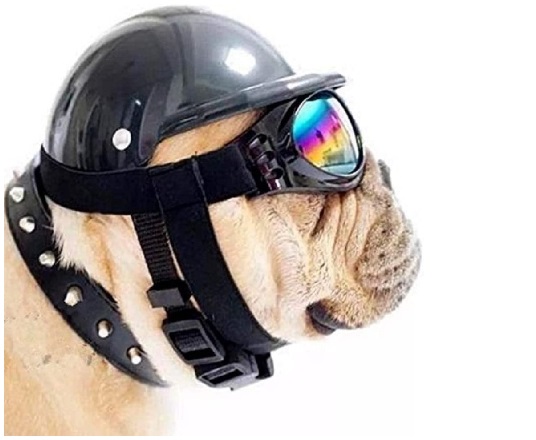 PROS
It's a package of helmet and goggles.
The two can be worn together or differently.
Comes in different sizes.
They have a UV resistant coat.
Have an adjustable strap.
CONS
Not too tough.
Its only best for the wide faced breeds.
7. Namsan Pet Helmet
If you are looking to pop your small dog, Namsan is a good choice. It works best on pets with small heads about 3.5 inches diameter and below. Its resistance to impact and durability are commendable. It's made from a quality ABS material and on the inside fixed with sponge.
When taking your dog for a motorcycle ride, the Namsan helmet can protect it from wind and sunlight. If you can complement it with the goggles, then your pooch gets the best protection.
Its also an awesome gift for your pet. You can fix beautiful stickers like the Halloween, Christmas or New Year to make it more awesome. Before making the decision to get this helmet, measure your dog's size.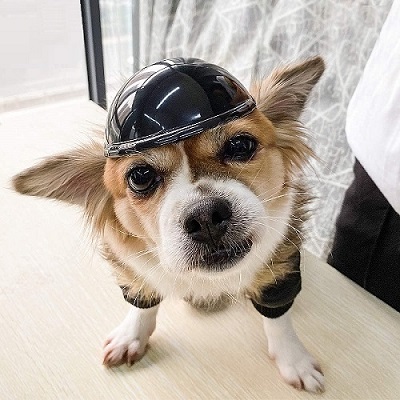 PROS
It is very beautiful.
Protects against sun, rain and wind.
Its durable if used well.
It's a beautiful gift since its possible to put stickers on it.
CONS
Only suitable for small pets.
Can only safeguard against lighter elements.
8. GUGELIVES Pet Dog Helmet
Our list ends with this gorgeous pink helmet from Gorgester. It is not only good for your dog but can also work for cats and puppies. It's a good guard against rain, sun, debris, and minor impacts. A product of quality ABS material, you can be sure this product will give you the service you want.
Owing to the use of a nylon strap and thick padding inside, this helmet is very comfy. It doesn't irritate the pups nor easy to fall off. All you need to do is fasten the strap to ensure it fits the head properly.
Whichever breed you own; you can get a helmet for them. Be it Chihuahua, Shih Tzu, Maltese because Gugelives has different sizes from S to L.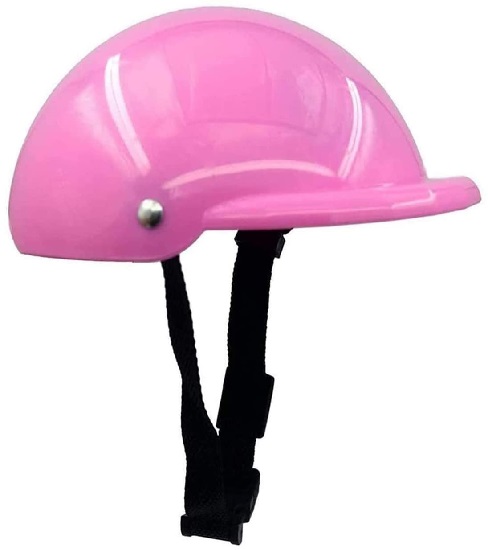 PROS
Comes in three varied sizes.
It is made of a quality impact resistant material.
It has an interior padding for increased comfort.
The adjustable nylon strap helps to snug it fit.
It has a small visor in the front part to protect eyes from the sun.
CONS
Cannot cushion against heavy impacts.
Not suitable for pug heads.
Features to Look Before Buying Dog Motorcycle Helmet
The dog motorcycle helmet market is not short of brands. Therefore, choosing the best one for your dog can be tricky. That's why we bring you a number of features that will at least point you in the right direction. These include;
Protection level
The main reason why you are buying the helmet is protection. Therefore, its only prudent to ensure that you get the utmost protection you can get. A good helmet should protect your pet not only against impacts but also from rain, wind, sun etc. since all helmets are not the same, ensure that you are keen to detail.
The design and materials are among the top factors that determine helmet efficiency. In terms of materials, ABS plastic helmets are the best. This material is known for its sturdiness and impact resistance. The essence of using a quality plastic is to make sure it doesn't break easily. Can you imagine a helmet that will break under a minor impact?
A well-designed helmet offers comfort. In this case, look for a well-padded helmet. This will ensure that it is comfortable to wear. The padding also plays a key role in protecting the head against impact.
Size
Before committing to purchase a certain dog motorcycle helmet, ensure that it's the right size for your dog. Without proper sizing, even the toughest of helmets may not be effective. In most cases the helmet manufacturers use the head width and circumference for the dimensions. Therefore, you can use one of the two to choose your dog's helmet. Wondering how to do that? Don't worry, keep scrolling down there is a guide on how to do that.
Comfort
Comfort is very important when choosing a dog's motorcycle helmet. If your dog feels disturbed, chances are it'll try to jerk it out. In that regard, you need a helmet with comfortable interior. Try and get a well-padded helmet that doesn't get your dog irritated. Mostly the new dogs are the ones that experience this problem.
So, if your dog is used to the helmet there may be less trouble. Before that, you can try and get a helmet with a chin strap. This makes it hard for the dog to knock it off. Other factors you may want to look at are sun visor and the weight. Ensure that the helmet isn't too heavy. If possible, get the lightest without compromising the quality. This ensures that the dog doesn't feel much difference.
Budget
Budget is a key factor in any shopping. But if you are not on a budget you can splash whatever bucks you want for your pup's helmet. Although, focusing more on the functionality is important. Instead of dwelling more on beauty and other unnecessary features, you can get other things like the googles or the jacket.
Appearance
You may take it as a subfactor, but the helmet appearance is very important. If its design is appealing to your dog and are a match, then forgetting it will be hard. To get it right, you need to browse several designs and colors for the right taste. You should also have studied your pet's character to know what excites them and tap that.
Is It Legal to Ride A Motorcycle with A Dog?
The legality of riding with a dog on your motorcycle varies from one country to another. Some countries have very strict measures on how to transport pets. Due to the risks involved, some require that you ride your pet in a cage of special carrier. This ensures that the dog is restrained thus doesn't pause any risk to anyone.
How Do I Choose the Right Size Dog Motorcycle Helmet?
To know the right size for your dog's head, you've got to measure it. The two dimensions that manufacturers use are the circumference and width. To measure them, you need a tape measure. It is the only component needed to accomplish this process. For more accurate figures, you have to repeat the process for a number of times.
Head width is the distance between the ears on top of the head. To get an accurate measurement, do not bend the tape when measuring. Straighten the tape from one ear to the other.
To measure the circumference of the head, wrap the tape round the head from the forehead to the back. Depending on the type of ears your dog has, include them in the final measurement.
With these measurements you are good to go. Head to the shop and get the most fitting model. Also, remember to leave a little room for allowance. Especially if your pooch is still growing.
Final Recap
Dog motorcycle helmets will not protect your pet 100% against injuries, but it's better than nothing. Instead of the dog receiving all the impact, it is greatly reduced. For that reason, if you ride with your dog, you should really get their helmet. They aren't the only protective gear one can buy though. Safety glasses can also go a long way to helping your pet's eyes.
In this elaborate guide, we presented the best ways you can get the best helmets. Besides, we have a list of some of the best models you can take advantage of. So, the ball is now in your pocket to make sure your pup is safe during rides.