First aid is a temporary or immediate service offered to the sick or injured in case of crisis. It is not the real medication but helps to save life. You do not need to be a medical practitioner to learn first aid techniques. There are several first aid symbols that represent first aid programs. Surprisingly, many think Red Cross is one of them which is not true. It is a symbol for one of the biggest groups in the world.
In this article, we delve into a number of common first aid symbols and their meaning. You may have come across some of them but did not know the meaning. Read this article to the end to get its meaning.
Common First Aid Symbols
1. Projecting First Aid V-Sign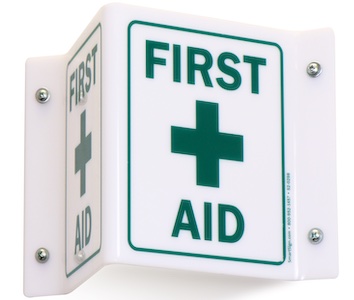 The projecting First Aid V-sign is a simple sign that can save a life during illness or injury. It is common in public facilities, especially in big halls. It is one of the most recommended, especially where there are long corridors. This is because it is bright and one can trace it from far. It is more visible compared to other sign plates. Additionally, it has both sides printed which is ideal for long hallways.
2. First Aid With Symbol

First Aid with a symbol is a very simple but crucial first aid symbol. It helps the employees and visitors to quickly locate first aid stations. This is during emergencies in the workplace. The sign helps to give the general instruction relative to the safe work practices. In case of any medical crisis, the workers have in mind which safety procedures they should take. This is because you are aware of where you can easily get safety equipment.
3. First Aid Kit Inside With Symbol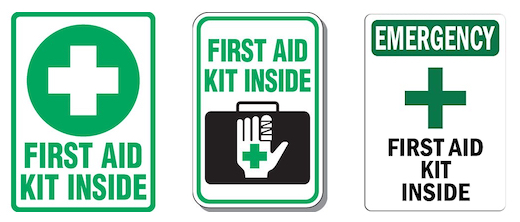 The First Aid kit inside symbol is another useful tool in your workplace. It prepares you to deal with injury in case of emergencies. The kit keeps your building well labeled. The graphic is visible. It shows the people within the building where to get the first aid in case an emergency occurs. Those who visit your building know that they are safe. It also reminds everyone to keep safety first.
4. First Aid Symbol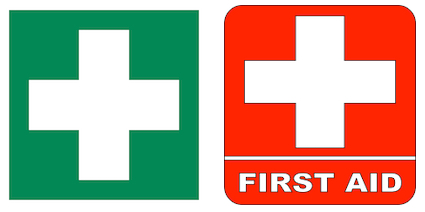 The internationally accepted symbol for first aid is a white cross on a green background. Many may think of the Red Cross which is not as seen above. The first aid sign shows where you can find people, tools, or a facility to provide first aid care. This all targets saving a life. It also prevents the conditions from worsening hence promoting recovery.
Some first organizations recommend that you should travel with two people trained. They will provide support in case something happens.
5. Defibrillator Symbol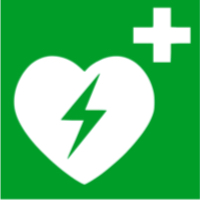 The defibrillator symbol indicates the presence of an Automated External Defibrillator. The International Liaison Committee of Resuscitation issued the "Universal AED sign". The signs are normally visible and the public can access them. It helps them stand out during emergencies.
6. AED Available Inside Signs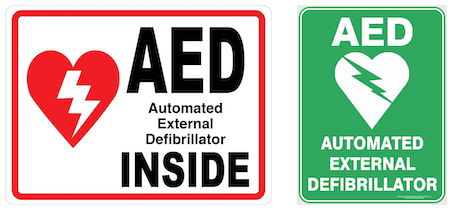 This symbol is mostly placed at a prominent position mostly at the entrance of your premises. It helps the public in creating awareness that automated external defibrillation is available. Choosing a good range of displays is important. It will help in passing the information correctly.
7. First Aid Kit Symbol

The First Aid Kit is a symbol that you will find mostly in public facilities. In most cases, you may have the skills to give first aid in case of danger. As skilled personnel, you will be looking where you can get the first aid tools. In some public facilities, the tools are normally in the tool kit. This is to help in case of emergencies before the situation worsens. You will see a mounted symbol showing you where you can find a tool kit.
Additional Resource
Additional Helpful Symbols
1. Medical Service Provider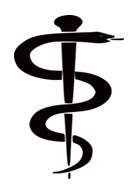 This symbol is the Rod of Asclepius from Greek mythology. It is a serpent-entwined by Greek God Asclepius. A deity associated with healing and medicine.
The symbol is common in modern times. It is commonly associated with medicine and healthcare. If you come across it, you will get healthcare assistance. Several organizations use the symbol as their logo. An example is the Army Medical Department of the US Army.
2. Hospital Road Sign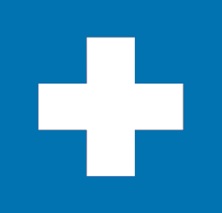 This is a common symbol you will mostly find by roadsides. It represents a hospital entity around the place. Some may include the name of the hospital and others bear the sign only. You may also see it on the large directional street signs including motorway exits.
3. Fire Extinguisher
An extinguisher is a device used to put out the fire in case of small fires. This is during emergencies. The fire extinguishers are not for the fire with big flames in most cases. So, you will find a small sign mounted on the wall were there a fire extinguisher. In other scenarios, you will find fire the symbols directing you to where it is. Such symbols help you in case you are new and something occurs you can locate an extinguisher easily.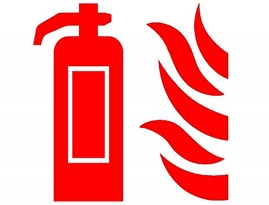 4. Exit
An exit sign shows you the closest emergency exit in case of fire or another emergency. These are common in public facilities. The sign is simple to understand and you cannot mistake it.
It is normally represented in different color codes in different regions.
For example, Australia, New Zealand, Japan, South Korea, and China all use green lighting. In Canada and the United States, it has green or red lighting. In many instances, it is normally red.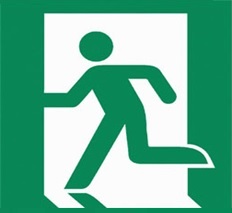 Conclusion
Responding during a medical crisis can save a life by preventing debilitating injuries. You need to be sure whether there is a facility around and if it can handle your emergency. Also, learning emergency symbols is very important for anyone. This is mostly when you travel to a new place. This helps you in case you learn into troubles because you will get a place for help. Those are some of the common first aid symbols you need to familiarize yourself with.