As commanded by OSHA, Hard hats are must gadgets to all employees that work in places with possible occurrence of danger. Some of these hard hat come with face shield while others avail without them. Regardless, it's possible to attach a face shield on your hard hat through help of slot adapters. For clear understanding, let's expound more on what a hard hat face shield is.
This is a transparent screen made of different materials to protect the users face, eyes, head and neck from chemical splashes, hard moving objects or accidents like hazard fire. They are usually attached at the front part of hard hats to protect your eyes or face from danger during construction activities. Some of the materials used to make this transparent screen are polycarbonate, acetate, mesh or polyethylene materials. These shields are also essential in hospitals to helps users against virus protection. Below is a list of best hard hat face shield to consider.
7 Best Hard Hat Face Shield
1. Sellstrom-39210 Single Crown Safety Face Shield
When buying a face shield you should be fully informed that complete protection is not the only aspect you have to consider. Other factors like air circulation and comfort matter as well. For that reason, we strongly recommend this latter.
It features an extra large design that fits perfectly on your head irrespective how enormous your head might be. Actually, its width measures exactly 9 inches whilst it has a 99.9℅ eye wear UV rating. The large design also helps it work quite well with other equipments e.g earmuffs. On top of that, it is equipped with a premium clear acetate window that perfectly fits your facial contours. It also ensures that you get a complete protection against splashes, particles and flying objects. If you are using hard hat, this face shield will completely synchronize with it. This is achieved through it's built in universal slot adapter that allows it to fit into most slotted hard hats.
Also, its design fully meets all industry standards set by both the ANSI Z87.1+ and CSA Z94.3. At the top, it has a high impact blue plastic single crown which functions to give users an excellent air circulation whenever they have it on. Moreover, this hat is made from very lightweight materials which in turn make it exemplary light in nature. This makes it quite comfortable on your head.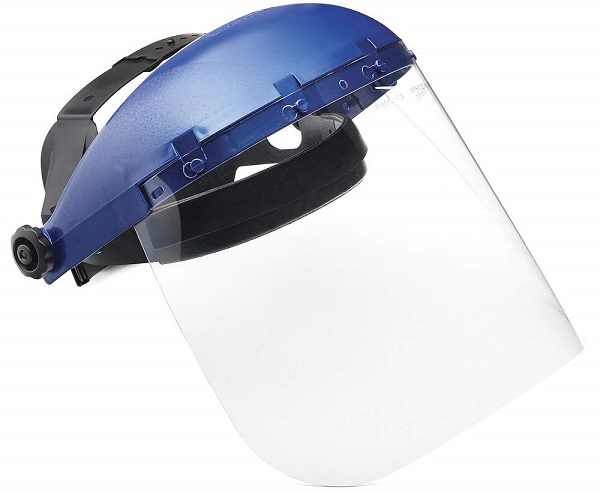 PROS
It has a large design that allows for good air circulation.
Exhibits a great visibility.
It's quite lightweight.
It fits into most hard hats.
CONS
It is slightly expensive compared to other basic face shields.
It doesn't come with a steel mesh which offers additional protection.
2. NEIKO 53880A 5-in-1 Forestry Safety Helmet
Built to offer robust impact resistance, this helmet meets all the required industry standards and requirements. Actually, it's both ANSI and CE certified. More also, it comes with a very unique design which gives it the ability to provide you with both face and ear protection concurrently. Although the latter appears to be a little bulky, you will utterly be surprised over how comfortable it is to have it on. This is so since it comes with a foam headband as well as a soft plastic lining which is very gentle on your skin.
In addition, it comes with cushioned earmuffs which give super tender on your ears. However, these earmuffs can be removed at any time if in case you don't require them as you work. A dial knob is inscribed on it so as to allow room for easy adjustability since people have different head and face shapes. Some other additional features like a steel mesh visor, polycarbonate visor are also included to ensure that the latter gives you holistic protection. The steel mesh and the clear visor can be used distinctively or at the same time depending on the nature of the wearer's work.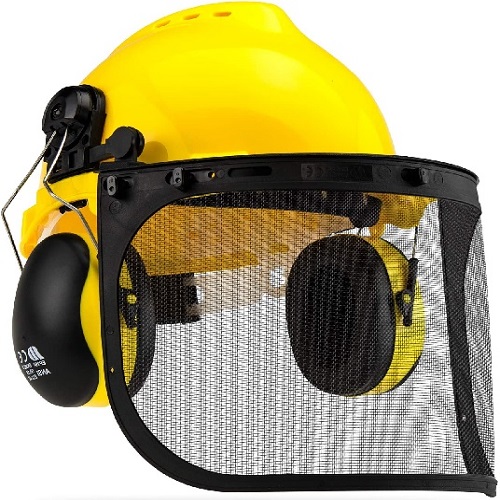 PROS
It is very comfortable on your head.
Can be adjusted easily hence fits quite well.
It comes with a steel mesh and earmuffs for additional protection.
It is very easy to assemble, disassemble and use it.
Great quality for price.
CONS
Not effective on dust and vapor protection.
3. Elvex WELCUARC7BASIC Flash-Pro Basic Head-Face Arc Protection Ki
Buying the above hard hat gear, means you will be getting additional protection for yourself due to its innovative design. This kit is built with a 14tm face shield which in turn offers an additional facial protection. The face shield is carefully attached to the hard hat and can be removed in case the need to do so arises.
In addition to that, the latter is built carefully while all its components are tested to meet all the desired requirements needed by the Kinetics High Current Library. To sum it all up into one piece, the entire kit comprises a safety helmet and arc shield.
On the downside, it lacks a steel mesh visor for additional protection. Its face shield is very clear and can be cleaned quite easily. Besides that, it exhibits a two sided long performance anti fog, anti static, and an anti scratch coating. A VB-65 overhead center positioning visor bracket is included so as to balance and distribute the weight of the shield evenly. It also works with Quattro reusable earplugs which are designed to be nonallergenic and non- irritating.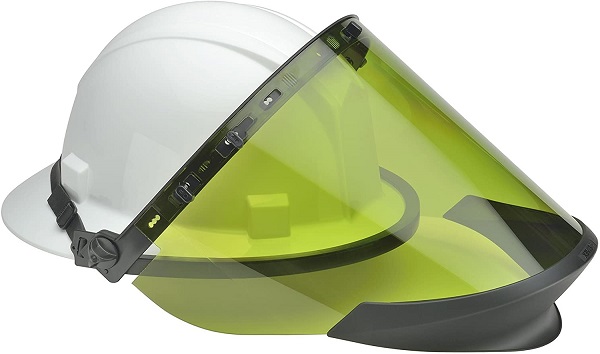 PROS
Has a removable face shield.
It is very light in nature.
Works quite well with earmuffs.
CONS
It lacks a steel mesh for additional protection.
It lacks a padded interior hence its comfort ability is quite questionable.
4. Sellstrom Dual Crown Safety Face Shield
This is yet another super modern face shield that is designed to work very well with hard hats. This is so since the latter comes with a universal slot adapter which allows it to fit into most slotted hard hats. Further, the above face shield features a subtle design that ameliorates your peripheral clarity both below and above your head.
Additionally, the manufacturer employs the same high impact shield that wraps around the users the head to protect their ears whilst giving them perfect optical clarity. This shield curves naturally to fit all face sizes and offers a complete extra-wide side window. Thus, it ensures you are freely protected from particles, flying debris, and even splashes. The face shield itself is built to be anti-fog and anti scratch. Therefore, this ensures that it serves you for a long time before needing to replace it.
A dual crown guard function is also inscribed to offer additional side and bottom protection from exterior objects. Last but not the least, this face shield is designed to meet all the required ANSI Z87.1 and CSA Z94.3 standards.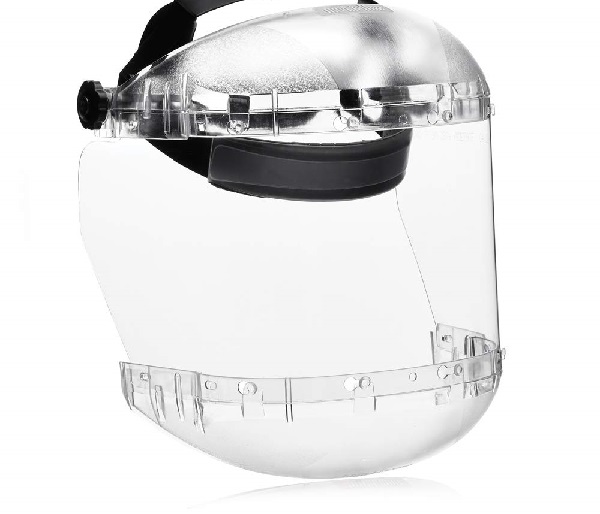 PROS
It's all round design allows it to offer users additional protection.
It lasts for quite a while before wearing out.
It fits quite well into most hard hats.
This is very light and comfortable.
CONS
It comes solely as a face shield without any additional equipments e.g. a hard hat or earmuffs.
5. Lincoln Electric OMNIShield Professional Face Shield
One problem associated with most face shields is that they tend to get foggy whenever your breath runs across them. This makes them very tedious to do or finish your work on time as they will require you to wipe them every now and then. However, with the above face shield, you will ultimately say goodbye to this old-school impendent thanks to its modern anti fog inside lens coating. This coating gives you better and consistent clarity as you do your work. If not enough, it comprises of an exterior anti scratch coating which gives it great durability as well as quality performance.
Also, its exterior shell is built to contour nicely to both your head and neck. This provides wearers with quality protection by deflecting away all incoming objects. Great comfort is also achieved through its standby headgear that comes with a cushioned interior.
In addition to that, its front and back cushioning material is sweating absorbent. The cushioning also functions to relieve pressure points and go distribute weight evenly for utmost comfort. Nonetheless, its multi-axis headgear provides room for multiple adjustments for the perfect fit.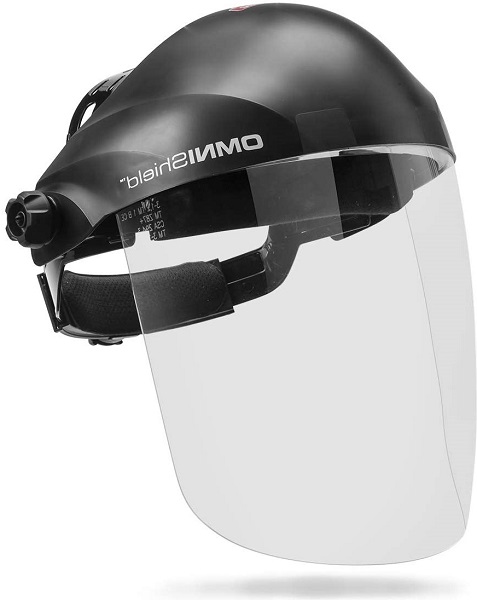 PROS
It comes with headgear.
Great adjustability modes.
It is both an anti fig and anti scratch resistant face shield.
Great durability.
Has a sweat absorbent interior.
CONS
It doesn't come with a steel mesh for Additional protection.
6. Sellstrom Dual Crown Safety Face Shield
Ranked as one of the most efficient and protective face shields over the past several years, this shield boasts of extra head and neck protection design. It features a double crown design that wraps around your head whilst still giving you a limpid peripheral and optical clarity. Both a polycarbonate crown and chin guard are inscribed on the latter to provide users with additional head and neck protection.
Moreover, it comes with a universal slot adapter that fits into most slotted hard hats. Therefore it is versatile enough allowing you to use it even during tougher working conditions. Apart from that, it has a clear acetate window that curves naturally to fit all facial contours. In return, this ensures utmost protection against splashes, particles, and even debris.
Albeit the latter appears a bit bulky from its design, it is very lightweight and durable in nature. Lastly, this face shield is produced in the USA and KT meets all the industry regulations.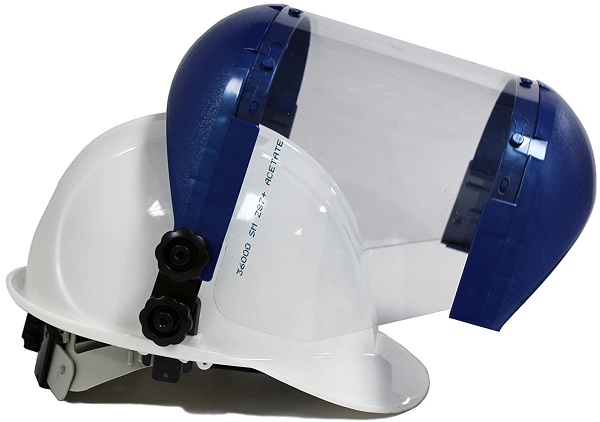 PROS
It is super lightweight and durable.
It offers holistic protection.
This is very long lasting.
It is quite adjustable and fits quite well in most hard hats.
CONS
It comes solely without a steel mesh or earmuffs for additional protection.
7. RealShield face shield
If simplicity is what you are looking for in a face shield, then the latter will provide one of the best panaceas for you. It comes with a patent-pending design that renders it good breathability as well as surplus comfort. Unlike other face Shields, this one can be cleaned very easily and provides its entire user with UV protection when outside.
On top of that, its simple design allows it to be used for different occasions not just work alone. Also, its subtle design makes it quite easy for one to communicate even when having it on. On the downside, this face shield is not built for tough working conditions. So, in case your working condition requires a stronger face shield, you should consider choosing another face shield.
Nevertheless, this shield comes with a protective layer that must be peeled off before first use. Lastly, its simple design makes it appear more fashionable adding a sense of style to your outfit.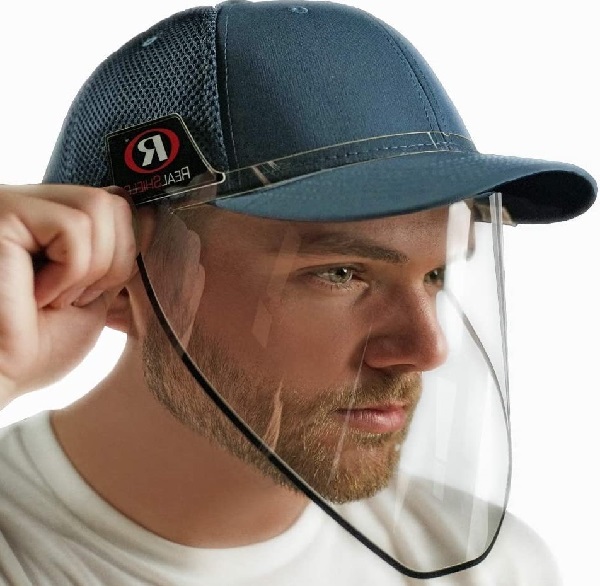 PROS
Very easy to communicate with it.
Very simple and comfortable.
It is a very fashionable face shield.
CONS
It is not good for tough working conditions.
Features To Look Before Buying Hard Hat Face Shield
Certified
OSHA examines and conducts an assessment on every work site to ensure workers are using verified PPE or face shields during work. This is to protect you because such works are prone to hazard accidents. To avoid trouble with OSHA officers, ensure your hard hat face shield is verified for use.
There are several required standards that you should ensure your face shield has passed before purchase. For instance;
Impact resistance standards. American National Standards Institute recommends that each face shield should have a manufactures identity number, either; Z87­+ ANSI Z87 or –Z87 standard number. This makes it impact resistance certified.
Lens quality standards. Your face shield should also meet Z87.1-2010 lens quality standards to ensure its lens is quality and free from any visible defects.
Used materials
Ensure your hard hat face shield is made of strong and durable materials before purchase. Also, ensure these materials are not visually strenuous. I mean, they should have clear and excellent visibility to avoid impacting your work productivity negatively.
While buying one, know that materials such as steel or nylon have perfect visibility and airflow. They also protect users against the impacts of hard objects effectively. However, they are not perfect to protect you from dust and vapor.
Polycarbonate, propionate, and acetate materials are the best as they protect you from all hazardous impacts including dust and vapor. They are also visually clear, have heat resistance, and holds on well even in extremely cold weather.
Comfort
Your hard hat face shield should be light, well fitting, and comfortable to eliminate any possible fatigue to workers during their long hours of working. This garget should be light and adjustable for a perfect fit on your face. This brings out an overall stability of the facepiece over your face.
Fog resistance
Though fog is less dangerous, it's more annoying and destructive to work production. Accumulation of fog over your face shield reduces visibility which might subject you to unaware accidents.
Therefore, you should choose a hard hat face shield that has met lens anti-fogging European EN166/168 standards. Such shields are made of thin-film coatings that are made of hydrogel and polymers that prevent fog accumulation over your face's shield. They absorb and divert excessive moisture to the sides of your lenses.
Durability
Your hard hat face shield should be made of strong, durable, and scratch free external coatings. This protects it from scratching or easily breaking whenever it falls accidentally. Such coatings also make the shield resistance to abrasion and also easy to clean.
Price
This is another important factor to consider while buying your hard hat face shield. It's obvious that different shields have a different cost. However, you should be cautious because too cheap offers might be counterfeit products that are not certified. This might jeopardize your safety and working certificate. You should thus ensure your shield has a reasonable price that is not too pocket strenuous as well. However, always remember that the shield should be quality and certified regardless of its cost.
Customer service
There are several companies selling these gargets in the market today. That's why it's important to select an attentive company with the care and immediate response to their clients. Ensure they explain to you on how to use, install, and all precautions. Their contacts should also be functional with the perfect response in case a client contacts them during an emergency.
How Do You Attach A Face Shield To A Hard Hat?
There are a number of methods to attach your face shield to your hard hat through different accessories. Here is one of the methods;
Your face shield comes with 5 accessories; the transparent facepiece, a brim, bottom reinforcement, and 2 clips.
Step 1. Your face-piece or visor has four holes on its top. Through these holes, attach it to the pegs of the provided brim
Step 2. Apart from 4 holes at the top, your transparent face-piece also have 3 holes at the bottom. Attach your bottom reinforcement on the 3 holes at the bottom of your shield.
Step 3. Insert your 2 clips each on the right and left slots of your hard hat.
Step 4. Insert each end of your brim on the clips attached to your hard heart. This is possible through the pegs found in the inside part of each end of your brim. The pegs make your face shield flexible and easy to raise it down and up when you need to cover and uncover your face respectively.
Recommended Article
Frequently Asked Questions (FAQ)
How To Wear A Face Shield With A Hard Hat?
Step 1. Place your hard hat over your head and extend your fixed face shield down words to cover your entire face and chin.
Step 2. If you need to uncover your face, lift your face shield by lifting your bottom reinforcement.
What Kind Of Plastic Is Used For A Face Shield?
There are several types of plastics used to make your face shield. However, the most trusted and common plastics are polycarbonate and polyester plastic materials. This is because they are well transparent for clear vision, light in weight, durable, and high in fog resistance.
How Thick Should A Plastic Face Shield Be?
The thickness of a plastic face shield depends with the plastic materials used. Plastic materials made of polycarbonate, acetate, or polyester should have a thickness of .005'' to .010''.
Final Verdict
As seen, face shields for the hard hats are important gadgets to have as they protect you against several dangers at your workplace. However, they are delicate and should be handled with care. They should also be cleaned with warm water and dishwashing detergent then allowed to dry. This is to clean out dust, debris, or chemical fluids that may have splashed on it while working. Remember also to consider factors like durability, quality, fog resistance, and vision clarity when getting your hard hat face shield. To avoid jeopardizing your safety and work productivity, consider the face shields described above on this page.
Recommended Article