A hard hat is essential equipment for safety issue. It can help to prevent injury and save you from all types of falling object and electrical shock. It comes with some modern version such as hard hat fan which ensure to give you intense cooling feeling. A cooler is attached around the hard hat to allow you for long time use with comfortable and cooling effect. Hard hat is a piece of PPE, it ensures highest safety but wearing hard hat all the time is not easy, especially in summer season it is difficult to maintain, while you are working in outdoor event with excessive heat. Sometimes it can be a threat of others health issues.
Overheating can cause some potential danger to your body. Beside safety, hard hat with fan can keep you cool and comfortable all the day and allow you to work more smoothly in hot weather. You will not find the fan system in traditional hard hat. We will introduce with some modern hard hats with fan in the following.
Best 7 Hard Hat Fan With Protection And Comfort
We have made a collection of the best hard hat fan, those can help outdoor workers who work in high temperature. All of them provide the highest protection with cool feeling. Let's begin with the name of the lists.
01. Hard Hat with Solar Fan and Light by Miecux
You will like this high efficiency hard hat which works up to 36 hours even without sunlight. The battery can be used as portable charger with USB output interface. There are lots of features, you can answer phone by Bluetooth option, get USB output, head lamp, head fan, solar charger and more. It can be easily adjusted with proper fit by screw and strap.
It completely comfortable around the head circumference with perfect fit and there is no option for slipping. You will be comfortable and cool for the using of hollow thermal insulation and ensures the safety.
Do not worry to work in outdoor in high temperature for summer, this hard hat with solar fan is very simple, cool and comfortable and allow to continue your work smoothly. It offers protection and cooling, and makes your duty more comfortable with solar powered fan design. It is especially designed for construction worker, fire fighters, a sanitation worker and others who work in summer.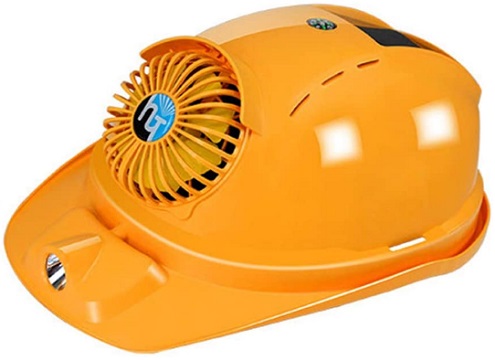 PROS
Will last for 12 – 36 hours even without sun
Portable charger; built in USB output
Solar charger; head fan and head light
Adjustable with perfect fit; screw and strap
Hollow thermal insulation
protection and cool
CONS
Less durable
made of plastic; not top quality
02. Aslion Solar Fan Working Helmet
This hard hat with solar fan is designed for construction worker, biker, sanitation worker and others who work in outside in extreme high temperature. It is made with high technology formula, which gives you energy saving and environmental protection. You will love the looking, that is really attractive with modern outlook.
This hard hat is durable with proper ventilation and cooling system, and keep you comfortable for whole day in the sunshine. Aslion is the very renowned brand for their high technology solar fan with helmet. This comfortable, lightweight and durable helmet is perfect for construction worker around construction site.
No need to worry, the solar panel is waterproof. It is made of Imported ABS plastic which is strong and durable. It will keep you cool and comfortable with breathable cycle design and allow you to work more with more comfort.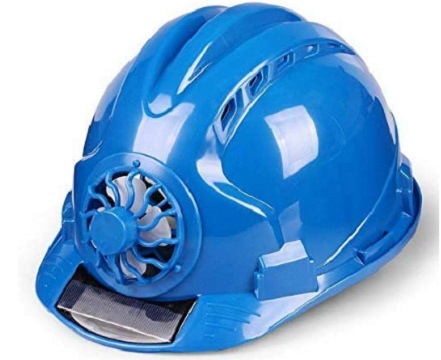 PROS
Environmental protection and energy saving
Modern design and beautiful outlook
strong and durable
ventilate and cooling
Sturdy and waterproof
Made of strong ABS plastic
CONS
Fan is not enough strong
the solar panel not properly secured to the helmet
03. Fayle Safety Helmet with Solar Powered Cooling Fan
This helmet is long lasting up to 36 hours even work without sunlight, it can be used as portable charger because it is built with USB output interface, and it works nonstop without any breaking under the sun. It is rainproof but you shouldn't wipe it in water, can be damaged. It can be used as multifunctional, as like hard fan, hard light, USB output and more.
This helmet is ideal for construction worker, sanitation worker, firefighter and other outdoor workers. This product is totally safe, it is made of high technology, provide environmental protection and energy saving. You will love this beautiful design and modern outlook. In high temperature fan will start and keep you cool.
It is made of high quality ABS plastic, which is strong and durable. There are four colors, yellow, red, blue and white, you can choose as your working pattern. It is comfortable, ventilate and cooling and allow you to without any hassle.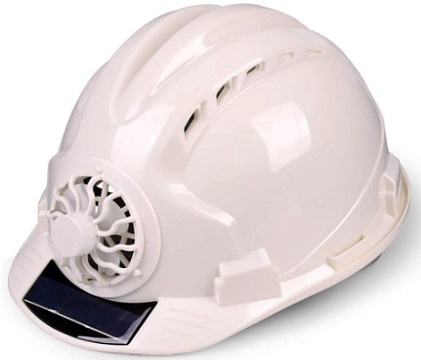 PROS
Solar powered cooling fan
Construction safety
ventilate and cooling
Environmental protection and energy saving
Modern outlook
Durable and comfortable
CONS
Not waterproof
Fan doesn't work well
04. [KEM] Safety Storm Helmet
This helmet includes a forced air cooler which keep you cool in high temperature for summer, allow you to work more in extreme hot weather. But keep it in out of direct sunlight, need to store it in cool and dry place. Cooling efficiency can increase by its internal structure. The air passage inside of the cooling fan can circulate the outside and release heat and humidity.
The ventilation system will keep you cool and comfortable. It has lots of room around so it will keep cooler than others hard hat. You will find intense cooling feeling around your head. It will ensure you the optimal safety and perfect fit. There are variety of application hear, such as the flexible open frame help for air circulation, and the adjustable vents also ensure maximum air condition.
The material of this helmet is comfortable and breathable, easy to use and adjusted properly. It is not only a normal safety helmet but also air cooler around your head.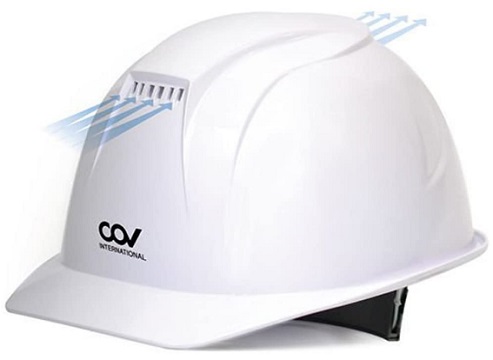 PROS
Forced ventilation
equipped with an air cooler
High construction
comfortable and breathable
Proper air circulation
CONS
Not waterproof
less durable
05. Solar Hard Hat by sgfbhd
If you work in outdoor in the sun and struggle with high temperature than this hard hat is perfect for you. The solar system will help to generate the electricity and make the fan always in running. This hard hat comes with some extra ordinary features such as solar powered fan, air circulation and many more. It will keep you cool, comfortable for whole day.
For the air circulation, you will find the comfortable and breathable effect all the time and your working time will be more enjoyable. The fan port in the front section doesn't affect the overall structure> It is made of high quality materials with modern design. The four point of the cotton lining is fixed and safe, top is made of three–ribbed mechanics with good resistance.
It is multifunctional hard hat including solar charger, head lamp, fan and USB even you can answer the phone by the Bluetooth. The built in Battery allows to use as a portable charger. You will get comfortable and perfect fit with adjustable suspension.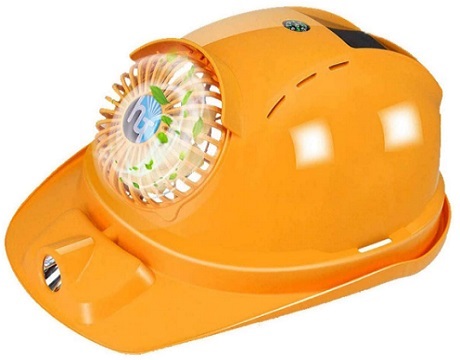 PROS
Safety cap with cool fan
Solar drive keep the fan running
Cool, comfortable and breathable
High construction; Three-ribbed mechanics
Four point cotton lining
Adjustable ratchet suspension
CONS
Less durable
The cooling effect is not so high.
06. Solar Power Safety Helmet by Sonew
This helmet is super easy to use, no need the batteries, it is powered by the solar, it works in strong sunshine and never stop working in sun. This helmet includes high insulation, good resistance, cool and comfortable feeling. You can choose as you demand, there are some color options. This helmet is especially designed for construction worker, fire fighter, biker and others outdoor worker.
This helmet is east to adjust, by the screw rotation you can get a perfect fit. It is highly constructed with strong brim. It will keep you cool and comfortable for all day use. This practical helmet is especially for high temperature and keep away from others falling object.
This helmet ensures premium head protection, works as the best protective equipment. You will never feel hot, because it is made of comfortable and breathable materials, and the sweat absorption belt give allow you to work with more comfort.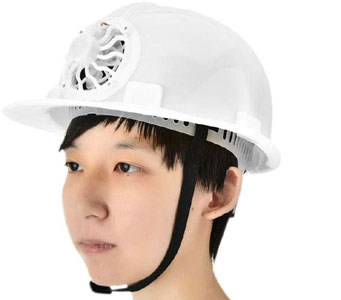 PROS
Cooling fan
Durable, comfortable and breathable
Air ventilate; sweat absorption belt
Short brim design
Easy to use
Color option
07. ZBM-ZBM Hard Hat Fan Detachable Air Conditioner Hat
This hard hat comes with multiple features, like fan, light, charger, solar power etc. It is made of high quality ABS plastic materials which is strong and durable and allow you wear long time with comfort. It is combination of selected materials and scientific process and ensures highest performance. There are two optimal color option red and yellow.
It is designed for extreme hot weather and harsh environment. It is featured with anti-collision, anti-impact, high temperature resistance and many more. You will get proper ventilation and accurate visibility. It ensures high performance with high strength and chemical resistance. This helmet is designed for fire fighter, construction worker and others outdoor workers.
It is comfortable, breathable, and durable, allow you to wear long time. You will get a perfect with eight point fabric lining knob adjustment which will give you a shockproof effect. You will get the highest safety of any falling object or splashes.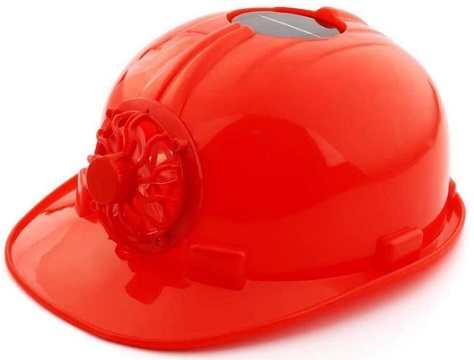 PROS
Made with high quality ABS Materials
Anti-mite, anti-collision, high strength
High temperature resistance; chemical resistance
Ventilation and cooling effect
Comfortable, breathable and safe
Good electrical insulation
CONS
Size issue; only one size
color can be fade
Key Consideration Before Buying a Hard Hat Fan
Hard hat fan is very useful for wearers while working under sun. It provides both protection and comfort to the engineers and workers. But to get the full features you should consider some points while buying a hard hat fan.
Materials Used
Hard hats should be made of durable materials that is also lightweight. Lightweight hard hat material ensures the safety and comfort that is important for you in the hazardous environment. When you work in heavy metal workshop or under the open sky, you will need high level of protection. In these case carbon fiber based hard hats are the best options.
Certification
The materials should be ANSI approved and thus it will maintain the quality standards. Choosing your hard hat also depends on the environment you work.
Size And Fit
Good fit hard hat is important for work environment. A proper sized hard hat helps to work hassle free because when it is adjusted to your head you can work without any discomfort. It also helps to maintain safety avoiding any risks while working.
Fan Configuration
The fan should be properly placed in the hat, so that the cooling system can cover around the head as required. Solar system helps to work eternally under the sun. So you will get full day cooling comfort during the sunshine. Even it provides support for long days without any interruptions. USB charger is another supportive and helpful option that is available in some hard hat fan.
Final Recap
We have tried to give you detail information about hard hat fan. The list of hard hat fan will help you to choose the best hard hat among the various brands. All of them are highly constructed, you will get the perfect and effective if you work in high temperature and harsh environment. Make sure, which types of hard hat you are looking for if you work in hot weather in summer than a hard hat fan is must be needed to work in the sun for outdoor events. It will not only save your head but also give the cooling effect.