Spray paint is an excellent decorative tool that can provide a great good look to your furniture, vehicle, and even other things. Versatility and portability is its great advantage. Its affordability and functionality make it another great feature.
It is very easy to use and anyone can use it to get the expected results. But if you are going to use it for the first time, you have a lot to know. It is vital to understand how long does it take for spray paint to dry as well as the benefit of spray paint and how fast to dry it.
If you fail to understand these, your whole effort may be wasted. So, consider these questions in mind and read our guide to find out how long it will take to dry along with it's some important facts.
How Long Does It Take It Spray Paint To Dry?
The drying time of spray paint actually depends on different factors. These factors are including, what kind of surface or material you want to dry, the type of spray paint, how thick the spray paint is, the temperature and humidity of the area, and more. Depending on the factors, the time for this can also be different.
There are four stages of spray paint that you need to understand before looking for time ("How long does it take for spray paint to dry"?). These are as follows:
The surface dry
This occurs when the paint solvent evaporates. At this stage, you will notice a thin layer on the paint surface. This layer gets stuck in anything that touches.
The touch dry
The touch dry is the second stage of spray paint drying where when you touch it the paint is no longer sticky, but it does not mean, it's dry completely. Usually, the paint of the surface is a bit harder in this stage. At this stage, if you use light pressure the paints can immediately go off the surface.
Hard dry
At this stage, the surface of the paint becomes harder. It may not be easily damaged by light pressure, but adequate pressure can cause this to deteriorate. Your finger will also be seen on the surface due to the strong pressure. But it will not be stuck on your finger.
Thorough dry
The final stage of spray paint drying, where the surface is ready for use as each part of the surface is dried. After understanding the drying stage, let's take a look- "how long does it take for spray paint to dry depending on the material or surface"?
Drying time on Cardboard
The spray paint can be dried on the cardboard relatively quickly. It should take about 15 minutes to dry if you have done the work in a well-ventilated area.
Drying time on Metal
Spray paint dries faster on metal than on other surfaces, and it happens when the weather has warmed with less moisture. In this case, it can take about 10minutes or less to dry. But keep in mind, the humid temperatures can increase the time to dry, regardless of what you are painting.
The glass Drying time: When you can add as many coats as you like in just 15-minute breaks, the paint can take at least 24 hours to dry completely.
Plastic Drying time: Wait 30 minutes, before applying the extra layer with plastic. It should take about 3 hours to dry completely.
Rubber Drying time: Due to the perforated surface of the rubber, it can take a long time, where it will take at least 24 hours to dry.
Drying time on Wood: Spray paint on wood usually dries quickly. After applying the spray paint it usually takes ten to 15 minutes for the paint to dry.
How Long Does It Take For Spray Paint To Dry Depending On The Type Of Spray Paint?
Different types of spray paints are available on the market now according to brands, quality, and finish wise. Each type of product comes with exclusive construction that plays a huge role in how long the spray paint drying process can be.
Enamel Paint : The enamel paint begins to dry in a few minutes. This is because of the solvent evaporation rate. The formula here contains air that crosses the polymer and drives it to form a hard surface. When the application is finished, it takes 10 to 30 minutes on a dry surface and 8 hours or less to dry completely.
Lacquer Paint : The use of lacquer spray paint will give you time to dry faster. In some kinds of latex, if the water is used to thin the paint in this case you can obtain the same result. Using thermoplastic polymer lacquer paint is made of. The surface-drying method occurs in a minimum of 3 to a maximum of 5 minutes. Hard dry normally takes about 3 hours to dry.
Epoxy or Polyurethane Paint : The fastest drying spray paint on the market is epoxy or polyurethane paint. In this startup, you need to break down the two ingredients for the chemical reaction. You will notice that within five minutes a surface dry takes place. Here hard dry normally can take about 1 hour to dry.
Other Factors That Contribute To The Drying Time Of Spray Paint
The Thickness : The thickness of the paint layer plays a great role to determine the time of spray paint drying. The dryness of the paint depends on the thickness of the coat. This means that the more thick the coat, the more dry the paint will be. However, the good thing about using spray paint is that you can control the thickness of the layer if you want but you can't get it while using the brush. And if solvent or thinner is mixed before application, you will get a thin coat that dries very quickly.
Environmental Factors : The environmental factors also have a contribution to how long does it take for spray paint to dry. In humid environments, the spray paint takes a long time to dry completely. A less humid environment is good for using spray paint, otherwise, the spray paint may take longer for drying.
How to spray paint can be dried quickly
While painting the room run a heater and direct it to the paint, it a good way to dry faster.
Five minutes after the spray paint is applied, you need to coat the paint to an object with furniture polish.
You can keep a lot of fans leaning towards objects while you are working indoors, it works well for drying faster.
To reduce humidity in the room, you can use the dehumidifier for drying faster.
The thinner your coat, the less time it takes for your spray paint to dry, so use a thin coat.
Fresh air is good for faster drying, so work outside whenever possible.
Top 5 Best Power Paint & HVLP Sprayers
1. Graco 17G180 Magnum ProX19 Cart Paint Sprayer
Make colorful your workday with the Graco paint sprayers. It has perfectly adjustable pressure which provides you ultimate control over the flow of paint for any project size; The RAC IV switch tip lets you reverse the tip when you get stuck spraying. Its InstaClean pump filter reduces the tip clogs from paint debris.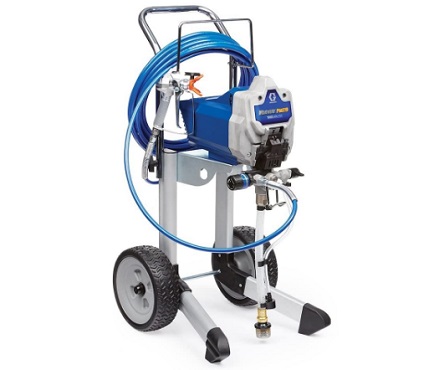 You can spray directly from a bucket of paint. Its proX stainless steel piston pump lets you spray paint unthinned using high pressure. You can use up to 500 gallons each year. It is quick and simple to use and perfect for multi-story homes.
Product features
Adjustable pressure.
InstaClean pump filter featured.
Flexible suction tube.
Power flush.
110 volts featured.
The annual use recommendation is 500 Gallon.
Supported hose length up to 150ft.
PROS
Comes with a handheld spray gun.
The flow of air adjustment and multiple pain options are available.
It can be cleaned quickly and easily.
Covered by 4 years warranty.
Free replacement and refund facilities.
CONS
Does not provide spare paint sprayer containers.
2. NoCry 1200ml/min- Electric Paint Sprayer
It brings handheld spray guns for both DIY and professional painting work inside or outside. You can get a perfectly personalizable finish with an adjustable speed of airflow, the volume of material flow, and options for spray pattern. It has four color-coded nozzle tips for spraying the dense or thin coating material.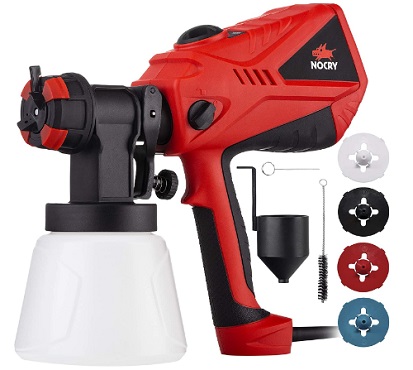 You can paint your doors, windows, walls, floors, fences, decking, furniture, ceilings, and cabinets using its multiple paints and airflow adjustment. It made itself a powerful one on the market now for its 5A/600W motor. With this product, you will get 4 years warranty, free replacement, and refund facility.
Product features
5A/600W motor.
Four color-coded nozzle tips.
40.57fl.oz/min (1200ml/min) is a maximum flow rate
Maximum viscosity is 100DIN/s
33.814fl.oz container
Voltage is 110-120V, 50Hz
The length of the cable is 79.5 inches
Weighing 3.5 lbs
PROS
You can control paint flow for any project size.
Quick cleaning and simple to use.
You can spray more projects each year.
Greater reliability and longer life.
You can spray from one or five gallon containers.
Suitable for multi-story homes.
CONS
Difficulty issues to work with 5-gallon buckets.
3. Wagner Spraytech 0529010 FLEXiO 590 Paint Sprayer
Wagner Spraytech 0529010 FLEXiO 590 is ideal for multiple projects (walls, ceilings, furniture, exterior siding, fences, cabinets, etc.). It is included with 2 nozzles and these are spray nozzle (good for large jobs) and Detail finish nozzle (good for small projects as well as fine finishing).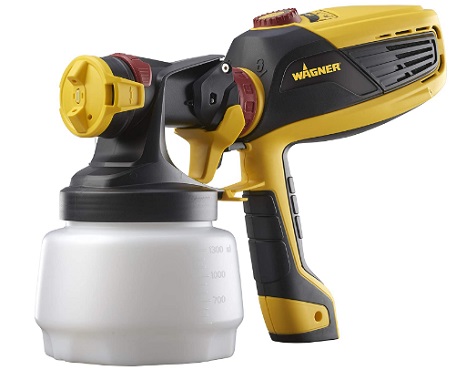 It is possible to spray the unthinned interior and exterior paints and stains with its X-boost turbines. The product comes with an adjustable flow and it is ten times quicker than a brush. You can cover an 8 'x 10' surface in just one minute for stains and for latex paints it will take just 5 minutes. You are also allowed to use 8.0 gallons per hour.
Product features
Indoor and outdoor compatible.
10 times quicker than a brush.
2 front end nozzles are included.
Handheld HVLP Paint Sprayer
iSpray nozzle for Large projects
Detail Finish nozzle: for small projects along with fine finishing.
PROS
Cleaning method is fast and simple.
More controllable.
Suitable for multiple projects.
It can spray unthinned materials.
Comes with adjustable flow.
X-Boost turbine provides unmatched power.
CONS
Sometimes need help for doing the job.
4. Titan Tool 0580009: The High Efficiency Airless Paint Sprayer
This is an airless paint sprayer. The Titan Controlmax is basically made for serious DIYers and handymen that makes the products simple to paint like a Pro and provides three times faster coating than a roller. You can use it for your large projects including home exteriors, fences, decks, garages, and other items.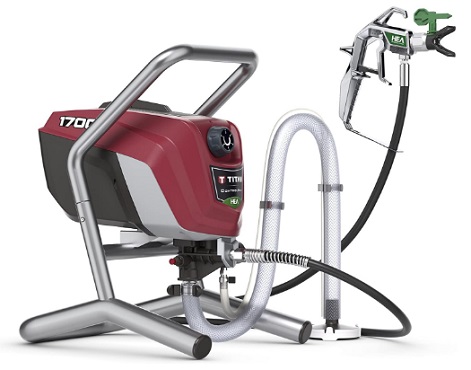 Its high-efficiency airless technology reduces the overspray by up to 55 percent during soft spray delivery, to improve control and more consistent finishing time. The High-efficiency airless pump is a long-lasting and strong sprayer that can spray on unthinned paints with a reconstituted liquid section which can maximize the life of the sprayer.
Product features
Airless paint sprayer.
Reduce the overspray by up to 55 percent.
Last up to three times longer.
Spray unthinned material.
The fluid section maximizes the life of the sprayer.
PROS
Comes with high efficiency airless technology.
Softer spray improves control.
Provide great productivity.
Powerful and durable pump.
Covered by a two-year warranty.
CONS
There may be problems with priming.
5. HomeRight Power Flo Pro 2800 C800879: The Airless Paint Sprayer
HomeRight Power Flo Pro 2800 is good for large household painting projects (home exterior, sheds, fences, garages, decks, etc.). It has a great performance, using a 1/2 HP motor, it provides 2800 psi for spraying unrefined paint.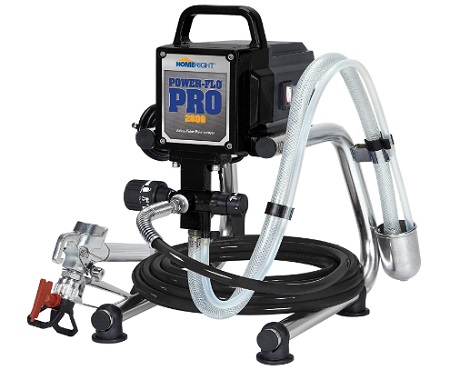 This airless sprayer has 25 feet long, the non-kink hose which is easy to get to the painting project. Doing your household painting projects yourself will save you thousands of dollars and leave you with a nice finish.
Product features
Comes with a reversible tip.
Pressure control adjustment.
25-foot long airless spray hose.
Operation Manual.
1/2 HP motor.
Household use only.
Max tip size: .015
PROS
Comes with powerful performance.
The product is more portable and simple to use.
Easy to clean.
Compatible with a variety of materials.
You will get replacement parts.
Covered by a two-year warranty.
Benefits of Using Spray Paint
Spray paint saves a lot of time during the work as compared to brush use.
You don't need to put the unnecessary effort in spray paint.
Spray paint decreases the paint wastage, you can save a lot of paint during the work.
You can use spray paint on a variety of projects.
Spray paint provides a better finish compared to a brush.
Its adjustability provides the best control overusing.
Spray paint is versatile and affordable.
Final Word
So, I hope you have found the answer regarding "how long does it take for spray paint to dry" in the above discussion. I would like to say one more thing, the right kind of paint can save you time as well as a proper sprayer can be more helpful. So if you are going to use it for the first time, take good paint as well as a good sprayer to make the work easier and more beautiful. Anyway, this is the end of this topic for today. Thanks.