The tankless water heater is also called the "instantaneous or instant kind of water heater" that serves the hot water depending on your needs. It heats the water instantly on-demand and provides the hot water at a digitally preset temperature. A tankless water heater is more energy efficient because it does not generate standby power loss linked with storage water heaters.
Now come to its price (How much does a tankless water heater cost?), It might cost you 2 to 2.5 times more than a standard water heater to buy and install a tankless water heater. Being the cause of this price is the high unit production cost, venting, changing the size of the gas line, and some other things.
Sometimes this price varies depending on the type, brand, model, features, and flow rate. It the good sense for you to compare quotes from local contractors for installing a new tankless water heater. If the tankless water heater is installed and properly connected, you will get the potential to save money in the long run. However, this is not the end of the discussion, in this guide, you will get everything you need about a tankless water heater beside the main discussion (how much is a tankless water heater costs).
How Much Does A Tankless Water Heater Cost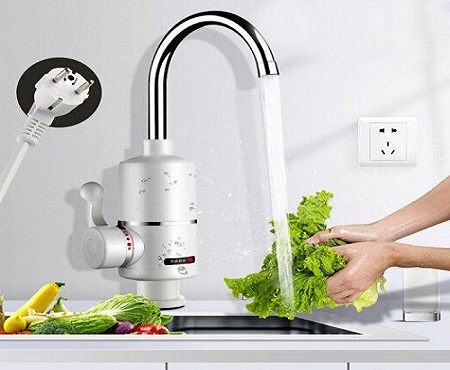 The average cost of a tankless water heater is around $2810 to install or the average ranging from $2,500 to $4,500. However, prices may vary depending on the region, labor rates, and other things.
The anticipated cost of a Tankless Water heater
National average cost: $2,810
Average range: $2,500 – $4,500
Minimum cost: $1,060
Maximum cost: $6,700
National average cost breakdown example
Average cost for installation: $2,808 or $2810 (Round) Where,
Materials cost:
150,000 BTU tankless gas water heaters: $1,600 and,
Power vent kit: $850.
Labor Cost:
Tankless gas water heater Installation and power vent kit $358.
Tankless Water Heater Cost Calculator
As I discussed earlier, the cost can vary depending on the heater model, brand, and capacities along with its features so, for example, simple electric heaters are less expensive than solar-powered and a propane tankless heater means, these two are more costly. Sometimes, recent locations can fall a big impact on the price as in certain states the labor, as well as material costs, may be higher or lower.
Along with the maximum and minimum estimates, find your approximate average prices to install the heater, enter the zip code of where you are now, into the tankless hot water heater calculator.
Tankless Water Heater Installation Costs
When you want to hire a professional plumber, they can expect to get an hourly or a flat fee. To install a tankless water heater, the average per hour rate for a plumber falls around $45 to $150 or more. The average cost of final labor is around $ 90 to $450 or more (depends on labor in your city).
The price also depends on the type of heating component you prefer. You also need to calculate the cost of the required parts. Required accessories usually include:
The terminations vent kit.
The gas connector kit.
Brass valve set two-piece lead-free.
Mounting and fitting hardware.
The cost of insulation and piping.
There are some other factors that can have an impact on costs such as, the removal and disposal of the existing heating system, electrical updates (if necessary), and possible formational changes to balance the new unit.
Tankless Water Heater Unit Prices
1. Whole House or Single Point Water Heater Cost
Single point tankless water heater: If electric heaters are used, a single point tankless water heater can be installed inside or outside the building near the water use point. It means, for every water source, you will need a tankless heater which means you will need one or more units and each unit cost can be around $150.
Whole House Tankless Water Heater: It is usually installed near the outer wall to reach the vents of the gas units, but there is some flexibility in the installation. In this case, one unit can handle several bathrooms and a dishwasher. It can cost you at least $1000.
2. Natural Gas vs. Propane Water Heater Cost
Natural Gas: It is widely available and suitable for cold weather as well as safe for the environment. You don't need to buy oil nor do not have to pay the electricity bill in a high. The installation cost of a natural gas water heater typically ranges from $450 to $ 2,000.
Propane Tankless Water Heater: It can be cheaper than other options in terms of initial investment and maintenance, as the heater is affordable than oil and electricity. The Propane Tankless Water heater is long-lasting and its repairing cost is relatively low. However, the Propane water heater installation cost typically ranges from $500 to $1,000.
3. Electric Tankless Water Heater Cost
This eco-friendly tankless water heater is one of the first preferences of homeowners. You can maintain it at a much lower cost. The installation cost of an electric water heater is around $450 to $1,000.
4. Solar Tankless Water Heater
This water heater is recommended for sunny areas. You can maintain this tankless water heater easily since they provide quiet operation but they may cost you for initial installation and for possible repairs. But if you want to buy it without thinking about the cost, you will get a good advantage, it is eco-friendly. However, the average cost of a solar tankless water heater is around $2,000-$7,000.
Tankless Water Heater Cost According to Popular Brands
Brand Type
Brand Cost
Electric
Gas
Bosch
$140-$800
$1,050-$2,250
Rheem
$170-$575
$670-$1,950
Black and Decker
$200-$550
Not offered
Marey
$190-$550
$300-$1,500
AO Smith
Not offered
$300-$670
Westinghouse
$350-$1,650
$875-$2,000
Ecosmart
$425-$725
$695-$1,600
Takagi
Not offered
$490-$1,225
How can you choose the right Tankless Water Heater?
Unlike conventional tanks, the tankless water heater does not come with a gallon capacity. In this case, you can ask which one will be right for you. Both gas and electricity require one-time water demand which is called flow rate and it should be calculated.
Based on measuring the GPM (gallons per minute) flow rate is calculated. You need to see what materials you are using at the same time, in order to find out the flow rate and then combine that thing to determine the required maximum GPM.
So, let's check below to know what size or capacity of a tankless water heater will be suitable for you.
For example: For general household features the average water use.
Washing machine usage: 1.5 to 3.0 GPM
Shower usage: 1.0 to 2.0 GPM
Bathroom faucet usage: 0.5 to 1.5 GPM
Dishwasher usage: 1.0 to 2.5 GPM
Kitchen faucet usage: 3.0 to 9.0 GPM
Hot Water Heaters With Tank vs Tankless Water Heater
A significant amount has to invest to install a new water heater. For this reason, you need to research different products to meet the demand of your family and you have to decide which option to take to benefit.
Tankless water heaters are usually very compact and can heat water instantly according to your needs. But hot water heaters with tanks can be a good option for large families because they use plenty of hot water if they can save hot water and reduce energy consumption.
However, there are many more things based on those you can decide. Let's check the difference between them.
Hot water heater with a tank
Upfront cost is affordable.
Easy to install.
Life span is 10 to 15 years.
Energy is consumed more.
Need large space.
Tankless water heater
The initial purchase and installation cost is much higher.
Installation is easy but sometimes depends on home upgrades.
The life span is about 20 or more years.
Energy efficient.
Space saver.
DIY or Hire a Pro-Which is Better?
Hire a professional is good sense. Installing a new water heater at home requires new wiring or gas lines, new piping, and fittings, and sometimes it needs to reconstruct the drywall. In this case, the work should be completed by a skilled professional.
This is due to the codes involved in carbon monoxide throwing, heat resistance, ventilation, and region-specific codes. The best decision is to hire an experienced plumber to make sure you meet all coding and essential requirements. Also, they will help you to choose the right equipment. Hiring a pro reduces the chances of your home running on cold water.
Frequently Asked Questions (FAQ)
How does a tankless water heater work?
Without being the use of any hot water storage tank the tankless water heater heats the water instantly. Coldwater enters the unit through a piper, while the hot water tap is turned on and here water heating element is either an electric or gas. You will get instant hot water as your demand.
What is the downside of a tankless water heater?
A tankless water heater has some downsides also. Some of the major downsides are as follows:
The cost of upfront equipment and installation is higher than the traditional tank.
The temperatures are Inconsistent.
During power outages, these models will not work which means there is no backup source of hot water in case of emergency.
How much does it cost to replace a hot water heater with a tankless?
If you want to replace it with a gas-powered tankless water heater then the cost of adding a gas line will be around $500. The actual electric tankless water heater installation cost is about $90 to $450. Including gas line adding and gas installation cost is about $1700.
Last Word
So in the above discussion, it is understood that there are many advantages of a tankless water heater, you can consider it. Our main discussion here was how much a Tankless water heater costs. I have tried here to highlight the possible costs separately and hope you get an expected estimate from here. So thank you for staying with us.