Waterproof Gloves are good for any outdoor activity, especially for heavy-duty in winter, it keeps your hand dry and warm, give you safety and protection and make your duty easier. A good pair of waterproof gloves will ensure your ultimate protection while you work. It is a very serious issue when you work in the extra cold in winter, you need to keep your hands warm and dry, and in that case, only waterproof working gloves give you protection.
It is a great investment if you work in a wet environment. It is essential for many professions when you constantly work with your hands even with any chemical. Waterproof gloves have lots of features which you wouldn't find in normal working gloves. The strong materials can help for the highest protection in extremely cold weather, you can call it second skin in winter.
Types of Waterproof Working Gloves
There are different types of waterproof working gloves functional and stylish both. You can adjust any of them by your own choice.
Fleece gloves: They are constructed with knit synthetic fiber materials that provide super warmth.
Liner Gloves: Those are constructed with stretchy knit materials that usually resist water and wind.
Insulated gloves: Which contain insulating materials which are capable of working in extreme cold.
Leather Gloves: The best material for waterproof working gloves. You will get excellent resistance and durability not only in cold also in any extreme weather.
How Waterproof Working Gloves Work
You can prevent your hand from cold or wet by using waterproof working gloves. Good waterproof working gloves allow you for playing and working outside in winter even the weather is zero degrees, which will keep your hand warm, dry, comfortable, and flexible. The waterproof working gloves are well constructed, functional with high-quality materials and the back is made of synthetic fiber for flexibility, properly insulated, and breathable as well.
Why Do You Need to Wear Waterproof Work Gloves?
You have to do your duty regularly, even in bad weather conditions. You have to use your hand in every circumstance, a pair of gloves can solve your problem easily, but it must be waterproof. By using gloves you can do your work and sports outside. Those will protect your hand in extreme cold because they are designed for tough circumstances. It will provide you the highest protection from any cold or wet even if you work with dangerous chemicals. You must need to wear waterproof work gloves to protect your hand and finger.
The 10 Best Waterproof Working Gloves
The worst thing about winter is working in cold by your hand. Many gloves company are manufacturing high-quality waterproof working gloves nowadays. You will be happy to use some gloves, details are here.
1. Ergodyne ProFlex 817WP Waterproof Work Gloves
The Ergodyne ProFlex 817WP Waterproof Work Gloves are gloves you want with lots of features. It includes a weather-resistant ripstop outer shell, DWR water-repellent finish, and a breathable insert block cold, keep your hand moisturized, warm, and dry. It will give thermal protection with dual-zone insulated with 40 grams (palm) and 70 grams (back of the hand) of 3M insulate for extreme hand protection in cold conditions. Perfect for any hard work with durable materials contain rugged AX Suede palm and fingertip reinforcements are designed for superior grip, abrasion resistance, and flexibility. You will feel comfortable because the product is lightweight and free of bulk maintaining full dexterity. The product especially featured touchscreen capability, you can swipe, tap on smartphones with your thumbs and index without having to take the gloves off. Extended neoprene cuff can fit under or over jacket sleeves for convenient easy on/off wear.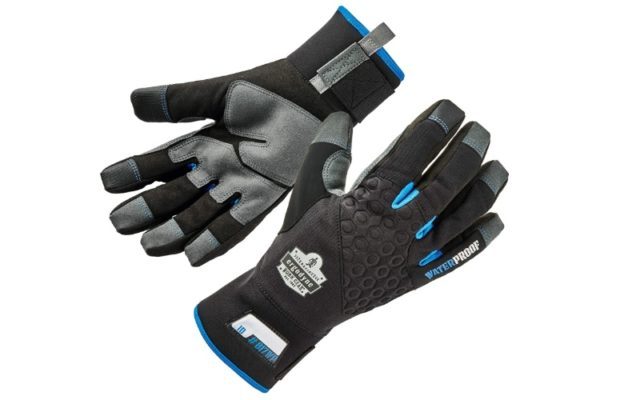 PROS
Waterproof+ windproof.
A water resistance ripstop outer shell.
A breathable insert block cold.
Thermal protection.
Durable materials.
Flexible with superior grip.
Lightweight.
Touch screen capability.
Easy on/off.
Keeps your hand warm and dry.
For extreme cold weather.
2. Carhartt Men's W.P. Waterproof Insulated Glove
The Carhartt Men's W.P. Waterproof Insulated Glove is the best insulated gloves. You will get everything if you want to stay warm this year. You have to do lots of hard work in a tough situation, Carhartt gloves care about you and your hands. These durable and strong gloves give you ultimate safety and protection includes all-purpose poly tex with softshell trim and reinforced digital grip palm with stick grip finger area and thumb also includes nose wipe, wrist strap closure with stretch fleece cuff. You will be pretty happy to use this for its ultra-soft insulation and fast dry technology lining that wicks away sweat.
PROS
Durable and comfortable.
All-purpose polytex with soft-shell trim.
Reinforced polyurethane palm.
Ultra-soft insulation.
Fast dry technology.
Keeps your hand dry and safe for long time.
Super warm.
Well-constructed.
3. Carhartt Men's Vintage Cold Snap Insulated Waterproof Work Glove
Carhartt Men's Vintage Cold Snap Insulated Work Glove can be your favorite glove for locking moisturizer. It's constructed with a Storm Defender waterproof breathable shell and insert to keep the elements out and your hands dry. These ultra-soft insulation and lining with Fast Dry technology wicks away sweat. The wide opening of the cuff allows for easy-on action and the adjustable wrist strap secures the fit. Your index finger, knuckle area and palm will be soft with ultra-wear-resistant goatskin leather with an additional grip palm patch. It is well constructed, storm defender breathable and windproof insert, also very comfortable while working. It features nose wipe, adjustable wrist strap, barrel lock closure, gauntlet construction.
PROS
Wrist strap with barrel-lock adjuster.
Moisture-wicking lining.
Storm defender with breathable protection.
Ultra-soft t insulation.
Fast dry technology.
Softshell and durable.
All-purpose polytex protection with goatskin.
Nose wipe, adjustable wrist strap.
4. Youngstown Glove 03-3450-80-L Waterproof Winter Plus Performance Working Glove
One of the ideal gloves is Youngstown glove for its 100% waterproof performance. It keeps your hand warm and dry in cold in any wintery environment. It contains triple layer technology consisting of a micro liner, the waterproof inner membrane keeps hands completely dry and cold and strong enough for any heavy work. It is functional with a form-fit outer shell. This glove is designed for heavy work, which is comfortable and soft. Sizes are available, the duel functionality gives you proper support. This is also designed to wick heat and moisture away from your hand. It features a textured multi-directional stretch nylon that allows great stretch. It ensures the best fit, comfort and durability.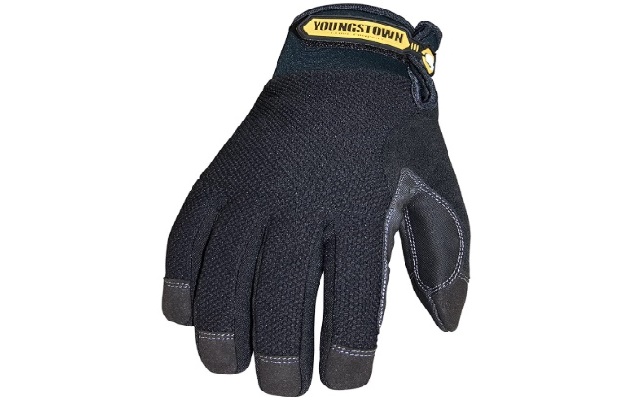 PROS
Comfortable.
3D ergonomic design.
100% waterproof.
Functional and dexterous.
Outer shell is dexterous and reinforced.
Triple layer technology.
Microfleece liner.
CONS
Two slightly color different.
5. Kinco HydroFlector Waterproof Double Thermal Knit Shell & Double-Coated Latex Working Glove
Kinco HydroFlector Waterproof gloves is great to use, they are really comfortable. These are incredibly warm with excellent quality. You can say the good combination of waterproofness, flexibility, dexterity, and warmth. These are great for cool weather fishing, general work, or wet work. You are getting double layered heavy thermal 100% acrylic knit shell and acrylic inner liner, those repel the cold and wicks away moisture. The green full-coverage smooth latex coating provides a flexible waterproof barrier and the black sandy latex palm coating maintains elasticity in low temperature, provides texture surface to increase grip control. Acrylic elastic knit wrist helps to retain warmth and helps to prevent dirt and debris.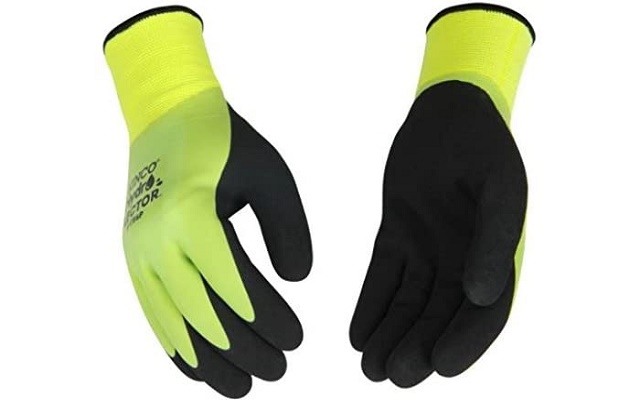 PROS
Waterproof double thermal knit shell.
Thermal acrylic inner liner.
Repels the cold.
Wicks away moisture.
Full-coverage smooth latex coating.
Latex palm coating.
Abrasion protection.
Grip control in liquids.
Helps to prevent dirt & debris.
Elastic knit wrist.
CONS
Hard to clean.
Hard to get on /off.
6. Vgo 32℉ or above 3M Thinsulate C40 Winter Goatskin Leather Waterproof Work Gloves
These are well constructed and attractive gloves. These are insulated you can work for a long time in too cold even you can work in snowy conditions because they have a 3M C40 Thinsulate lining for cold resistance. This is ideal for use in cold storage and a high humid cold work environment. You will be very happy to use it because its Breathable and stretchy genuine goat grain leather provides hands maximum comfort and excellent grip also including TR2 lining for cold-proof, also add a breathable waterproof membrane. Three-dimensional hand modeling conforms to ergonomics for a great fit. The stretch spandex back provides exceptionally dexterity and breathability and three-dimensional hand modeling conforms to ergonomics for a great fit. The Premium genuine goat leather provides comfort and dexterity for all day.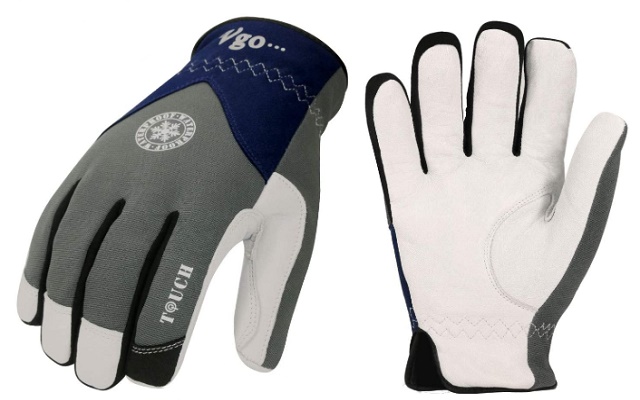 PROS
3M C40 Thinsulate lining for cold resistance.
Breathable waterproof membrane.
Premium genuine goat leather.
Comfortable and dexterity.
Ergonomics for great fit.
Excellent grip.
Ideal for using in cold storage.
CONS
Too tight.
Leather becomes stiff.
7. DeWalt DPG750L Industrial Safety Gloves
You will love these gloves in winter, these are extremely functional, comfortable and well insulated, specially designed to keep your hand warm and dry. The DeWalt DPG750 extreme condition 100g insulated cold weather work glove features D-FEND technology, it has 4 layer wind and waterproof barrier. These features help to keep you comfortable and improving your performance. You will be able hard job like utility work, material handling etc. Nylon covered Neoprene knuckle for extra protection, durable coated polyester shell, and gauntlet cuff for extended protection.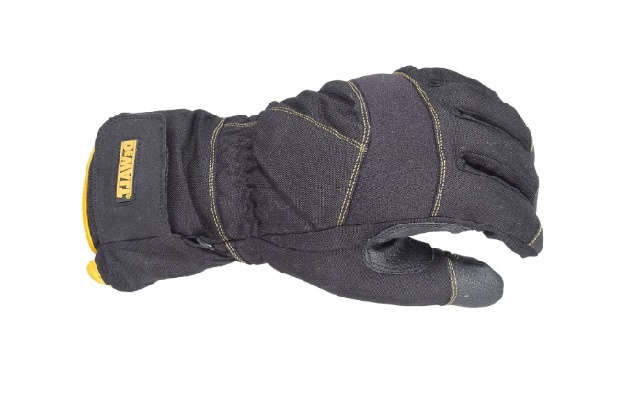 PROS
4 layer wind and Waterproof.
100G micro fleece liner.
Water & oil resistant palm overlay.
Gauntlet cuff.
Durable PU coated polyester shell.
Nylon covered Neoprene knuckle.
extremely functional.
comfortable and well insulated.
D-FEND technology.
CONS
Bit expensive.
Not durable.
8. West Chester 96650 Yeti Waterproof Winter Gloves
Those are perfect winter gloves, you can use it in cold and wet conditions. Thee gloves is for safety use in winter recreational activities and are useful as protective gloves during snow or ice removal too. Fleece insulation gloves are recommended for workers engaged in material handling and construction. PVC patch gloves use a fully-insulated liner sewn directly inside to keep the hands warm. These gloves are resistant to moisture. Water-resistant lining keeps the water out, ensuring worker's hands stay dry even when handling commercial fishing. Neoprene knuckle strap boosts durability. The synthetic leather palm patches and PVC fingertip patches boost overall insulation and provide better grip. Synthetic leather gloves have reflective strip for easy visibility.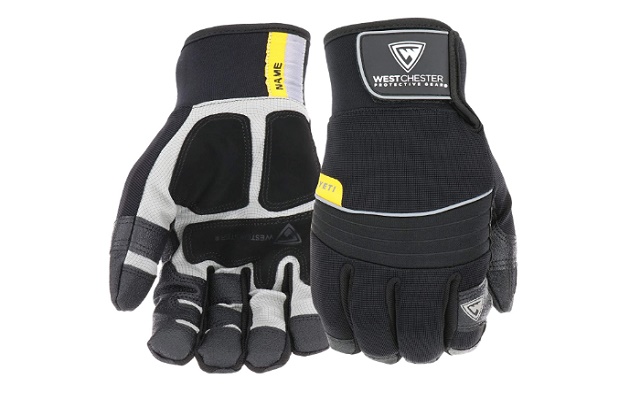 PROS
Safety gloves.
Insulated gloves.
material handling and construction.
resistant to moisture.
Water-resistant lining.
better grip.
synthetic leather gloves.
stretch spandex backing.
CONS
Looking clumsy.
Not durable.
9. Perfect Curve Glove by Glacier Glove
These gloves are great, 100% waterproof and perfect for you to keep your hand dry and warm. It is premium waterproof glove, blind stitched and glue, made with Yamamoto neoprene and blind stitched and glued for waterproof comfort. The neoprene is fleece lined for warmth. It provides optimum comfort without the snags. It is fully integrated Wrap Design. The pre-curved fingers to help fight hand fatigue. There are some sizes, you can purchase as your size. These gloves are not bulky with nice grip and well-constructed.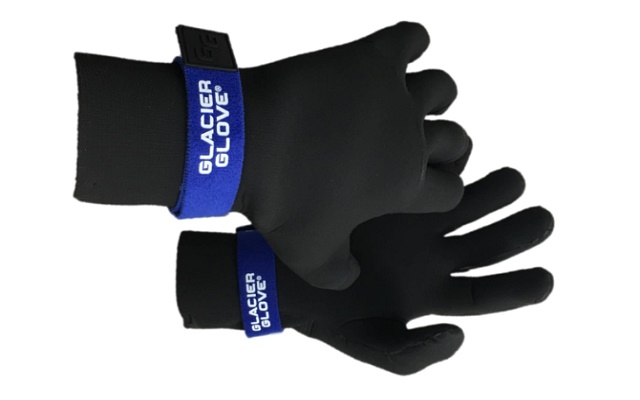 PROS
100% waterproof.
Blind Stitched and glued.
Pre-curved fingers.
Seamless Palm.
Designed to keep you Warm & Dry.
2MM Fleece Lined Neoprene.
Fully Integrated Wrap Design.
CONS
Not stylish.
don't keep warm for long time.
10. Frogwear 8490 Insulated & Waterproof Blue Tripple Dipped Work Gloves
Frogwear 8490 triple dipped PVC gloves are an excellent cold-weather glove for industrial, construction, and recreational applications. You are getting ultra-flexible, insulated, waterproof, triple dipped work gloves. The seamless brushed Terry cloth liner insulation keeps hands warm. It is formulated with PVC flexes for dexterity and makes waterproof and chemical resistant. It will stay flexible to -5 degrees F, it is helpful with sandpaper texture for excellent wet dry grip. There is a 12″ Cuff length for extended protection. These gloves are freedom of movement and reducing hand fatigue associated with working in cold environments. Frogwear 8490 can be a great choice for any cold-weather material handling, cold storage, freezer applications, petrochemical refineries, commercial fishing, and more.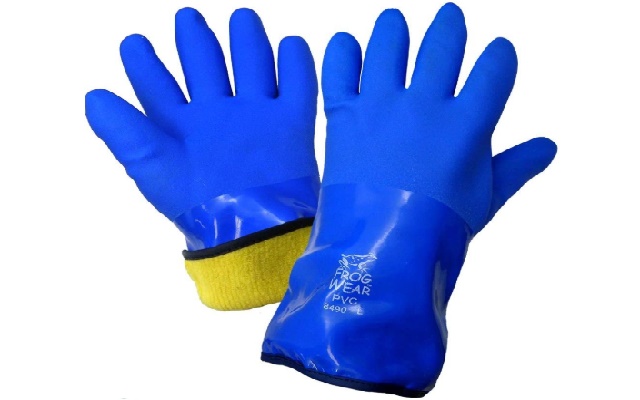 PROS
Designed for extreme cold environment.
Insulated and waterproof.
Ultra-flexible.
Chemical and oil resistance.
12″ Cuff length.
Seamless brushed Terry cloth liner.
Specially formulated PVC flexes.
Stays flexible to -5 degrees F.
excellent wet dry grip.
CONS
Leaking problem.
Bit slippery.
What to Consider Before Buying a Waterproof Working Gloves:
If you want to keep your hand warm then the best solution is buying waterproof working gloves. Before buying you should consider some facts in the following. All of these help to get
Material: you will find multiple materials, you should focus on quality materials, and the best materials are leather. Leather is durable and gives you extra warmth. Nylon is also fine. The materials should be water-resistant.
Comfort: You have to wear gloves for a long time so it should be comfortable. The materials are important like leather which makes it highly comfortable and ultra-soft. The breathable comfort allows you to do work for a long time.
Ease of use: It should not be difficult to use. It should be easily on/off and easy to wash.
Choose the right size: Gloves should be the right size, the perfect size makes you comfortable otherwise different sizes can irritate you while working.
Insulation: The gloves should be highly insulated. You should not buy which are not insulated.
Ability to wick moisture: It is extremely important to wick moisture, the strong inner liner wicks away moisture seamlessly and gives you comfort.
Water-repellence: when you purchase work gloves include multi-layer coating, which cannot be penetrated by water.
Flexibility: Flexibility needs to move your hand and finger easily and comfortably while working. Your gloves must be flexible for any hard activities in cold. If you feel restricted to move your hand then it will hamper your work.
Durability: The perfect gloves must be durable, it will not irritate you after a few days.
Care & Maintenance: Make sure that the waterproof working gloves will washable, easy to on/off, and keep your hand warm for a long time.
A Frequently Asked Questions (FAQ)
What is a good winter waterproof work glove?
The good waterproof work gloves mean, those are suitable for use in winter, contain high materials with multi-layer and keep you comfortable while you are working in a difficult cold environment. That gives you safety and protection and appropriate for any tough circumstances.
Are neoprene gloves waterproof?
Neoprene gloves are safety products, which is waterproof and chemical resistant and designed for heavy duty protection. It protects you from dangerous chemicals like oil, acids, caustics, etc. by synthetic rubber compounds.
How warm do waterproof gloves keep your hands?
Waterproof work gloves keep your hand warm by maintaining a strong water-resistant barrier especially designed for any outdoor activity in cold. Because gloves are made with double or triple layer coating and the lining wicks moisture away and gives you peace of mind when you work with wet materials.
What are good waterproof work glove brands?
There are many quality waterproof glove brands in the market, you can choose Frogwear 8490, Glacier Glove, West Chester 96650 Yeti, DeWalt DPG750L, Kinco HydroFlector, etc.
Final Thoughts
Working outdoor in cold is very hard, the highly functional waterproof working gloves can minimize the problem. Sometimes your hand becomes cold and painful, the gloves will keep your hand warm and dry. It will ensure proper hand protection and allow you to stay comfortable all day long. There are lots of gloves in the market, pick the waterproof working gloves that are right for you for protecting your hand from cold and wet. If you need the best quality dust mask for woodworking.