Arguably, walking is the best way of getting around a new city since you will be able to soak up all the flavour of a new culture. Even if you take a bike ride, you may not be able to breathe in all the smells, take in the sounds, and the beautiful or intriguing visuals in front of you at a slower pace. In addition to that, health benefits of walking are also a good motivation for strolling when you get a chance.
The indispensable part of a memorable outing is obviously a good pair of footwears and your everyday flat might not be adequate for a busy schedule. But a pair of orthopedic and comfortable shoes can be quite awkward looking. And this is a classic conundrum for fashion conscious travellers. To help you in this issue, a number of contemporary women's waterproof walking shoes for travel have been cited in this article.
The 10 Best Women's Waterproof Walking Shoes For Travel
Finding a perfect pair of footwear for women can be a daunting task since vast numbers of different shoes of different designs are available in the market. But a balanced combination between style and functionality is difficult to achieve. Besides, different weather conditions demand different designs of footwears. Investing in the right pair of shoes is crucial for your next adventure since wrong fit and type of shoes may cause you a lot of troubles like pain, blisters, misery, etc. along with embarrassment.
Situation may get worse if you have medical conditions like plantar fasciitis, tendonitis, other sport injuries, diabetic neuropathy, etc. and in such cases, you will need specially designed orthotics shoes or devices. Considering all these factors some hand picked items of outdoor shoes are listed here.
1. Dansko Women's Waterproof Walking Shoes For Travel
Dansko Paisley, of the Portland collection, has APMA (American Podiatric Medical Association) approval for promoting better foot care. This pair of outdoor sneakers are recommended for plantar fasciitis. The upper of the shoe utilizes Nubuck style leather which is scotchgard treated for stain resistance and it is water resistant, too. Hence, Paisley lace-to-toe sneakers are suitable for any weather conditions and terrain.
The durable outsole of this sneaker is made of vibram rubber which is slip resistant, and can be worn on rainy or snowy days. The interior of Paisley sneakers is fashioned with removable triple density EVA footbeds. It also features Dansko Natural Arch technology which ensures all day comfort for plantar fasciitis patients. For moisture management and odor control, the sneakers utilize DuPont Sorona fiber and CleansportNXT technology.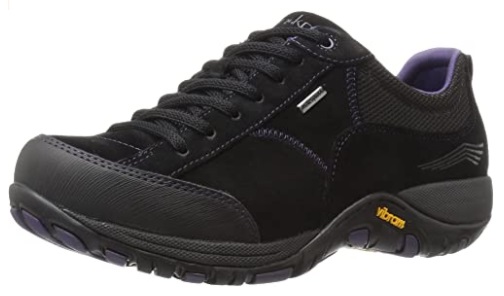 PROS
Moisture management.
Odor control.
Soft ergonomic footbed.
Suitable for plantar fasciitis patients.
Can be worn in rough weather and trail.
CONS
Extravagant.
Customer complaints about the durability of the outsole.
2. KEEN Women's Presidio Shoe
This sneaker is a modern update of the classic oxford featuring the sporty good looks of a lace-up with comfort and support for your toes. The design of the shoe is inspired by the comfort and toe protection of sandals. Patented toe protection scheme of KEEN wraps up and over the outsole for thorough coverage of the entire toe bed. The upper of KEEN women's is constructed with water-resistant full grain nubuck leather along with breathable leather lining. The variety of tones of the upper perfectly complement the casual wardrobe.
KEEN's Presidio provides a removable dual-density Metatomical EVA footbed for arch support which embraces the natural contours of your foot. For great traction on slippery ground, the Presidio's non-marking rubber outsole is highly appreciated. The non-marking outsole never leaves a black mark on the floor. The sneakers weighs 11.6 ounces.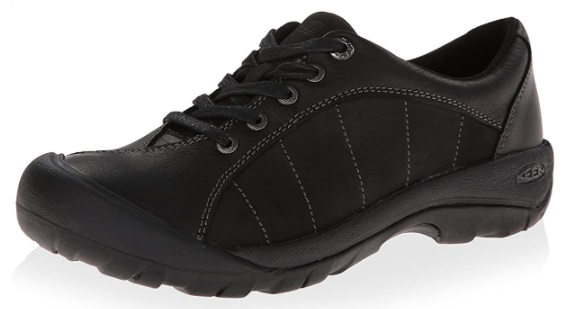 PROS
Water resistant leather shoes.
Breathable inner lining.
Non-marking rubber sole.
Removable cushioned EVA footbed.
Patented toe protection.
Lace-up front ensures snug fit.
CONS
Some customer complained about uneasy fitting around ankle region.
3. Skechers Women's Go Walk Lite-15395 Ballet Flat
The ballet flat from Skechers is quite fashionable as well as comfortable. These shoes are made of synthetic leather which is easy to maintain. The synthetic rubber outsole of the shoe has tread markings. To wear the Skechers ballet flat easily, the shoe is fashioned with a large shaft measuring from low top to arch.
The cushioning of the interior of these shoes are spectacular. It features responsive 5Gen cushioning along with Skechers Goga Max high-rebound insole ensuring ultimate comfort. They are also super lightweight, weighing only 4 ounces. Skechers ballet flats may not be appropriate for formal occasions, but they are perfect for everyday casual use.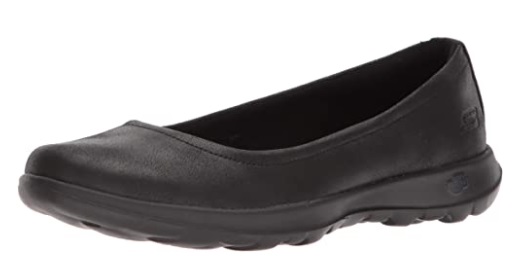 PROS
Lightweight.
Comfortable interior with advance cushioning materials.
Synthetic material.
Rubber outsole.
Easy to wear, thanks to large shaft of the shoe.
Economic.
CONS
Large shaft is not suitable for rainy day.
No arch support.
4. Columbia Dakota Women's Waterproof Walking Shoes For Travel
Columbia Dakota Drifter can be a quintessential item of outdoor activities. Available in multiple sizes and colors, this classic Columbia style hiker offers top notch quality and protection. These sneakers are designed for women featuring expert craftsmanship and great for mountain hiking or other rough terrains because the advanced traction outsole works hard to tread grip to prevent slipping, thanks to the Omni-GRIP™ traction rubber outsole. It is non-marking type outsole which leaves no stain on the floor
Due to the advanced Omni-TECH™ waterproof technology, the sneakers are seamlessly constructed without sacrificing durability. The suede leather upper combines breathable mesh webbing structure which provides ventilation and makes them suitable for all day wear. The lightweight midsole provides energy return, excellent cushioning and impact absorption ensuring long lasting comfort. For snug fitting, the sneakers have laced closure on the vamp.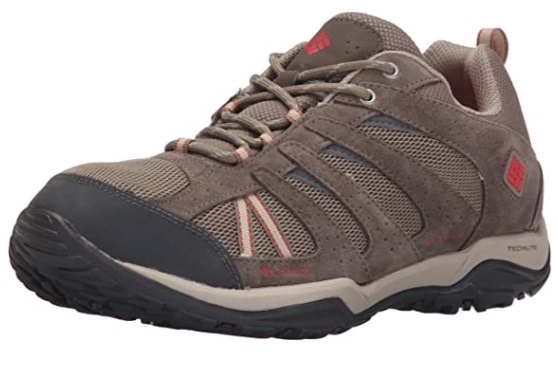 PROS
Suede leather hiking shoes.
Comfortable signature midsole.
Tread marked non-marking slip proof outsole.
Seamless waterproof construction.
Breathable interior.
Hand washable.
CONS
They have a very versatile design.
5. Mishansha Women's Waterproof Walking Shoes For Travel
Upgraded new style Mishansha hiking boots are sure to satisfy the needs of the customers looking for multifunctioning hiking boots for outdoor, work, casual, walking, hiking, trekking, and many more. These boots use superfine artificial leather which has nice texture and feels soft. This material is water resistant, too. Soft and skin friendly inner lining increases comfort and the removable insole provides adequate support.
The slip resistant rubber outsole features upgrade groove and it is soft yet long lasting having good traction to stable you in your steps. Braided shoelaces with metal hardwares helps to properly fit the shoes. This classic style never gets old. Mishansha Ankle hiking boots are also excellent choices for holiday gifts.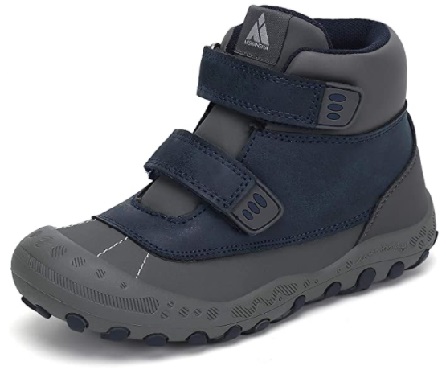 PROS
Classic design.
Strong braided shoelace.
Upgrade rubber sole.
Skin friendly texture.
Water resistant.
Removable insole.
Economic.
CONS
Not completely waterproof.
Heavy.
6. Forsake Patch – Women's Waterproof Walking Shoes For Travel
Since Forsake believes in the motto that footwear should never limit your adventure, you can expect Forsake Patch hiking boots would be a perfect fit for your next outdoor adventure. These sneaker boots are made of oil-tanned premium quality leather combining all weather protection because of their sturdy construction. The hydroguard waterproof membrane of Forsake Patch hiking boot has an excellent heat exhausting mechanism. For inclement weather or rain, the taped seams and a gusseted tongue provide complete protection.
The composite shank of Forsake Patch sneaker boots provides adequate support for rough trails and the patented Peak-to-Pavement outsole of Forsake offers traction on the trail. The footbed of this boot is treated for odor control and the moisture wicking lining keeps your feet dry and fresh all day long. There are two separate sets of laces for customized styling.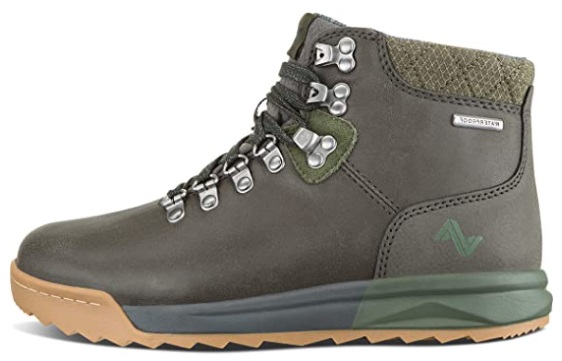 PROS
Full grain leather, genuine suede, and ballistic nylon.
Two sets of lace for customize look.
Patented tread marks on the out sole.
Water proof.
Anti odor footbed.
Heat management.
CONS
Extravagant.
Toe region is prone to damage.
7. KEEN Women's Reisen Zip Waterproof FG Shoe
Reisen zip boots from KEEN are stylish as well as comfortable, too. They are leather made and have rubber outsoles offering good traction. Oiled nubuck leather of the upper provides an elegant outlook. To wear them effortlessly, there is a medial side zipper placed at the inner side of the boot. The shaft of this boot is 6.5 inch high from the arch and this high shaft stabilizes your feet while walking on rough terrain.
KEEN Reisen boots are fashioned with breathable mesh lining to keep your feet dry and cool as you wear them for extended periods. To heighten the comfort of your hiking, the leather footbed with arch support and heel cushion are provided. The metatomical footbed is removable. For extra cushioning, these boots are furnished with PU midsole.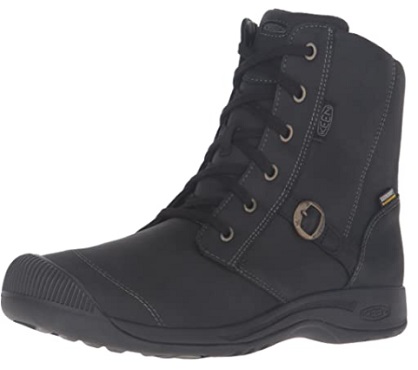 PROS
Comfortable.
Good air circulation inside.
Easy to wear medial zipper.
Nubuck leather upper.
Removable metatomical footbed.
Arch support and heel cushioning.
CONS
Costly.
Narrow span of the boots is problematic for people with wide feet.
8. Teva Women's W Arrowood Waterproof Hiking Shoe
Iconic outdoor industry Teva presents Women's W Arrowood sneakers which are stylish and comfortable. Teva was founded in early 1980 and it pioneered the sport-sandal category. The upper combines both pure leather and textile. The tread marked synthetic rubber sole provides sufficient traction over slippery ground. The shaft of this sneaker expands from mid top from arch.
Teva W Arrowood sneakers feature waterproof membrane which guards against rain, puddle or any splash and keeps your feet dry. Ultra light midsole and outsole with rubber pods gives brilliant cushioning and you will feel great when you are strolling on uneven terrains. Teva W Arrowood hiking shoes are equipped with the laced closure system to fit properly.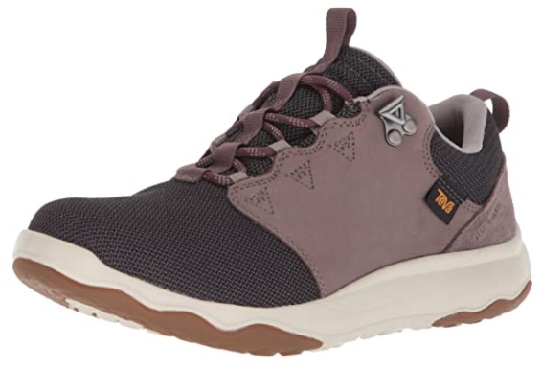 PROS
Waterproof.
Leather and textile made sneakers.
Excellent cushioning.
Sturdy support for plantar fasciitis or achilles tendonitis.
Economic pair of outdoor sneakers.
CONS
Round laces don't stay tied.
9. Mountain Warehouse Aspect Women's Waterproof Hiking Shoes
Appropriate for various landscapes, the Aspect IsoGrip Shoes are ideal for long hikes or casual walks. These sneakers are robust yet stylish, featuring wolverine suede. Wolverine is a top brand in footwear and this suede leather is sturdy, lightweight, and super breathable. The upper also combines breathable mesh along with waterproof and breathable IsoDry membrane besides wolverine suede. IsoDry membrane wicks away moisture and prevents water from entering.
Mountain Warehouse Aspect hiking shoes provide grip and stability on rough terrain by using Isogrip, a high traction outsole, which is long lasting and tough. Lightweight and flexible Phylon midsoles are incorporated for cushioning. Also, padded tongue and padded ankle provide extra cushioning and comfort for whole day wearing.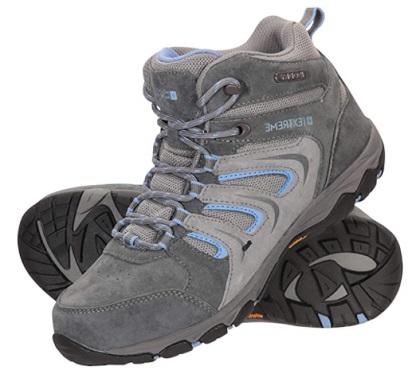 PROS
Waterproof hiking shoes.
Suede upper.
Breathable IsoDry mesh.
High traction Isogrip sole.
Padded midsole, ankle and tongue.
CONS
Steel toe cap can be problematic for some user.
Laced closure.
10. Harence Winter Snow boot for Women
As the name suggests, Harence Winter Snow boots are designed for inclement weather. To keep your feet warm, these boots are fashioned with thick faux wool lining with fine artificial short plush which completely wrap your toe. Harence winter boots are constructed with water repellent quality oxford cloth ensuring dry comfort by blocking rain, snow or any other liquid from invading. This material is easy to clean with cloth, too.
The sole of these snow boots are made of ultra-wear resistant polyurethane which is slip resistant, shockproof, highly flexible and comfortable. In order to wear these boots conveniently, stylish elastic bands are placed at the upper corner of the vamp. Harence Winter Snow boots are quite stylish and they are the perfect choice for gifts on any occasion.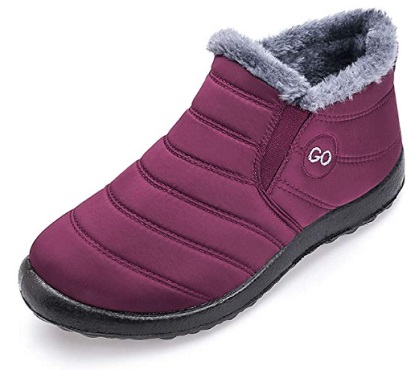 PROS
Thermal insulation.
Comfortable.
Easy to wear elastic band.
Flexible sole.
Slip resistant.
Stylish.
CONS
Not completely waterproof.
Key Features To Look At Before Buying Women's Waterproof Walking Shoes For Travel
When you are shopping for hiking shoes, there are some important factors that need your close attention:
Comfort
This the foremost important feature of a quality hiking boot. Comfort will always beat the aesthetics because a single blister is enough to ruin your day. If you are a diabetic patient, then such injuries may result in amputation. So, shoes that pinch, rub, and don't fit right must be discarded without second thought.
Uncomfortable shoes are the constant source of uneasiness and they will always remind you of their presence. Cushioned insole, thick and flexible outsole, wide toe box, firm arch support etc. are the essential characteristics of a pair of suitable walking shoes. You shouldn't compromise with these features when you are buying a new pair of sneakers or any other type of walking shoes.
Another important factor for new shoes would be breaking in a new pair of walking shoes. No matter how comfortable they are, it is not a good idea to bring brand new shoes on a big trip without testing at home first. Hiking shoes are stiffer and usually requires more breaking in first. This is critical because even the most comfortable shoes can cause blisters during the first couple wearings.
Function and versatility
function and versatility is important for travel shoes. You can minimize the number of shoes when you are packing if you have a pair of versatile shoes which offer different functionality. For instance, if you have a pair of shoes that will suit you for visiting a museum or strolling through an amusement park, allow you to pack only a single pair in your luggage.
Shoes of neutral color are recommended and it will be convenient if you choose something which will match your wardrobe i.e. leggings, shorts or jeans. A footwear able to serve casual as well as formal occasions is desirable.
Special weather or terrain demands for specially designed walking shoes. Depending on your travel destination, for example, tropical beach, cosmopolitan city with paved road, farmland or frozen tundra, the design and make of walking shoes will vary. Besides wet weather or snows require especially designed walking shoes, too. In sunny and humid weather, you will need comfortable lightweight shoes with good ventilation where waterproof shoes are a must have in wet or inclement weather.
Dimension
the size and compactness of your walking shoes are going to impact the number of pairs you can pack in your luggage on a trip. Normally, quality walking shoes will take more space than a pair of thong sandals and it won't be easy to squash in a pair of hiking boots into an already full bag.
The number of luggage you planned to take with you is also important. More luggage means more walking shoes you can pack. If you choose to travel with a backpack or carry-on suitcase only, you can manage one or two pairs (one on your feet and another in your bag). Usually, you will need one or two pairs of top notch quality footwear for a trip.
Weight
Since airlines have strict policy regarding weight of your luggage, a relevant factor is the weight of the shoes. Besides, it is also important to carry your luggage comfortably and a heavily loaded luggage can be a nightmare in a journey since you'll still be needing to carry it up flights of stairs, placing it in overhead luggage storage areas, carrying it onto public transit, and dragging it over cobbled streets.
During the winter season, the situation is a little bit difficult as you will need special footwear such as snow boots or hiking boots, which tend to be more heavy. However, you have to take the weight of your walking shoes into account.
Durability
Needless to say, the quality and durability of a pair of shoes are rather essential. You shouldn't waste money on some so-called "better deals" and purchase walking shoes of inferior quality as they are likely to get damaged soon. You certainly wouldn't want to be halfway through a hike suffering with wet feet or blisters because you cut costs on your hiking shoes.
If your budget won't permit then be prepared to replace them every couple of years. You have to look for features like grip, reinforcement around the toes, flexibility in the soles, quality of stitches and weatherproofing. Also, renown brands of walking shoes offer warranties or money-back guarantees and this is always a good sign since the longer that warranty, the better.
Orthotic device fit
If you have any injuries or medical conditions, you might need orthotic devices like heel inserts, insoles, inlays, etc inside your shoes. Medical conditions like tendonitis, plantar fasciitis, diabetic neuropathy, sports injuries, etc. require extra care about walking shoes.
For example, extra arch support is needed in case of plantar fasciitis. You will need specially designed footwear or additional orthotic devices to get that support. So, make sure your walking shoes have room to accommodate them if you need those devices.
Style
although comfort is more important, you can't ignore style completely. It is recommended that you find a good balance between them. You will certainly enjoy wearing a pair of walking shoes with a nice appearance. The style of your shoes will impact the choice of your entire outfit.
A Frequently Asked Questions (FAQ)
Is your body affected by the shoes you wear?
Yes. your center of gravity is shifted towards the front of your body when you are wearing high heels. It causes extra stress to your knee and hip joints in addition to the front of your feet. On the other hand, flat or flip-flops without support have the opposite effect. These shoes shift the center of gravity backward causing arch pain, tendonitis and Achilles tendon problems as they affect your knees and hips. Narrow toe box will cause corns or a pinched nerve.
How do I pick running and walking shoes?
You shouldn't buy your sneakers just for their looks. Comfort is the most important aspect of your walking shoes. If you have high arch or flat feet, you might need specialized shoes. Cushioning, toe box, and flexible outsole are some features of quality walking shoes.
Are ballet flats better than heels?
For normal feet, ballet flats are suitable. However, if you have flat feet or high arch, ballet flats will never give you the good side-to-side stability you often need. You will need orthotic insole or built-in arch support.
How to clean walking shoes?
Use lukewarm water and medium stiff brush to clean the boots after wiping excess muds and dirt. You should avoid detergents. After cleaning, dry them naturally and fill boots with newspaper. Don't try to force dry by heating. You can use soda to clean the stubborn dirts on the rim.
How often should you replace your walking shoes?
If you have a daily routine of 30 minutes walk a day or average 3 to 4 hours a week, it is advised to replace your shoes after six months.
Warp -up
Choosing a pair of walking which suits you most can be tricky. The gorgeous heels or those funky, trendy shoes can be really tempting, but you might regret later for their performance. Always ensure the right fit by measuring your feet accurately and don't forget to try the shoes on.