Work gloves for electricians hand gloves are indispensable for professional electricians. The occupational hazards of an electrician are considerably higher than the other tradesperson. This is because an electrician has to deal with deadly electrical potential frequently and hence for electricians, a job site is an inherently dangerous place with the potential for injuries such as burns, shocks, puncture wounds, and more.
So, special insulated hand gloves are integral items of the personal protective equipment of an electrician. The work gloves for electricians have to be OSHA (Occupational Safety and Health Administration) certified to meet the standards for ensuring safety of the user.
Apart from deadly electric voltage, an arc flash can achieve temperatures of 35,000℉, hotter even than the sun's surface. So, the electrician has to wear multiple layers of protecting hand gloves. There are different designs and materials utilized to manufacture protecting hand gloves for different purposes. Hopefully, this article will be able to assist in purchasing the right types of work gloves for electricians.
Types of Electrician Gloves
The electrician gloves are classified by OSHA depending on the voltage level they can withstand safely. These gloves utilize rubber, measured to OSHA standards, and labeled accordingly. Color-coded labels indicate these classes and their corresponding breakdown voltage would be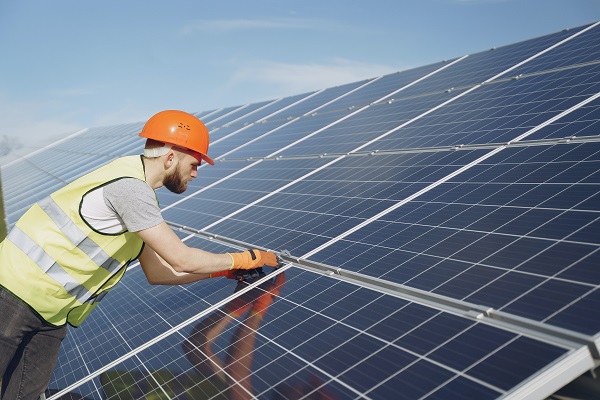 Class 00 — Maximum recommended voltage of 500 volts AC/proof tested to 2,500 volts AC and 10,000 volts DC
Class 0 — Maximum recommended voltage of 1,000 volts AC/proof tested to 5,000 volts AC and 20,000 volts DC
Class 1 — Maximum recommended voltage of 7,500 volts AC/proof tested to 10,000 volts AC and 40,000 volts DC
Class 2 — Maximum recommended voltage of 17,000 volts AC/proof tested to 20,000 volts AC and 50,000 volts DC
Class 3 — Maximum recommended voltage of 26,500 volts AC/proof tested to 30,000 volts AC and 60,000 volts DC
Class 4 — Maximum recommended voltage of 36,000 volts AC/proof tested to 40,000 volts AC and 70,000 volts DC
During electrical discharge, ozone gas is formed and rubber is susceptible to the effects of the ozone, which can cause cracking and compromise the integrity of the glove. If ozone level is high, the gloves integrity can be compromised because cracks produced by the action of ozone on rubber under mechanical stress. The electrician's hand gloves can be ozone resistant or not. Type I gloves have no protection against ozone and Type II gloves are ozone resistant. The classification based on the environmental factors and special resistance properties are
A – Acid
H – Oil
Z – Ozone
R – Acid, Oil and Ozone
C – Very Low Temperatures
Because of the different level of occupational hazards, it requires that electrical gloves have to be worn in three parts in the following order:
Liners may have a straight cuff or knit wrist and are the normal gloves that we put on during the cold seasons. They provide warmth in cold weather and absorb perspiration in the warm months. Liners also diminish the discomfort of wearing rubber
Electrical gloves are worn over the liner which provide electrical insulation and prevents electrocution
Leather protectors protect the gloves from swelling, tears, burns etc.It is important to note that the leather protector is worn on the top of liners and electrical gloves which should always be shorter than the electrical gloves.
Why do electricians wear gloves while working with electricity?
As electricity is invisible and you can't see it, hear it or smell it, it's difficult to know when you may be facing danger. When you are in contact with a source of electricity which has a high current, electrical current will pass through your body which can cause severe burns, brain injury and even death from electrocution.
Hence, when working with electricity, you can never be over-protected and one of the most important items for electricians to wear are rubber insulated gloves which act as a barrier against electric shocks.
Electric arc can create hotspot of 35,000℉ which is the temperature of the surface of the sun. So along with electric shock, the electrician's gloves have to be fire resistant as well. But the rubber rubber shock-resistant layer can be ignited by such temperature and this is why workers wear leather gloves on top of their insulating pair of rubber gloves..
The kitchen gloves
The kitchen gloves are also made of rubber and some other chemical additives are added to make them more comfortable and hardwearing. But the rubber used for safety rubber gloves must be made from 100% rubber in order to prevent electrical shock. So, household gloves aren't a substitute for safety gloves.
Although static shocks are less serious, they can be annoying or even painful when they are concentrated in a small area – for example, if your arm has ever come into contact with the USB cable's tip while plugged in your laptop, you know what we are talking about. Electrician gloves can save you the pain of such shocks.
Besides, when dealing with household equipment, normally it doesn't require professional grade protection. Because, you will probably turn off the breaker so that you aren't working around live current. Yet you will need protection against other common issues: cuts, scrapes, blisters, burns, and more.
For this reason, some electrician gloves are often crafted from durable synthetics that offer range of motion, protection for the skin on your hands, and excellent grip.
The 10 Best Work Gloves for Electricians Reviews in 2020
1. National Safety Apparel Insulating Glove
National Safety Apparel manufactures safety rubber gloves that provide multiple levels of electrical shock protection for linemen, electricians, contractors, utility and power generation workers and more for the toughest jobs. This Rubber Voltage Gloves are available in sizes ranging from 8 to 12. These insulating rubber utilize type I rubber that offers protection up to 1000 Volts AC/1500 Volts DC. Red, black, and yellow colors are available.
The Class 0 Rubber Voltage Insulating Glove Premium Kit comes with a pair of newly tested Class 0 rubber voltage insulating gloves, a pair of 10" leather protectors, and a glove bag for convenient storage. The National Safety Apparel's Class 0 Rubber Voltage Gloves are NFPA 70E-2015 compliant for arc flash, CSA Z462-15 compliant for arc flash (Canada), and also ANSI/ASTM D120 standard compatible. These protective gloves are flame retardant and ideal for lineman and utility workers in arc flash & general FR applications.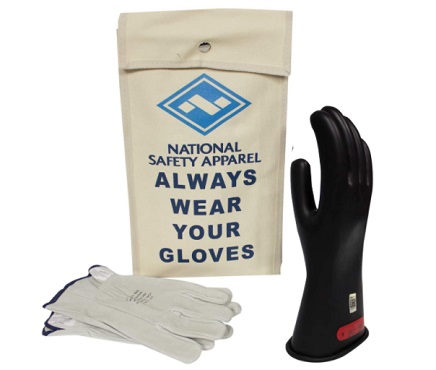 PROS
Prevents hazards related to arc flash.
Leather protectors protect tear and puncture.
Compatible to several safety standards.
Versatile application.
Multiple colors.

2. OTC 3991-12 Large Hybrid Electric Safety Work Gloves for Electricians
Hybrid electric safety gloves from OTC are designed for working on high voltage vehicles and other high voltage applications. This particular model includes a pair of leather protectors. These high voltage electrical safety gloves are compatible with ASTM Standard F1236. They are Class 0 rated gloves that can safely withstand 1000 volt and the inner layers are quite flexible.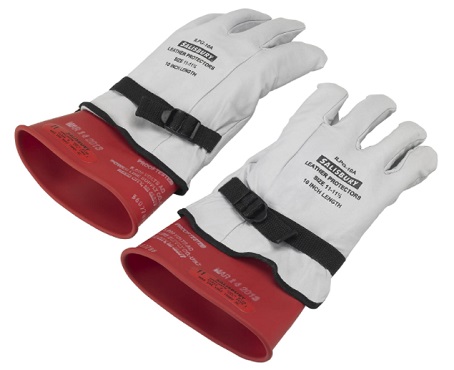 PROS
Tough outer protective layer of leather.
Can withstand high voltage.
CONS
Determining the right size can be problematic.

3. DEX FIT Fleece Work Gloves NR450
DEX FIT NR450 work gloves are suitable for wide range activities like gardening, fishing, ice & snow work, mechanic, electric, construction, hunting, climbing, hiking, patrolling, skiing, cycling, shooting, riding motorbike and light works. These gloves are exceptionally snug fitting and offer excellent grip. They will provide strong slip resistance when you are handling slippery and wet objects.
The DEX FIT NR450 gloves are made of 100% polyester fleece which keeps the hands warm in cold weather. They are also lightweight and thin, only 4 ounce and 13 gauge. Along with polyester fleece, Spandex fabric is utilized for flexible snug fitting to all fingers and dexterity. DEX FIT employs 3D knitting technology for seamless construction. For electrical insulation, water based Nitrile Rubber Coating is used. There is no chemical odor and industrial-friendly color to hide dirty stains.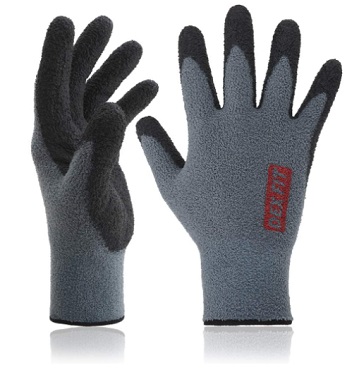 PROS
Good grip and slip resistant work gloves.
Thin and lightweight.
Thermal insulation.
Economic.
Machine washable.
Black color hide stains.

4. 3M Comfort Grip Glove CGL-GU Work Gloves for Electricians
The 3M CGL-GU gloves are constructed using breathable nylon stretch liner and an Acrylonitrile Butadiene Rubber coating on the palm area. Because of breathable material these gloves can be worn in hot and humid condition. The 3M comfort grip gloves are light, flexible and abrasion-resistant which is ideal for light to medium-duty jobs requiring precision. These safety gloves are compatible with EN388 4122 standards of abrasion and puncture resistance.
The nitrile palm coating of the gloves provides excellent grip while working in wet or oily conditions. The elastic knit wrist cuff prevents foreign objects and debris from entering inside. Also, it helps to remove or wear the glove easily. These work gloves are machine washable and quite durable. They are quite economic, too.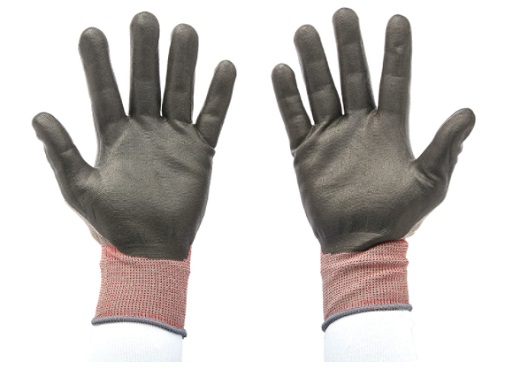 PROS
The user doesn't lose much dexterity.
Stretchable and breathable nylon liner.
Durable.
Abrasion resistant.
Nitrile palm coating offer excellent grip strength.
Affordable.
CONS
Voltage rating of the gloves is low and not recommended for heavy duty task.

5. Magid M011R A.R.C. Natural Rubber Latex
The M011R model of safety hand gloves from Magic are designed and manufactured for superior dielectric properties, increased durability, flexibility, comfort and physical strength. The tolerable voltage limit of these Class 0 gloves is up to 1000 volts AC/1500 volts DC. M011R gloves are compatible with the respective requirements of current ASTM D120-09 specifications, OSHA 29CFR 1910.269 regulations and NFPA 70E standards.
To prevent mechanical damage, additional protector gloves shall be worn over rubber insulating gloves. The gloves are 11 inches long with a straight cuff with rolled edges to put on or off them easily. They weigh 12 ounces. The label of the glove is extremely thin and flushed with the back of the glove for enhanced longevity and comfort. These vibrant red gloves protect against arc flashes.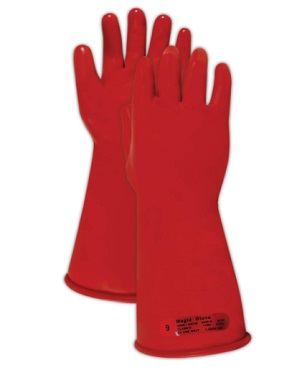 PROS
Ergonomically designed contour shaped gloves reduce hand fatigue and minimize chafing.
Natural latex rubber material provides better elasticity than nitrile, chloroprene, or vinyl.
Better puncture resistance than vinyl made gloves.
Heavy duty gloves for low voltage application.
Rolled edge of the cuff helps to put on or off easily.
Bright red color for good visibility.
CONS
Some users may be allergic to natural latex rubber.

6. Gorilla Grip 25053-26 Never Slip Work Gloves for Electricians
Thin and lightweight 25053-26 work gloves from Gorilla Grip are excellent safety equipment for electricians to carry out light tasks to heavy-duty projects. The basic constructing material of this item is nylon and then the gloves are dipped with a specialized patented coating which provides superior grip when executing wet, dry or oily applications.
The gloves are fashioned with a specially made second palm that wipes the fluids away from the glove's center. Gorilla Grip gloves offer maximum durability and dexterity. They are very comfortable to wear because of breathable material and snug fitting. These gloves are available in large size and black color. It weighs 1.6 ounces only.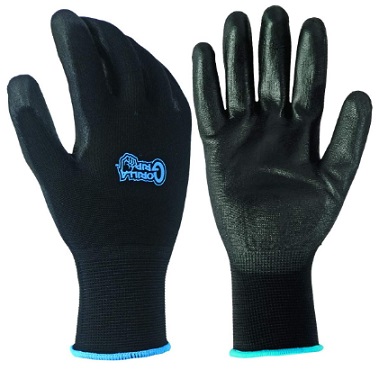 PROS
Slip proof grip coating.
Excellent for plumbing, oil changes, and wet surface jobs.
Lightweight gloves offering maximum dexterity.
Economic.
Breathable safety gloves.

7. Maxiflex 34-874 Ultimate Nitrile Grip Work Gloves for Electricians
Available in three pair packs, Maxiflex 34-874 work gloves have the nice abrasion resistance and solid grip strength. They also affect the dexterity of the user minimally. Maxiflex work gloves are seamless nylon gloves fashioned with patented micro-foam nitrile coating which provides excellent air circulation and comfort. Micro cup finishing is designed to transfer liquids which ensure better gripping in wet and slippery conditions.
Aside from nice grip, thicker nitrile coating offers ultimate resistance to cut, snag, puncture and abrasion. The wrist of the gloves is knitted to prevent debris from entering. Maxiflex 34-874 gloves are ASTM F2992-15 and EN 388 2016 standard compatible. These gloves are designed to mimic the hand at rest position which reduces fatigue and the soft liner inside touches the skin.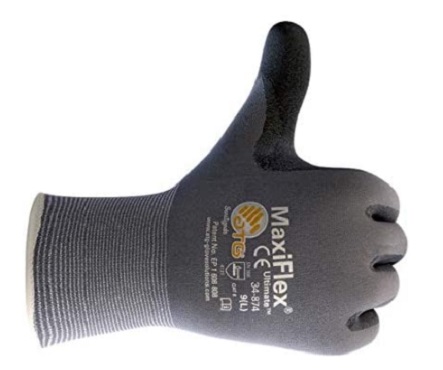 PROS
Flexible and high dexterity work gloves.
Suitable for automotive, assembly, stocking and general materials handling.
Lightweight and highly breathable work gloves.
High grip strength due to micro-cup finishing.
CONS
Smells after single day use.

8. Superior Goatskin Leather Work Gloves for Electricians
Leather gloves from Superior Glove Works have excellent cut resistance due to kevlar lining. Also goat skin of high tensile strength provides superb abrasion resistance. Ergonomic design of keystone thumb provides durability and comfort. These soft premium quality safety gloves are ANSI cut-level A4 and Puncture Resistance ASTM level-3 compatible.
Superior Goatskin Leather Work Gloves offer protection against arc flashes, too and they are tested to be level 3 and with a rating of ATPV = 36 cal/cm². They are recommended for manufacturing, metal handling, general maintenance, construction, forklift drivers, truck drivers, farm equipment, steel plants, and yard work.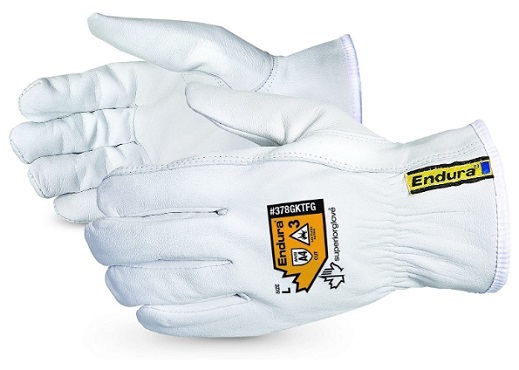 PROS
Cutting proof gloves with kevlar composite filament fiber lining..
Ergonomic design.
Soft and flexible gloves offering maximum dexterity.
Abrasion proof.
Arc flash resistance.
Tested for several standard compatibilities.
CONS
Measuring the right size is difficult.

9.Electrical Insulated Lineman Rubber Gloves
Electrically insulated gloves from ShuangAn are crafted from the finest dielectric natural rubber which offers superior dielectric properties, increased durability, flexibility, and comfort. The height of the gloves is 14 inches high and so the user can easily put on a leather protector of different categories which has to be shorter than the rubber gloves. The rolled edge of these gloves helps to wear or remove them comfortably.
The test condition for these gloves would be 12000V, 1 minute, a leakage current is not more than 1.5 milliampere per kilovolt. This particular item is ergonomically designed and has a contoured shape to eliminate chafing and reduce hand fatigue. Because of new processing technology, these natural rubber made gloves are more comfortable. They are a little bit heavy, 1.14 pounds.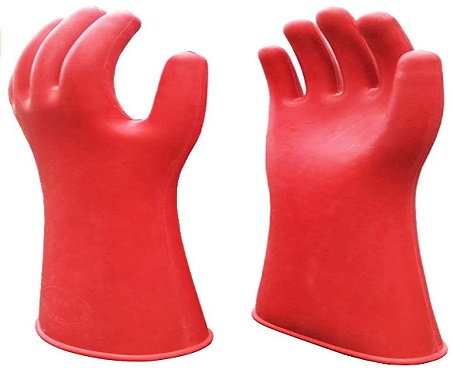 PROS
High voltage rating.
Rolled edge for easy use.
Ergonomic design for enhanced comfort.
Durable and have better elasticity than than nitrile, chloroprene, or vinyl.
CONS
Heavy.
If the user is allergic to natural rubber, these gloves have to be avoided.

10. Electricians Gloves Large Klein Tools 40072
The extended cuff of the Klein Tools hand gloves for electricians helps to put on or off them quite easily and breathable spandex material is quite comfortable to wear them for long hours. For added durability and slip resistance, the palm and finger areas use a special material which helps the electrician to pull wire or cable without losing grip. The base of the thumb and index finger are reinforced.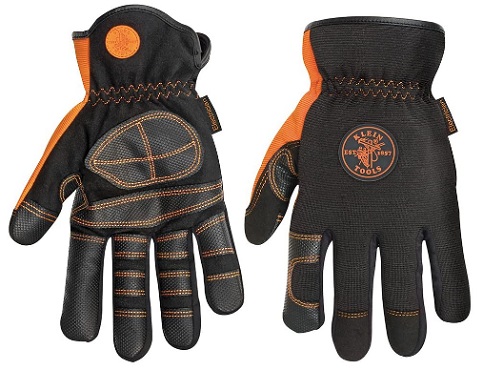 PROS
Flexible because of spandex.
Critical areas are reinforced.
Easy to use.
Slip proof.
Key Considerations Before Buying Work Gloves for Electricians
The focus points of a suitable pair of electrician's safety gloves are constructing material, insulation level, size and work conditions. As different designs and classes of electrician's gloves are available in the market, you have to have insight knowledge of these gloves and their characteristics to select a perfect pair for you.
Maximum insulation level
It is of primary concern to select a proper class of electrical gloves based on the level of electrical potential you have to deal with. Total of six classes of electrical gloves exist and details of the corresponding voltage level are described in the previous paragraph.
The voltage level ranges from 400 volt to 36,000 volts. You can work safely if your glove's insulation level can withstand the electric potential.
Dexterity and grip requirements
It is quite obvious that you will lose some dexterity while wearing gloves and that is the main reason that the electric workers are reluctant to use protective gloves. Also, the lack of grip contributes to this phenomenon. Increasing the thickness of a given rubber polymer will result in a higher level of protection with the cost of losing dexterity.
There is no minimum thickness specified for 650V gloves. So, select a pair of gloves as thin as possible which have suitable finishing in the working areas like all fingers, thumb crotches, and palm.
Size and fit
To enhance comfort and productivity, proper fit of the safety gloves are essential. Undersized or oversized gloves may cause fatigue, loss of sensitivity, uneasiness and they may get caught in between moving machines. Hand circumference measurements determine the size of the gloves.
For example, 8 inches of the hand circumference requires size 8 gloves. You have to take a measurement of the circumference of your palm while the hand and the fingers are relaxed.
Special contact requirements based on environment
Apart from electrical insulation properties, the safety gloves selected should comply with specified strength requirements to provide protection against possible damages by puncture, snag, tear, and cut during work. Depending on the environment, they may require to be impervious to acid, oil, ozone, and extremely low temperature.
Allergic reaction
Users may have allergies to natural latex or rubber. This is to be taken into account before selecting the safe gloves
Proper testing
The safety gloves are required to be tested by an accredited laboratory prior to being placed into service and usually all glove manufacturers incorporate some form of production code or date coding to indicate the date of initial testing. Go through those test reports thoroughly before purchasing them.
Since the work gloves for electricians are safety equipment, it is important that these gloves have to be compatible with safety standards set by professional organizations like OSHA.
Frequently Asked Questions (FAQ)
Can gloves protect from electric shock?
Rubber is an excellent electrical insulating material, especially the natural one. It has good dielectric strength and it can withstand large electric voltage. So, gloves made of rubber or other insulating material can prevent electrocution. But it depends on the design and voltage rating of the gloves.
What size is good for me?
It's better if you take the actual measurement of your palm rather than guessing. The terms like small, medium or large size can be misleading sometimes and they vary from one manufacturer to another.
Will the dielectric gloves protect me for certain?
Well maintained and tested gloves will definitely protect you from electric shock.
How are electrical gloves rated?
The electrical gloves are normally rated according to the electrical voltage they can endure safely. The class of the electrical gloves are color-coded.
Can you get an electric shock wearing rubber gloves?
If there is any puncture hole in the rubber gloves, the integrity of the gloves would be compromised and you may get shock. Besides, household or medical grade gloves are made with rubber which is not 100% pure and mixed up with other substances. These gloves are not suitable for electric work.
Can Home Electricity kill you?
In some countries, the home electricity supplies 220 volt at 50 Hz which is lethal. In North America, the voltage level is 120 volt for safety purposes but it is always recommended to take proper safety measures.
Can you get electrocuted if you're not touching the ground?
If the electric circuit is completed somehow, you will get electrocuted whether you are touching the ground or not. In a typical scenario, people get electric shock when standing on the ground and touching a live wire at that time. But if you are standing on an insulating mat and touching the phase and neutral at that instance you will get hand-to-hand shock which is deadly.
Are nitrile gloves good for electrical work?
Nitrile gloves are prone to damage easily and they have low dielectric strength. So, they are not ideal for high voltage protection.
Warp Up
In the end, one additional piece of advice is that safety gloves have to be stored and utilized properly. OSHA requires electrical safety equipment to be tested before the first issue and every six months thereafter and the testing is supposed to be done by OSHA accredited labs.
Proper storage requires that gloves must not be folded and need to be kept out of excessive heat, sunlight, humidity, ozone, and any chemical or substance that could damage the rubber. If you need the best quality waterproof working gloves then see here.