If you are familiar with the saying, "Cut your coat according to your cloth" then it's not hard to comprehend that necessity of measurement which is one of the keystones of modern civilization. The idea of taking and keeping measurement predates ancient civilization like Egyptian and Romans. The first historical record of read measure tape was by the Romans using marked strips of leather. Taking accurate physical measurements is crucial for any projects like surveying, construction, garments, mechanical projects, etc..
Modern measurement system was devised by an English bishop, John Wilkins in 1668 and the spring return pocket tape measure was invented by William H. Bangs in 1864. With the advancement of cutting edge technologies, the measure tape read has already entered into the digital age with the digital measure tape.
Taking a measurement using a measuring tape sounds mundane. But it can be critical if construction or craftsmanship is involved. Besides, this basic skill is essential for general people, too. If you want to buy a boat or ready made swimming pool or things like them, you have to take accurate measurements of your trailer or space.
A tape measure is quite a simple device but lot's of marks and symbols may confuse you. Tape measures are available in both Imperial Units (inches and feet) and metric (centimeters and meters) with unit breakdowns for further accuracy. It doesn't require great math skill to get accurate measurements by using tape and knowing how to use and read both a retractable measure and a traditional ribbon-style tape measure can be advantageous for a tradesperson as well as general people.
Read A Tape Measure Worksheet
The tape measure worksheets are a great way to hone your skill of using tape measurement accurately. You will be able to do ample practices on linear tape measurements and learn to take measurement using measuring tape efficiently. A sample of a typical tape measurement worksheet is given below.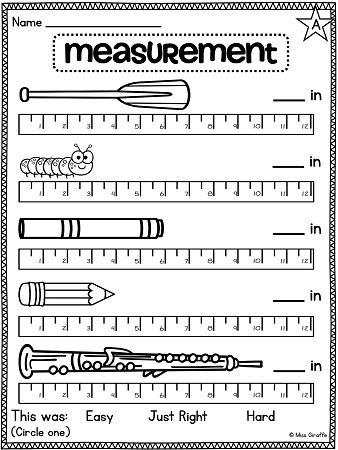 Understanding Read A Tape Measure
In general, a tape measure or measuring tape refers to a flexible ruler used to measure size or distance. The tape is marked with linear measurement markings at regular intervals. The materials used to make measuring tapes are ribbon of cloth, plastic, fiberglass, or metal strips.
Tape measures can be classified into two basic categories, spring return pocket tape measures and long tape measures. Both of these tapes can measure great length but they can be carried in a pocket or toolkit. The flexible nature of the tape allows one to measure around curves or corners.
The spring retractable measuring tape is small, the case is up to about three inches across. You have to pull the tape out of the case to take measure and once you release from your grip, it will be sucked back inside the case automatically by spring mechanism. The pocket tape measure has a tape 1 to 15 feet (0.30 to 4.57 m) long and 1⁄4 to 3⁄4 inch (6.4 to 19.1 mm) wide.
What is the longest measuring tape available?
The long tape measures have tapes of 25, 50, 75, 100, 200, 300, and even 500 feet in length specifically designed keeping in mind the requirements of engineers and surveyors. Traditionally, the surveying unit is "rod" and one rod is equivalent to 33 feet. So, sometimes surveyors use long tape measures of 33 feet (2 rods), and 66 feet (4 rods), 49 1⁄2 feet of a 50-foot tape (3 rods), and 99 feet of a 100-foot tape measure (6 rods). Long measuring tape housing has a hand crank to return the tape.
For different types of trade, tape measures may differ also in design and construction materials. For tailoring or dressmaking, the tape measures are made of flexible cloth or plastic and referred to as sewing tape. Modern sewing tapes utilize fiberglass to prevent wear and tear. They don't stretch easily either. Flexible measuring tapes are essential to take measure of curved shape like wasteline or chest.
Plastic Sewing Tape
On the other hand, the stiff measurement tapes are desirable for carpentry or construction work. The metallic ribbon of the measuring tape remains stiff when extended and it can be coiled into a small loop for convenient storage. The metal tape is curve shaped, reinforced with copper wires to prevent stretching or twisting of fibers and usually 20 m and 30 m long. It is one of the most ubiquitous tools which can be found in any toolkit even appearing in as miniature form as novelty items like keychain fob.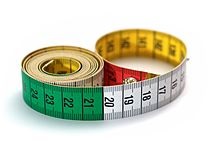 The spring retractable pocket tape measure has few key parts such as tape, push button stop or thumb lock, hook or tab, belt clip and of course, the metal housing.
Different parts of a self-return tape measure
The yellow colored ruler with numerical markings is called tape and the wider the tape, the stronger it is. The wide tape can extend further without buckling. The curve shaped tape can be coiled into a small loop to fit inside the case. The thumb lock is pressed to keep the tape in desired length. When the lock is released, the tape is retracted back inside the housing.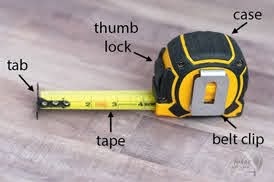 The casing of the tape is made of metal or plastic and it stores the tape inside when not in use. The dimension of the casing is imprinted on the body of the casing. The tape is connected to a flat spring which is coiled around a post inside the casing and this spring makes the tape recoil after it's extended. On the back side of the casing, most measurement tapes have belt clips to hang it on a loop or belt for easy access.
At the front end of the tape, there is a tab or hook riveted to the tape to hook onto the end of whatever you're measuring. It also stops the tape to go inside the casing completely while retracting. The tab is loosely riveted to the tape on purpose and it can be moved in or out slightly, 1⁄16" to be exact. It compensates for the thickness of the metal tab when it is hooked behind an object. When taking measurement from inside a box or drawer for example, this gap disappears and perfect measurement is obtained.
There is a small hole in front of the metal tab to hook the tab onto a nail or screw.
Nail Notch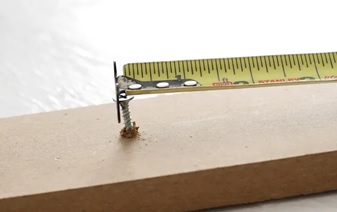 This feature is useful when you are working alone and have no extra pair of hands to hold the tape. You can draw circles when the tab is hooked onto a nail. After hooking it onto the nail, keep the pencil at the length of desired radius of the circle and swing it around in a circular motion. You can mark a surface if you put pressure on the tab and scratch back and forth.
Drawing a straight line using the tape measurement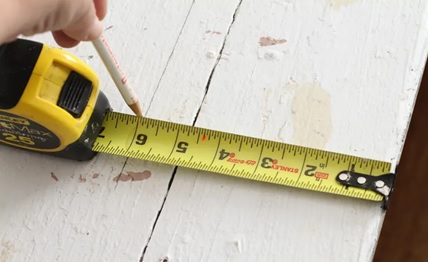 It is also possible to draw a straight line by an arrangement shown in the picture above. To do this, hook the tab onto a straight ledge of the surface you want to draw the line and extend the tape. Then lock the tape using a thumb lock and place one hand on the hooked tab. With another hand, hold the casing of the measurement tape and pencil together as shown in picture. Now, drag the tape, pencil and the tab down the straight ledge together. When 100% accuracy is not needed, you can draw straight lines quite easily.
How to Read a Tape Measure
In the United States, measuring tapes are marked with US customary units and Metric units.
dual unit measuring tape

Based on country and different standards of measurements in construction and carpentry, measuring tapes may have additional markings. For example, millimeter only tape measures are used in housing construction and it is a part of US metric building code. These tapes are usually 5 meters long and have millimeter markings only.
Millimeter Only Tape Measure
For imperial or foot-inch units, the tape has a series of large numbers marked 1, 2, 3, 4, etc. with the long vertical marks before them. These marks represent the whole inch. The inch marks are long and easy to read. So, you can keep track of your measurement conveniently. The numbers identifying the inch mark are also bold. Usually after 12 inch,there will often be a foot marking which is a different color than the other markings.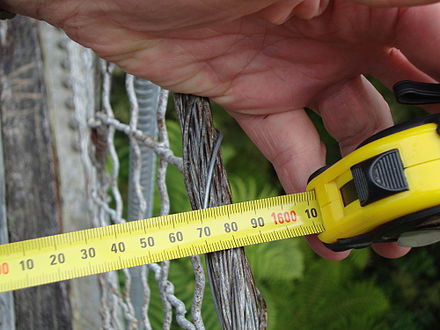 A whole inch is divided into further sixteen small fractions for more accuracy. So, the smallest measuring unit of common measuring tape with imperial units is 1/16 inch (the red line in the picture below). Next bigger mark denotes 1/8 inch and there are a total 18 marks for that. The 1/4 inch marks are bigger than the 1/8 inch marks. In the middle point of two inch markings, the 1/2 inch marking is placed and it is shorter than the inch marks.
As for metric system measurement tapes, the most prominent markings indicate centimeters and there are bold numbers next to each mark. Between two centimeter lines, ten small lines are printed to designate millimeter units. The small lines represent 1 millimeter or 0.1 centimeter.
Measurement Tape Markings
If you have to take a measurement of the exterior of an object or surface of anything, you have to hook the end tab on the edge of that surface and stretch the tape across the object. Now, lock the tape using the thumb lock and check the markings at the end of that object. The nearest number before the end of the object is the number of units (inch or centimeter). And the markings between that number and the one above specify fractions of the unit. Adding both of them yields the final measurement.
For example, think of a table top which you want to measure. If the end of the surface meets above 14 inch marking, then it is between 14 and 15 inch wide. The three 1/16 marks pass 14 inch, then the correct measurement will be 14 and 3/16 inches. If you are using the metric system, the process is quite similar.
Taking an Inside Measurement
When you have to measure the length of the interior of a window or box, the accurate measure is obtained by placing the tape inside the object and adding the size of the casing itself with the tape reading. The size of the casing is engraved at the back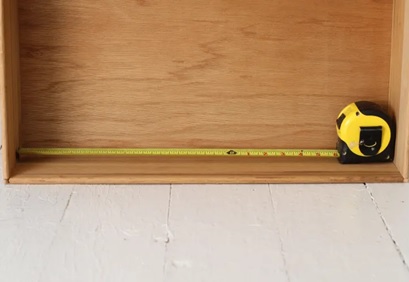 Tape Measure Test
To verify your understanding of measurement tape, some sample questions are provided here
1. Answer: 1 ⅛"

2. Answer: 11⁄16″

3. Answer: 15⁄32″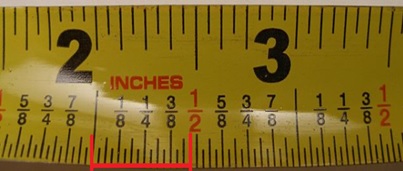 The 10 Best Measuring Tape
Modern tape measure have lots of functionalities to read. There are lots of designs of tape measures with different price tags. Some of these items are discussed below to provide an insight of these products:
1. Komelon SL2825 Self Lock 25-Foot Power Tape
The unique design of Komelon tape measure series features a self lock mechanism. The tape extends smoothly when pulled and retracted again with the push of a button providing complete control. The tape is nylon coated for more durability. The imperial scale is adopted for this tape measure and stud markings are noted on the tape.
The case of Komelon SL2825 tape measure is colored in highly visible green color. The rubber coating over the case is easy to grip and it protects the equipment from impact force. Ergonomic design of the case is comfortable, too. It weighs 0.83 pounds.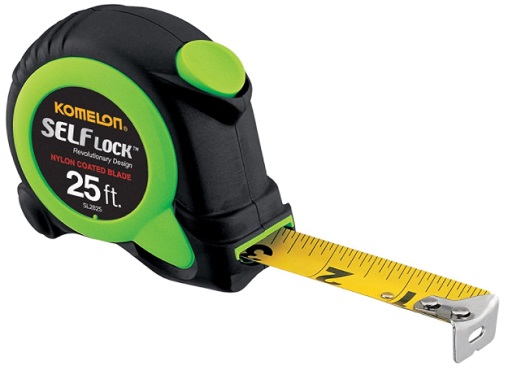 PROS
Nylon coated blade.
Self locking mechanism for hassle free use.
Ergonomic design.
Rubberized casing.
CONS
Spring spindle is not very durable.
2. Stanley Tools 33-725 25-Feet FatMax Tape Measure
FATMAX tape rule from Stanley is a professional grade measuring tape having Mylar polyester film on the tape for durability. On top of that, the first 3 feet of the tape is reinforced with Blade Armor coating which is a patented industrial thermoplastic coating for preventing corrosion and ensuring longevity. Another attractive feature of this tape ruler is the 11 foot tape standout, meaning the first 11 feet of the tape won't lose it's rigidity when extended and remain stiff. To simplify framing jobs, 16-inch and 19.2-inch stud center markings are available. Total length of the tape is 25 feet and the width is 1-¼ inch.
The end tab is specially designed to take measurement from below or above the object. The case of the FATMAX tape rule is made of high impact ABS plastic and has a rubber grip for heavy use. The tape measure has a retracting spring that is heat treated for durability and smooth tape recoil.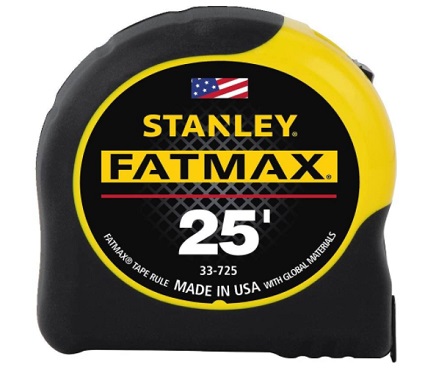 PROS
Heat treated sturdy recoil spring.
Mylar coated tape.
Patented Blade Armor coating on the first 3 feet.
11 foot tape standout.
Strong case with rubber grip.
Multi catch hook.
CONS
Some customers complained about the color of the marking not being durable.
3. Lufkin TAPE, POWER,1″X25′, CLASSIC CRM L925 0
Lufkin L925 is a quite stylish tape measure featuring a distinctive Hi-Viz orange ribbed accent stripe which also improves grip and control. The classic look may be deceiving as this tape measure provides all the modern functionalities and performances. The case of Lufkin classic CRM L925 is near square shape and you can write down the tape read on the tape measure itself using an erasable notepad. The matte finish of the case prevents glare while you are working outside.
The tape is quite lightweight, 12.8 ounces and it can be carried anywhere very easily. The color of the tape is yellow and it is nylon coated to last for an extended period. It has an 8 feet standout. The end tab has four rivet joints to get attached to the tape which ensure strong joint and durability. To control the tape measure conveniently, the tape has an extra large lock button.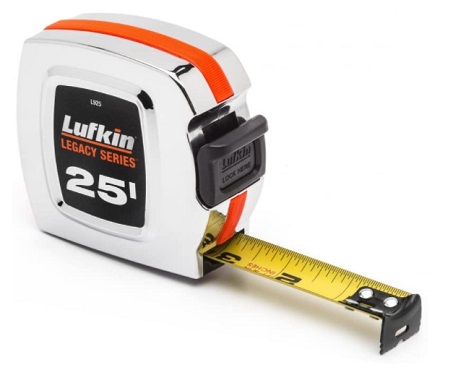 PROS
The end hook has four rivet joints with the tape for sturdiness.
Lightweight and portable.
Large thumb lock.
Nylon coated blade.
Matte finish stops glare on sunlight.
CONS
No true zero feature, the hook is fixed to the tape.
The plastic of the lock button is brittle and it may break easily.
4. Crescent Lufkin 1-3/16 x 25′ Command Control Series Black Clad Tape Measure – L1025CB
The Crescent Lufkin Control Series is equipped with advanced control features and functional design. Crescent Lufkin L1025CB is designed to tackle tough and harsh use. The tape has 12 feet standout for one person use and the 360𝆩 end hook grips the object from any side you want for your convenience. It is coated with protective coating to increase service life and it is colored black for preventing glare. But the Nite Eye technology enhances visibility in all light conditions and the extra large prints are easy to read.
Crescent Lufkin 25' tape measure is fashioned with fingertip control for the speed of retracting tape to prevent pinching and accidents. Ergonomically designed case of the tape has rails to protect the lock button and it can survive a 10-feet drop. This tape measure has built-in tethering slots for safely working at heights.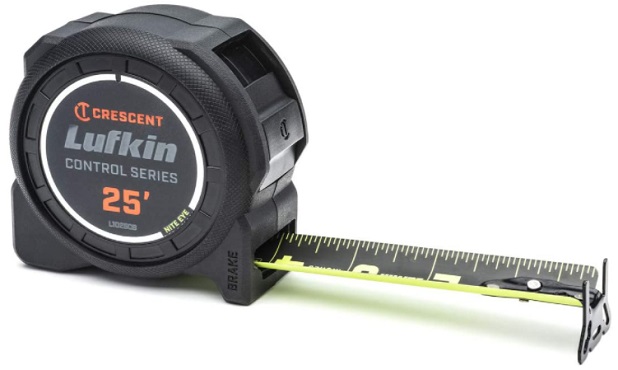 PROS
Ergonomic case.
Protective rails for thumb lock.
Built-in tethering hole.
Nite Eye technology for excellent visibility in any light.
Extra large printed markings.
12' standout for single person use.
CONS
Unboxing the tape from the package can be difficult.
5. FastCap PSSR16 16 FastPad Standard Reverse Measuring Tape
The built-in erasable notepad and pencil sharpener of FastCap PSSR16 model is super handy to take a quick record of your measurement. In addition to that, this tape measure has 16′ Standard and standard reverse rule which is helpful for left-handed people to take accurate measures easily. The high contrast markings on the measure tape are also pretty convenient to read the numbers. These numeric markings are conveniently arranged to take fractional readings upto 1/16 inch accuracy.
The belt clip of FastCap PSSR tape measure is ergonomically designed with lever action mechanism. The recoil spring of the tape is quite strong and to control the speed of the retracting tape, there are two locking mechanisms. The protective rubber casing is ergonomically designed to grip conveniently and protect the tool from impact. The end hook utilizes four rivet joints to handle the wear and tear of daily use.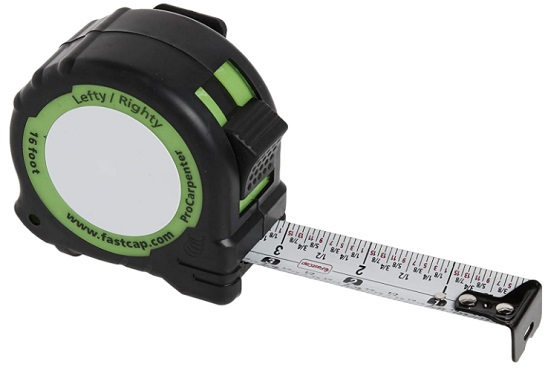 PROS
Ergonomic design.
Shock absorbing rubber boot.
Dual lock.
Built-in pencil sharpener.
Built-in erasable notepad.
Standard and reverse markings.
Fractional readings are easy to read.
CONS
The end tab is difficult to hook sometimes.
6. Komelon 4912IM The Professional 12-Foot Inch/Metric Scale Power Tape, Yellow
Komelon 4912IM model is a professional grade tape rule ,manufactured in China. It is available in three categories:12 ft./3.5m x 5/8-inch, 16ft./5m x 3/4-inch, 25ft./7.5m x 1-inch, and 30ft./9m x 1-inch. The tape has both imperial and metric units and this is ideal for anyone using metric scale. The case of the tape is colored yellow and it is made of hard ABS plastic. It is ergonomically designed to fit comfortably in hand.
The tape of Komelon 4912IM is nylon coated for durability and it is also colored bright yellow with black markings. The end tab has a nail notch and it is riveted to the tape in two spots. Once the tape is extended, it can be locked using a sliding lock mechanism. The tape recoils smoothly when the lock is released. The Komelon 4912IM weighs 4.5 ounces.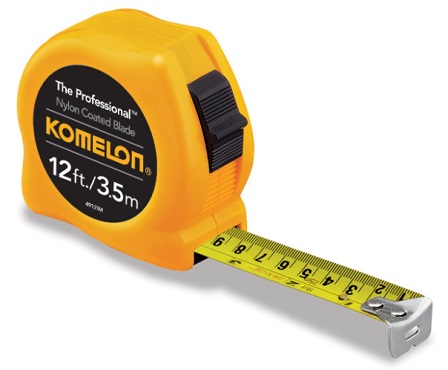 PROS
Nylon coated tape.
High visible color.
Ergonomic design.
Affordable.
Smooth operation.
7. eTape16 ET16.75-db-RP Digital Tape Measure, 16 Feet, Red
ET16.75-DB-RP model from eTape16 is a cutting edge measuring device utilizing digital technology. This tape accentuates style, compactness, and ease of use. eTape 16 tape measure is equipped with LCD display and 3 memory functions. It is made of polycarbonate plastic incorporating sleek and modern design. eTape 16 tape measure is built to survive harsh environments and rough use.
ET16.75-DB-RP is packed with handy features like US or metric units, centerline calculation, re-zero and Inside/Outside measurements. You can change the scale just by pushing a button. You can also convert from decimal to fraction and vice versa. The centerline calculation is useful for hanging pictures. And using the re-zero function, you can measure tight spots into a sharp corner without bending the tape as you can select the back of the device as the starting point.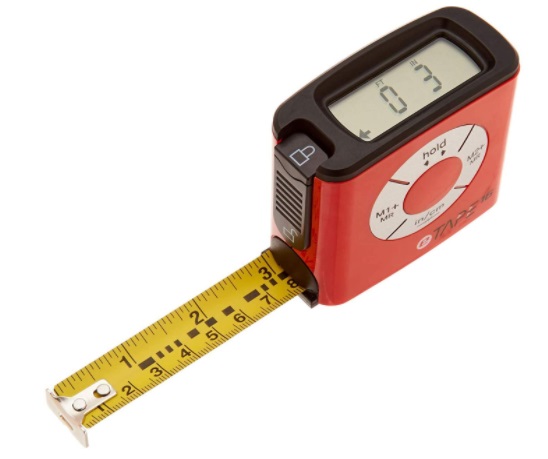 PROS
Digital technology.
This tape accentuates style.
LCD display and 3 memory functions.
It is made of polycarbonate plastic.
You can change the scale just by pushing a button.
8. CRAFTSMAN Tape Measure, Self-Lock, 8-Meter (CMHT37226S)
Dual scale measuring tape CMHT37226S from CRAFTSMAN includes both metric and imperial units. The total length of the tape is 26 feet or 8 meters. The measure tape high contrast markings are easy to read. The end hook is attached to the tape using three rivet joints. Once the tape is extracted from the case for measurement, it will remain locked to that position, thanks to the self locking mechanisms.
To retract the tape, you have to push the unlock button and the tape will retract smoothly without slamming into the case. The button is ergonomically designed with serrated marks for better grip. The rubber overmold case of CRAFTSMAN tape measure absorbs shock and improves hold of the tape.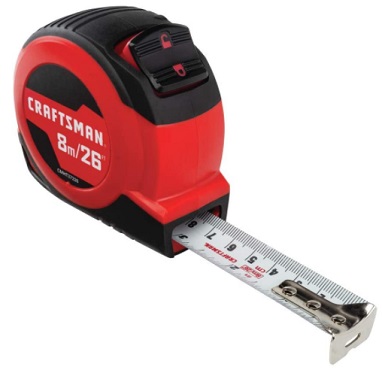 PROS
Long measuring tape.
Both metric and imperial scale.
Auto lock feature.
Smooth retracting operation.
Ergonomic design.
Rubber boot.
CONS
The fractions of inch are not marked.
9. Spec Ops Tools 16-Foot Tape Measure, 1 1/4″ Double-Sided Blade
This Spec Ops 16' Tape Measure boasts military grade composite housing and MIL-X coating on the tape which makes it two times more durable than ordinary tapes. The tape itself is 16' long but the case is 20% more compact than standard tape measures. The 10' standout of the tape is convenient when you are working alone. The 1-¼" tape also provides the highest visibility and contrast with a bright, white blade for precise measurement reading and marking in dark spaces. Fractional markings are clearly printed on both sides of the wide tape so that you can take accurate measurements without error.
The end tab of SPEC-TM16 is 360° type and slip proof, ideal for versatile use. It provides ultimate control when you are taking long measurements. To control the speed of retracting tape, it has a precision speed lock for quick lock and release. You can attach it to tool belts or pockets using the integrated belt-hook. For added safety, this tape is compatible with SRS Retention Lanyards. It offers a limited lifetime warranty.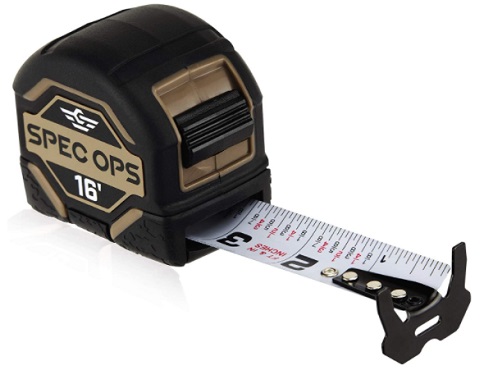 PROS
Compact design.
Wide tape with clear and high contrast markings.
Fractional scale.
10' standout tape.
Lifetime warranty.
CONS
Some customer complained about the durability.
10. LEXIVON [2-Pack] 25Ft/7.5m Tape Measure, DuaLock & AutoLock
You will get two nice tape measures in this package from LEXIVON. The case of the tape measure is made of hard ABS plastic with rubber boot for protection against impact and firm grip. The tape of this tool is wide, 1 inch, and both metric and imperial units are available with easy-to-read fractional markings. It is coated with nylon for protection against wear and tear. The 360° end tab utilizes multiple rivet joints to this 25' measure tape and the true zero multi-catch hook provides accurate read for both internal and external measurements.
The LX-204 measuring tape from LEXICON provides stud markings at every 16″ and 19.2″ to do the frame job conveniently. For smooth operation and durability, this tape is fashioned with a quality internal mechanism with heat-treated manganese spring. And to control the speed, there are DuaLock and AutoLock mechanisms.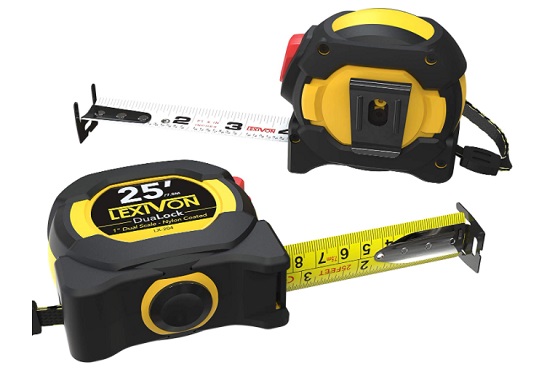 PROS
Economic pack of measurement tape.
1 inch wide tape with fractional markings.
Dual units.
360° true zero end tab.
Nylon coated tape.
ABS plastic case with rubber boot.
Stud markings.
CONS
Doesn't have both side markings for lefty people.
Closing Thought
There is a chance of injuries if you let the blade and hook to return uncontrolled at full speed when rewinding. Some measure tape feature steel blades with relatively sharp edges and they can cut deeply when travelling full speed. So, safety glasses and gloves are recommended by manufacturers.