Are you looking for the most comfortable sandals for problem feet? There are any factors that you should consider. To start with, most people normally prefer wearing sandals whenever they are at home or out there having fun. After all, wearing shoes all the time can be uncomfortable for many people. Sometimes, it is good to expose your toes to fresh air especially when the weather is fine. Sandals have proved to be a fun alternative to heavy and protective shoes won during the cold months of the year.
When it comes to footwear, the last thing you would like to experience is blisters. In fact, if a shoe or a sandal cannot fit you well, you should leave it. This brings us to the issue of comfort as far as sandal selection is concerned. Adequate support and comfort are very fundamental whenever you are buying sandals. This is more important if you have problem feet. Fortunately, there are supportive and stylish sandals out there that you can consider. This article will outline some of the most comfortable sandals without feet problem that will make you enjoy exploring some of the top vacations destinations around the world.
Are Comfortable Sandals Better For Feet Problem ?
If feet protection matters to you, sandals might not be the best option for you .This is because sandals are mostly open and therefore chances of getting cuts, splinters and other foot injuries are very high. Apart from this, most flip-flop normally provide no arch support.
Like ballet flats, they can actually worsen plantar fasciitis and cause future problems to the knees and hips. However, they are better when it comes to providing comfort and fresh air to your feet. Below are some of the best comfortable sandals without any feet problem to consider.
The 10 Best Most Comfortable Sandals For Feet Problem
1. Aetrex Zoey Adjustable Quarter Strap
It's pretty obvious for most people to think of nothing but flimsy straps whenever sandals are mentioned. If you belong in this cluster of people, the above sandals will surely show you how are wrong you are. These comfortable sandals exhibit a very robust arch support. This means that whenever you are in them, your feet will get proper alignment. Also, comfort ability has been fully factored in, thanks to its memory foam foot bed. This gives the sandals good cushioning hence making the shoe very friendly on your foot. A lightweight EVA foam material is used on its midsole to give it additional comfort.
Not to forget, it has three adjustable hook and loop closure to ensure you get a proper fit each time you put the shoes on. Additionally, these straps are built to accommodate all foot sizes thus making it a very comfortable sandal. If you like juggling outfits frequently, this shoe has got you covered as it goes quite well with most outfits from dresses to trousers. This versatility ensures you are not limited on whatever you want to wear. Longevity is fully assured when it comes to its durability as it boasts of a purely leather made upper and other durable materials.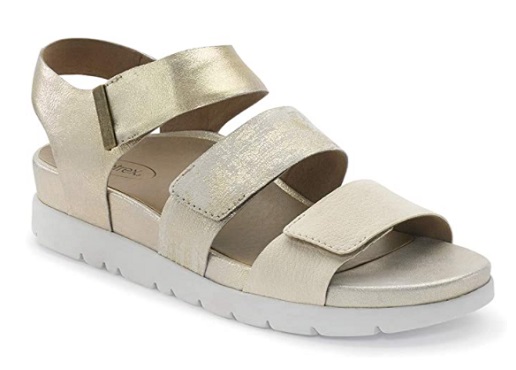 PROS
Light weight hence easy to walk in.
Good looking and presentable.
They are quite versatile sandals.
Very comfortable thanks to its advanced foot bed.
2. Vionic Women's Rest Kirra Backstrap Sandal
Research proves that vast majority of people who wear sandals, do so because they are comfortable enough to be worn for the whole day. The above sandals are not an exception since they come with a much modernized foot bed. The shoes foot bed is a microfiber wrapped EVA foot bed hence making the sandals perfect for all day wear. More also, it comes with a triangular leather upper with a buckle detail. Also, the shoes subtle design helps the shoes to achieve the American Poadiatric Medical Association Seal of Acceptance.
The sandal gives you a very stable arch support and promotes stability from the ground up. Printed leather is employed on the upper part of the shoe while a rubber sole is used on the lower part. The two of these materials are very lightweight in nature hence making the shoe super comfortable to walk in. Finally just like most sandals these ones are very versatile.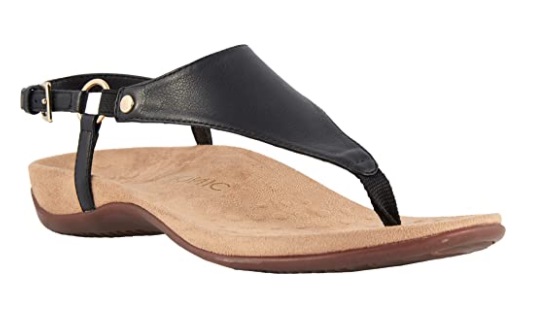 PROS
They are very versatile.
They are very comfortable to walk in.
Offers perfect support.
CONS
Most people claim that they have a loose fitting.
3. Birkenstock Unisex Arizona Leather Sandal
This is a sandal that will make a perfect gift especially for couples. To begin with, the latter has been designed in a unisex style that helps it to blend very well irrespective of whether it's a male or female having it on. There is smooth leather like finish used on the upper side of the shoe while a sythentic material is used on the sole. Both of these materials give the shoes great durability even when worn frequently. Comfort is also fastened by its subtle foot bed which ensures that your weight is distributed evenly over the whole foot.
This helps it to provide optimal support thus being quite an amiable shoe to walk in. It also has an anatomically correct cork foot-bed that gives users good foot health. These shoes have been in the market since 1774 which means it combines great craftsmanship and experience for a quality product. Lastly, they come with adjustable straps which function to ensure that you get a perfect fit.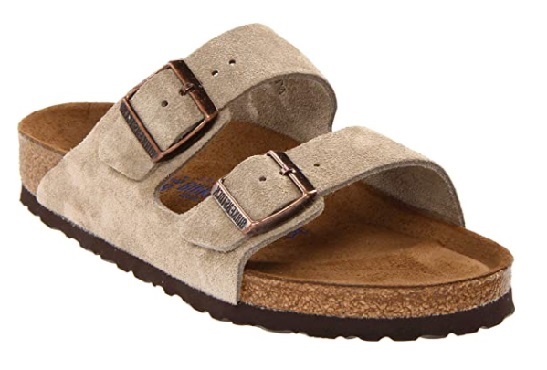 PROS
Fits quite well.
They are very comfortable.
It is a unisex sandal.
They are made out of quality materials hence last for quite a long time.
CONS
Its outsole is not very flexible.
4. CUSHIONAIRE Women's Luna Cork Footbed Sandal
When it comes to a shoes comfort, the insoles play quite a major role in achieving that. These sandals are built with completely suede insoles and an EVA outsole. The insole fully contours to the shape of your foot to provide you with utmost comfort whenever you put them on. This ensures that your weight gets distributed uniformly on the shoe thus making it very comfortable.
Additionally, it features a flexible cork foot-bed which is quite comfortable for utmost comfort all day long. A 1.25 platform height is employed on the sandal whilst giving users a stable arch support. Its heel cup is also cushioned to give you that extra comfort. Two adjustable buckles are inscribed on the latter to give you a perfect fit. These shoes use a premium vegan upper that feature very soft materials to give you utmost comfort.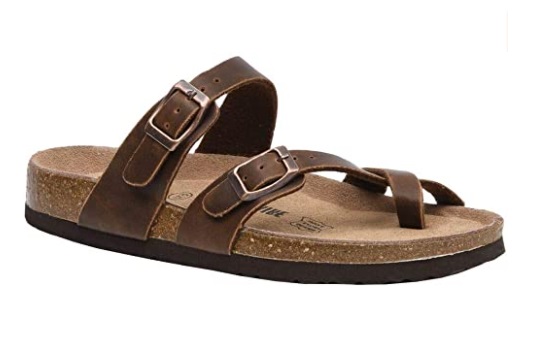 PROS
These are very comfortable sandals.
They are made out of high quality materials.
Comes with adjustable straps for that perfect fit.
They are very durable.
They feature a very alluring design.
5. FitFlop Women's Lulu Thong Sandal
Even though these sandals come with a typical flip flop design, they exhibit a very advanced foot-bed. Its foot-bed uses micro-wobble board technology in its insole which ensures nothing short of quality and comfort whenever you have them on. The mid-sole uses three diagonal sections of multi-density EVA for utmost comfort and also it absorbs shock while diffusing underfoot pressure.
Unlike most flip-flops, this one has a purely leather fabric thus lasting even longer. Also, they have a wedge like shape with a one inch platform height which helps to give it a more stable arch support. Further, its single thong straps makes this sandals quite easy to wear, you just slide your foot in.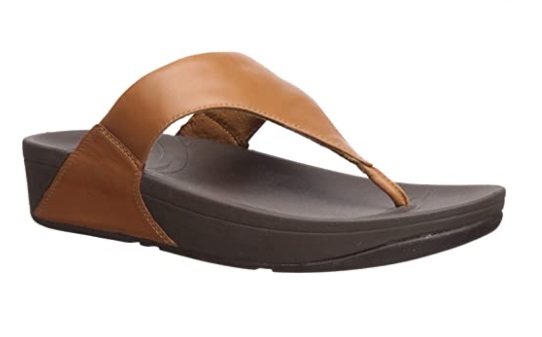 PROS
Very comfortable.
Great midsole.
Offers maximum support and absorbs shock.
Perfect for people who don't like multiple straps.
They are very comfortable to wear.
They are very attractive.
Lightweight and easy to walk in.
CONS
The top straps stretch over time.
6. Blowfish Malibu Women's Granola
Unlike most sandals, women's granola combines versatility and durability. First off, they feature a very modern design built by designers from across the world to give it a very versatile outlook. Therefore, the shoes will complement almost all outfits.
Besides that, they are quite stylish and very comfortable on your feet. If you are a fashionista, this shoes will suite you quite well. Also, it features a buckle closure type which functions to give it a perfect fit. Finally, they use a polyurethane fabric on their outer material that guarantees durability.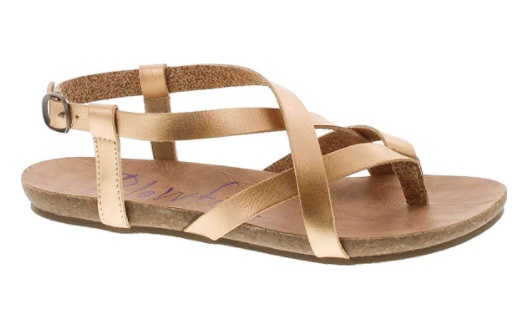 PROS
They are very comfortable sandals.
Have a great fitting.
They are super versatile.
They look very nice.
7. Teva Women's Heels Open Toe comfortable sandals for feet problem
Equipped with adjustable straps, these sandals ensure that you get the most perfect fit on your feet. As if not enough, they come with micro ban treatment which helps to keep the sandals fresh. This means you can wear the sandals all day whilst they still stay fully fresh without any odors.
Furthermore, the sandals have vegan uppers and a synthetic sole material which ensures it serves you for long before having to replace it. The exterior outlook of the sandals makes them very alluring and super versatile for blending well with most outfits.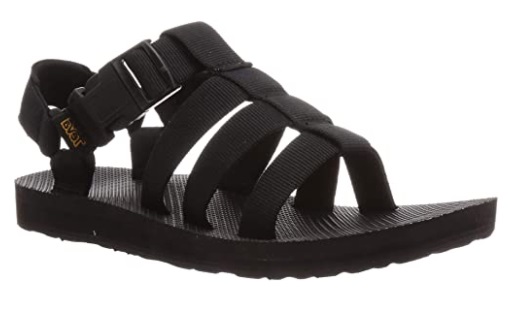 PROS
This is super cute.
They are very comfortable.
They are very versatile sandals.
CONS
They are quite tedious to wear.
They are not unisex.
8. Strive Footwear Capri Stylish Orthotic comfortable sandals for feet problem
Believe it or not, wearing these sandals will help you with various aspects of your body thanks to its special subtle design. First of all, wearing them helps you with problems such as over-pronation, plantar fiscitis, knee pain and back pain. Additionally, its subtle design mimics the three dimensional contours on your feet hence offers maximum comfort as well as helping you with your posture.
On its inside, there is an orthotic insole used with an arch support which functions to give you undisputable comfort whenever you put them on. Plus, the orthotic insole is complemented by a biomechanical footbed technology which contours very well to your feet. Its outsole is made of a rubber which gives it a very stable traction even when you are walking on a smooth surface. They also have leather uppers with soft microfibre linings for comfort. These sandals are super simple to wear thanks to its slip on thong strap, and have a very universal outlook that compliments every outfit.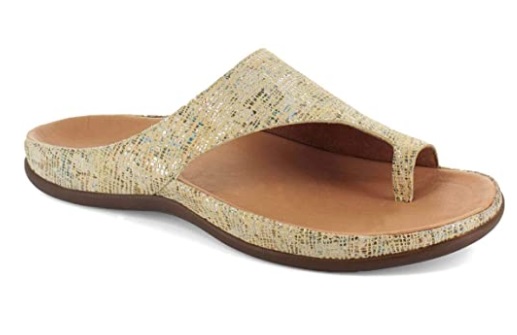 PROS
Offer great arch support.
Helps to improve your posture.
It is very attractive.
Quite easy to wear.
They have a very stable traction.
CONS
Most customers complain they are slightly narrow hence being quite uncomfortable for people with big foot shapes.
9. Therafit Eva Women's comfortable sandals for feet problem
If comfort is what you are seeking for in a sandal, the latter will absolutely blow off your mind with its subtle design. Unlike a vast majority of sandals, this one comes with three removable PCS dual density comfort adapter in the midsole. To boot on that, it has patented technology to ensure your feet will be super comfortable even after having the sandals on for a whole day. They also have a shock absorbing midsole and is backed up by a soft upper with good cushioning for maximum comfort. Its heel cups are quite deep thus offering great arch support and stability.
Furthermore, these sandals exhibit a contoured foot-bed which fully conforms to the shape of your feet for enhanced comfort. Moreover, the insole gives you relief from several conditions including arch pain, heel pain, plantar fasciitis, pronation, etc. All this spectacular features contribute greatly in making the shoe approved by the American Podiatric Medical Association.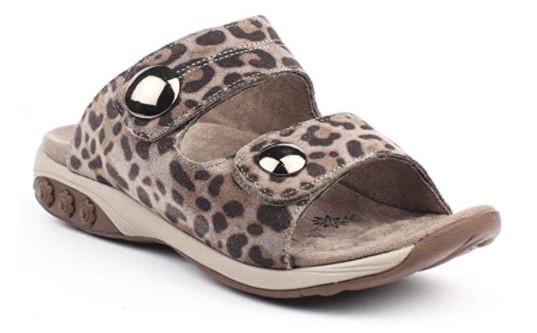 PROS
They as super comfortable.
Helps to relieve quite a number of pains.
They offer a great arch support.
They exhibit a great fit.
CONS
They are not unisex.
Numerous complaints have it that they don't last for long.
10. Viakix Walking Comfortable Sandals for feet Problem
When most shoes are made, they go through machines to get that perfect outlook. However the above sandals go through a very thorough hand crafting which ensures that they last longer and that every detail is addressed. Apart from that, the shoes employ the best quality materials in their making hence lasting even longer. Versatility has also been achieved through the shoes subtle design. Whether it's hike or a just a day out with your friends, these shoes will serve you well thanks to their comfortable and super lightweight nature.
In addition, they have elastic webbing which can be stretched and adjusted for a perfect fit. Moreover, its exhibits a cushioned EVA midsole and offers a great arch supports. You must note that the manufacturer recommends that if you normally wear a half size e.g. 6.5 you should order a shoe that is down to the next whole size e.g. 6 so that you can get that a perfect fitting shoe. The shoes feature a slip on closure type thus helping you to save on time when putting them on.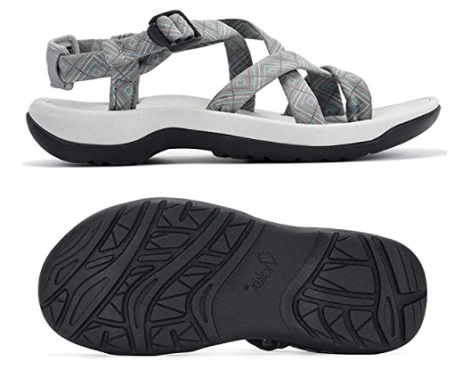 PROS
They are very lightweight hence being quite easy to walk in.
Offers great arch support.
They are very stylish and fashionable.
They are very comfortable thanks to its EVA foam midsole.
CONS
Have oversized fitting.
They aren't unisex.
Key Features to Look Before Buying Comfortable Sandals for feet Problem
When looking for the best sandals to buy for problem feet, chances are that you will come across different kinds. Sometimes, you might be spoilt for choice as some of them almost look similar. However, there are some distinguishing features that make these sandals different from one another. When buying these sandals, you should be keen to note these critical features so that you can get value for your money. Some of the key features to look include:
1. Size
One of the critical factors that you should check when buying sandals for problem feet is the size. This is because sandals normally come in a variety of sizes. The last thing you would likely to experience is to wear a small-sized sandal. This is because you might feel uncomfortable especially if you have to wear them for long. In most cases, you might get blisters and so on.
On the other hand, if you choose a sandal that is larger than your feet, you might not be able to walk comfortably. To be on the safe side, you should consider taking the measurements of your feet and then buy the one that fits you well.
If the sandal has a closed toe, you should ensure that the toe box is wide and deep enough to allow your feet wiggle from side to side and up and down .Ideally, the space between your longest toe and the edge of the shoe should be about the width of your thumb nail. More importantly, your heel should not lift off the foot bed whenever you are walking.
2. Comfort
Besides the size of the sandal, you should be keen to check how comfortable the sandal is. Here, check the material used to cushion your feet. Ideally, the material used to make the sandal should be rigid enough to give the much-needed support. For instance, soft leather is known to be supple but it is normally very supportive. Neoprene is known to absorb shock.
The nature of the sandal's heel also affects the comfort that you are likely to enjoy. Those who wear sandals will tell you that heel bruises are very common. This usually occurs when you step on a stone or a pebble without adequate cushioning on the heel of your foot. This can lead to foot injuries in the long run.
Although sandals do not come with much padding in the heel, you should always ensure that your sandals of choice are well cushioned. To check, you can try to push your thumb into the heel. If the area does not get depressed, try looking for a different pair. The heel of the sandal should be wide as the back of the shoe and not tapered. This way, you can be sure that you will get the much-needed stability and comfort.
3. Purpose
Sometimes, you might be eyeing a fashionable pair of sandals that you saw your friend wearing. While this might be a good idea, some of these sandals though fashionable, might not offer the much needed support based on what you plan to do with them.
For instance, if you want to buy sandals for walking, you should consider looking for lightweight sandals. If you want to buy sandals for hiking you should consider the closed ones. On the other hand, if you want sandals for camping or rafting, you should consider buying a waterproof pair. Therefore, you should not focus more on the looks of the sandal but the purpose for which you buy them. Ideally, they should serve the purpose with utmost precision.
4. Quality
The issue of quality cannot be over-emphasized when it comes to purchasing sandals. This is because if your sandals of choice are of low-quality, you might have to replace them within a few months. Obviously, no one wants to keep on going back to the shoe store to buy a pair sandals every now and then.
This is because you might have to dig deeper into your pocket unnecessarily. Therefore, to aver this situation, you should be keen to check the quality of the sandals before buying them. Ideally, you should choose a durable pair that will last for a few summers.
5. Watch the placement and design of straps
If your sandals of choice have poorly placed straps, chances are that your feet will be irritated, get blisters and corns. For optimal results, you should choose sandals that hit just below the ankle. Such sandals are known to be more comfortable and fit well.
Ideally, you should avoid sandals that have straps that rub against the top of the foot or around the ankle. Also, the straps should not rub between the toes. If the straps are lined with soft leather or suede, you can be sure that there is will be no chafing. When buying these sandals, you should watch for seams and other design elements that might rub or dig into your feet and cause some discomfort.
6. Price
Different sandals for problem feet will cost different prices. Some might cost an arm and a leg. However, you might come across some that cost pocket-friendly prices. You will realize that these prices are normally determined by factors such as the sandal's brand, its features among other factors.
If you have more resources, you can go for the best brand out there. However, you can still save some money by going for the low-priced sandals. Some of these sandals cost relatively low prices, yet they have some incredible features that might mesmerize you. In as much as you might want to save more on cost, you should not compromise on quality as this will determine how durable and effective the pair of sandals will be.
7. Check the manufacturer's reputation
When buying sandals for problem feet, you should not overlook the reputation of the manufacturer. This is because some manufacturers are known to make low quality sandals. Here, you should be keen to check the reviews of a particular manufacturer online so that you can make a wise choice. After all, if you buy sandals from a reputable manufacturer, you will get the value for your hard-earned money.
A Frequently Asked Questions (FAQ)
1. Is it bad to walk in sandals?
No. However, if you are walking for a long distance you should consider wearing shoes. Shoes are better as they protect the entire feet and offer some heel cushioning and absorb shock. If you are walking short distances, you can wear your pair of sandals and you will be good to go.
2. Are flat sandals bad for your feet?
You will note that flat flip flops usually offer no foot support. This can actually lead to plantar fasciitis and Achilles tendinitis.
3. Should you size up or down in sandals?
Ideally, you should consider sizing up when it comes to sandal selection. Going up a size with sandals will provide you with adequate wiggle room. This way, you will be able to walk more comfortably for house without experiencing any form of foot pain or discomfort.
4. Is walking barefoot bad?
This depends on where you are. For instance, if you are in the house, walking barefoot is relatively safe. However, if you are outside your house, your feet will be at risk as you might get injured.
5. Is shoe size same as sandal size?
In most instances, shoe sizes and sandal sizes are generally the same. However, sandals tend to fit differently than other type of shoes. This means that you may likely have to size up when buying sandals.
Final recap
When it comes to comfortable footwear, nothing beats the heat of summer better than having a comfortable pair of sandals. More importantly, if you have problem, the need for having comfortable sandals cannot be over-emphasized. With the right pair of sandals, you will be able to keep your feet cool on hot days and have fun.
Ideally, your sandal of choice should combine function with style in order to keep your feet protected and well-cushioned. More importantly, your feet should be comfortable. Consider the above-mentioned guide and you will get the best sandals for problem feet. These sandals are truly incredible.