Over the years, you might accumulate a lot of confidential information that might be too sensitive to be left in the eyes of the public, in case you want to dispose of it. As a result, the last thing you would like to do is to leave this information in the trash for everyone to see. Personal documents too are crucial and need to be handle with care whenever you want to dispose of them. To avert potential problems such as unauthorized access to your personal information, you should consider choosing residential shredding services.
Here, professionals will bring document shredding to your home. As a result, you can trust that you will enjoy a lot of convenience in the long run. Also, you will enjoy the secure recycling of shredded material.
How Do You Prepare Documents For Shredding Services?
Once you decide that you need residential shredding services, there are some preparations that you need to make. After all, you do not want to be caught off-guard by the professionals who offer these services back at home. Here are the steps that can guide you in the preparation process:
1. Determine the items that you needs to be shredded
One of the first steps that you should consider is to determine the items that need to be shredded. After all, once you shred the document, you will not be able to restore it back to its original state. Ideally, you should shred those documents that are past their retention schedule.
For optimal results, you should have the retention date stamped on each and every document. In fact, this should be done when every record is put into storage. Here, you can sort them by the box. This way, it is will be easy to read the writings on the outside of the box.
2. Make an appointment with residential shredding services
Once you have determined the documents that you want shredded, the next step is to make an appointment with the staff who offer residential shredding services. The good news is that you can do this either online or offline. In most cases, most shredding companies normally have a website where you can book an appointment. There is also a live chat section that allows you to talk with the customer support team. Here, you can enquire about the price charged among other logistic issues.
Either way, you will be provided with a free consultation and an estate so that you can budget for this undertaking. This way, you will not be blindsided by any hidden fees. In addition, the customer support team will answer any questions that you might have regarding residential shredding services. Some residential shredding companies normally have a commercial shredder that is able to cut staples, paper clips, and rubber bands into pieces.
3. Present the documents to the residential shredding services company
After booking an appointment, the residential shredding company will give you a date when they will be available. Once that material day of shredding, the professionals who offer this service will be at your doorstep. After all, you will have provided them with the direction to your premise.
Once this staff arrives, they will greet you and request you to present the documents that you want to be shredded. Thereafter, the documents will be tipped into the metal teeth of the cross-cutting shredder. Here, you will have the opportunity to watch your bins being emptied and their content tipped into the shredder.
Once the documents have been shredded, the shredded documents will be taken to a paper mill when are put to better use. Before the professionals leave your home, you will be awarded a Certificate of Destruction, just for the records.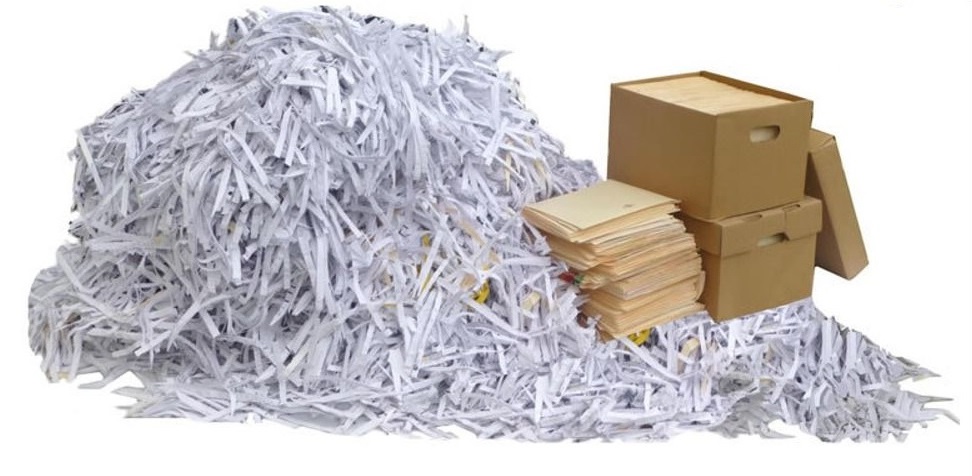 How To Shredding Old Personal Documents On The Cheap Services?
Shredding old personal documents might cost you a significant amount of money. In most cases, this will depend on the number of documents that you want shredding among other factors. Sometimes, the costs might be too high for you. Other times, you might have to strain your budget in order to get this done.
Fortunately, you can actually shred these documents cheaply and save a lot of cash. If you are looking for a service provider that offers relatively cheap services, you should consider Neighborhood Parcel of Lowell MA. These experts will offer the much-needed security of your documents and thereby ensure that you enjoy some peace of mind.
The above mention company will take full custody of your documents and ensure that your shredding is done at the end of the day. Thereafter, you will be able to get a certificate of destruction. To enjoy their services, you will need to pay flat 89 cents/lbs. and you will be good to go. Therefore, if your documents weigh around 100 lbs, you will be needed to pay less than $90. To enjoy these services, you can book the service and ask questions by just calling them at (976)636-0301.
How Does Mobile Shredding Services Work?
To start with, most customers usually prefer on-side shredding services. Sometimes, this might be due to corporate policy or just for the sake of peace of mind. After all, there are some assurances that your confidential documents will be handled more professionally and in–person if you choose mobile paper shredding services. This has made this service a go-to-option for most clients intending to shred their documents.
By choosing mobile shredding services, customers are assured that their documents will be shredded at their desired spot. This could be in their office, home, and so on. If you want to invest in mobile shredding services, you should expect the following:
The customer security representative will come to your location.
The professionals who offer these services will empty your bins and deliver their contents to a mobile shredding truck. This truck will be waiting on the site.
All the documents will be shredded while the truck is on the site. Here, you will have an opportunity to see what goes on.
Once the shredding exercise is over, you will receive a Certificate of Destruction indicating that your confidential documents have been destroyed in a secure manner. In fact, all the shredded paper is 100% securely recycled.
The 7 Best Residential Shredding Services
1. UPS STORE
As we all know, getting rid of documents can be a very risky engagement as sometimes documents contain very vital information. That is why we recommend seeking such solutions from a certified document destruction vendor like the UPS shredding stores. The UPS stores happen to be the world's largest franchiser of retail shipping, postal, printing, and business services including shredding services. They bring their shredding services right to your doorstep by ensuring they have numerous locations all over the country. The shredding process at the UPS store is very safe.
At the first reception of your documents, they weigh them so that they can establish the most appropriate way to shred them and the price to charge. After they are weighed, they are then placed in a secure locked shredding bin before destruction commences. Besides that, the UPS store provides appointments in their vast locations for those clients that want to get rid of their documents in time. After shredding, the shredded documents are securely kept away so as to keep them from falling into wrong hands. Therefore, this proves how secure it is to dispose of your documents through the UPS store service. Plus, according to the National Association for information destruction the UPS store is AAA certified.
PROS
Their services are very secure and even meet the desired criteria required by the National Association for information destruction.
They are easily accessible since they have many stores all over the country.
They provide appointments online.
The shredded material is saved for recycling purposes.
CONS
Their service strictly requires clients to physically drop off their shredding documents at any of their locations.
2. IRON MOUNTAIN
Iron Mountain is yet another very credible residential shredding company that will help you dispose of all your documents in a very secure way. To be more precise, it offers residential, home office, and consumer customers services with a direct pickup offer. Meaning that people who are not close to any of their stores can just make a call and Iron Mountain will come and pick up the documents by themselves. However, the direct pickup service is not subjective on how close you are to an iron mountain location.
All clients have the liberty to access that service. Albeit for people with a small number of documents, like three boxes and below, they recommend using their drop off partners who can be located using their zip code look up tool. The tool is available on their website. Moreover, people with a larger quantity of documents (greater than three boxes), utilize their at-home pickup service.
This service is available through their office depot. Besides that, this shredding company offers both onsite and offsite shredding services. This means that you can have your documents alienated as you see or the other way around depending on your desired preference. On top of that, they also offer IT Asset recycling and disposition. This means that they can allow you to recycle or remarket your IT assets like computer hard drives etc.
PROS
They offer both offsite and onsite shredding services.
They offer a direct pick up service.
Their services are very secure.
Also offer IT asset recycling and disposition.
CONS
Their national wide locations are not very numerous.
3. TIME SHRED
Even if most document destruction vendors offer very secure services, it is very obvious that most people are still skeptical about taking their documents to them for shredding. Nevertheless, if you belong to this category of people, then Time shred is for you. Unlike most shredding vendors, Time shred offers onsite document shredding which allows customers to witness the shredding process as it happens. However, only people in a few locations like Manhattan, Brooklyn, Bronx, States Island, Long Island, Westchester and New Jersey can get that service. Time shred has a convey of technologically advanced shredding trucks thus bringing their shredding services right on to your doorstep. For more security, there is a security camera fitted on the truck. The camera monitors the following:
The documents being load in the truck.
Emptying of the documents into the shredder.
The shredding process.
Disposal of shredded documents in the secure storage compartment.
In case you want shredding services from Time shred, you just call them and they will give you all the details regarding the entire process. More also, this shredding company has very strict security regulations that apply whenever they offer services to you. Plus, all their staff are well scrutinized before being hired. Therefore, it is because of its great security policies that is AAA certified.
PROS
It is an AAA certified company.
They bring shredding services to your doorstep with an option of onsite shredding.
CONS
Their services are not accessible to many people national wide but only to people in very few states.
4. PROSHED
With cases of identity theft on the rise, document destruction vendors like Proshed are here to make the process easier and more secure for you. Proshed offers economically friendly residential shredding services while still upholding the utmost security of the shredded documents. This means that you can dispose of all the vital documents that you have at home without having to worry over anything. You just give the company a call and a shredding lorry will come to you. The truck picks up your shredding materials and then the materials are shredded on your sight.
The shredded waste is then collected carefully and disposed of responsibly. Unlike most shredding vendors, this one provides its clients with a certificate of destruction once the shredding process is over. Their trucks also have security cameras for monitoring the entire shredding process. In the event you have very few sensitive materials to be shredded, the company recommends that you should drop them at their location. This will be cheaper compared to them coming directly to you. Also if you prefer off site shredding services, Proshed has franchises in 40 metropolitan markets national wide which ensures that you have their services at their disposal.
PROS
It offers both onsite and offsite shredding services.
They provide clients with a certificate of destruction once they have have shredded materials for them.
CONS
People in more than ten distinct States can't access their services.
5. INSITE SHRED
Onsite shred basically offers its services to residential clients that want to get rid of vital documents. Similar to Iron Mountain, this one too charges individuals based on the number of boxes their documents are in. For those that don't know how to exactly gauge the size of their documents, worry out as the company can help you to do that. Once you have established the size and Price required, you should immediately inform the company.
This is so that they can establish the number of staff they should send. Then, you will give them your location and the time that you would want them to be there. Once all this is established, one of their trucks will be sent over so that the shredding can take place. The company's staff does everything for you, including emptying your boxes as you watch comfortably. After that, the shredded material is baled and transferred to a recycling plant. There, the material is turned into fresh paper for re use. This method of disposer ensures that your vital documents are very safe from unwanted hands.
PROS
The shredded material is disposed very appropriately.
They provide onsite shredding.
CONS
Their services are not accessible in some states.
6. SHRED QUICK
In these modern times, placing vital documents in a recycle bin or using a personalized home shredder to get rid of documents is literally a recipe for disaster. However, with Shred Quick document destruction vendors at your disposal, that is a non-, issue to you. Once you contact this company they come to your home immediately to get the job done. Although, it is mandatory for clients to accomplish the three steps highlighted below before the company comes for the shredding process. First, the company will ask you questions regarding how you store your documents. This is to help them establish the amount to be charged for the shredding.
After that, the second step requires you to qualify the shredding company by asking questions. This means that the company will provide an opportunity for you to ask them any question that you might want to be answered. Once you've accomplished the first two steps, the final step is where the time for your shred will be scheduled. Also, Shred Quick claims to be the only shredding company in the area that is AAA NAID certified since 2002. Click here to visit the SHRED QUICK official website.
PROS
It offers onsite shredding services.
It meets the specified regulations required by AAA NAID.
CONS
Most clients claim that they don't like the tedious procedure to be followed before your documents get shredded.
It is not available in some states.
7. SHRED NATIONS
Have you been stacking documents at home? If so, the latter is here to put an end to your misery. It provides convenient, fast, and very secure shredding services. As a matter of fact, they provide clients with a certificate of destruction once they have fully shredded all their materials. Its shredding options are very diversified too. The size or rather the amount of materials to be shredded plays a very major role in determining the nature of service to be offered. In this company, all shredding is done with respect to the set industry laws and standards such as HIPAA and FACTA.
Therefore, you are fully guaranteed that all your information will be safe on your hands. Unlike other shredding companies, this one allows homeowners to rent shredders, as well as providing them with drop-off service. This means that clients can bring in their documents packed perhaps in a box so that they can get shredded. In addition to that, once a client contacts them, they can also go to the client directly and pick up the shredding documents by themselves. On such occasions, their truck comes to your home, takes the documents, and locks them in a bin before they ate taken to an off-site shredding facility for shredding. Click here to visit Shred Nations' official website.
PROS
The shredded materials are well disposed.
They rent shredders to clients.
They give clients a certificate of destruction after shredding material for them.
CONS
Their services are not available in a number of states.
How To Choose The Residential Shredding Services
As we speak, there are a number of residential shredding services that you might come across. In fact, the number of companies offering these services is on the rise with the high demand for residential shredding services. When it comes to services delivery, these companies are different. Sometimes, you might be spoilt for choice when it comes to service selection. The good news is that this guide will help you when it comes to the selection of these companies:
1. Customer service
To start with, customer service is normally overlooked by many companies out there. However, this is one of those critical factors that show that the company minds the welfare of its customers. Ideally, your company of choice when it comes to residential shredding services should have good customer service.
In fact, your company of choice should have a live chat platform where a customer can post his or her queries. Also, there should be an email platform where the customer can post any query or issue he or she might have regarding the service offered. The customer support team should always be ready to respond to these queries 24/7. The more available they are, the better the service.
2. Efficient service
Besides having a good customer service team, your company of choice should offer fast and efficient service. This means that they should take the least time possible to offer these services. By doing this, you will have ample time to attend to other critical issues you might have in your home or business. Ideally, they should get the job done right by ensuring that all your documents are securely and properly disposed of, within the right timelines.
3. Ability to offer flexible shredding services
Different people normally have different needs when it comes to document shredding services. For some, they might opt to hire these services on a fortnight basis while others might opt to hire these services on a weekly basis. Depending on your needs, your company of choice should be in a position to offer flexible services.
By choosing a flexible company, you can be sure that you will not be overpaying for services that you do not need. Also, it helps you come up with a schedule that works for your company. This way, you will be able to avoid any unnecessary inconveniences and stress. In fact, you are bound to enjoy some peace of mind once you choose a company of this caliber.
4. Prices charged
The last time we checked, prices and quality of service go hand-in-hand. If you want high quality services, you should be ready to part with more money. While this might be true, you can still enjoy high quality services at an affordable price. Therefore, the company offering residential shredding services to your should charge affordable prices so that you can get the value for your money. Sometimes, you can ask for a discount and save more money in the long run. As you focus on the price charged, you should allow the service offered to be compromised whatsoever.
5. Data security compliance focus
Your residential shredding company of choice should understand the laws that govern how document shredding should be done. Ideally, it should be knowledgeable about information security legislation and best practices in a bid to protect your reputation.
6. Secure chain of custody
It is important to ensure that your company of choice has a secure chain of custody from collection to destruction. Ideally, the company should shred the entire document in a secure area where the security-screened specialist is the only person with access to your confidential data.
7. Does the company issue a certificate of destruction?
Some shredding companies normally issue this certificate to all their clients at the end of the shredding exercises. However, there are other residential shredding companies that do not offer these services out there. This can be detrimental.
Ideally, it should issue this certificate for your records. It is actually proof that your documents were securely destroyed. In case, you are audited, there will be a paper trail indicating that you were proactive when it comes to information security.
8. Ability to recycle all the shredded documents
Your shredded documents should not be disposed of anyhow out there. This can actually pollute the environment. With a lot of emphasis being put on how to conserve the environment, your company of choice should be able to recycle all the shredded documents well. By doing this, the company will go a long way in making a positive impact on the environment.
9. Years of experience
Some of the companies offering these services started a few months ago. However, there are others that started several years back. If your company of choice has been in operation for many years, you can be sure that you will get excellent services. in fact, the more years of experience the company has, the better for you.
10. Is it certified?
When hiring a residential shredding company, you should ensure that it has information security certifications and accreditations. For optimal results, the company should be AAA certified by NAID. You should not hesitate to ensure that the company has a genuine log on its website.
By being certified, it shows that the company is qualified and has trained staff who will shred all your confidential documents while at the same time, protecting your privacy. Besides being NAID certified, it should be PCI compliant.
11. Is the shredding services company insured?
Sometimes, the staff that offers residential shredding services can be negligent in their line of duty. This can be detrimental as your confidential information might get into the public and cause further damages.
To mitigate this, the company of choice should be well insured. With General Liability insurance, you can be sure that if your document shredding provider causes damages to your property, or someone gets injured in the process, there will be compensation that will follow it.
12. How reputable is the shredding services company
Finally, your company of choice should have a good name out there. A company that has an excellent reputation will offer incredible services to you. Ideally, the company should be well-established and have a good track record of helping individuals improve their information security.
Frequently Asked Questions (FAQ)
What items cannot be shredded?
There are a number of items that cannot be shredded. These include anything containing metal or any metallic alloy. This includes items made of steel, iron, copper, brass, and so on. Also, electronic items such as hard drives and printers cannot be shredded. Extremely hard plastics or rubber can also be difficult to shred. Finally, anything that contains magnets can be hard to shred.
Where can I shred my papers for free?
There are some shredding events that benefit local charities and nonprofit companies. Here, you might have an opportunity to shred documents for free. Instead of paying a small fee for this exercise, you might be asked to make a small donation to a local organization.
How do you destroy a document without a shredder?
Although using a paper shredder is one way to destroy a document, there are other ways to shred a document that you do not need. These include burning, pulping, recycling, soaking them in water, mulching, and composting.
Can I burn papers in my backyard?
Yes. You can go ahead and burn papers in your backyard. However, this is only acceptable if you do not cause disturbance to your neighbors. In fact, there should be a minimal amount of smoke as you burn the papers. By ensuring that the paper is dry and the fire is well aerated, you can be sure that there will be minimal smoke.
How much does it cost to shred documents at UPS?
For your documents to be shredded at the UPS store, you will only need to pay $1/lb.
How much does shredding cost at FedEx?
Here, you will be charged $1 per pound. You will note that Shred Bull is normally charged by the banker box, where you will be charged $10 per 25lbs or 0.25 cents per pound.
How much does a mobile shredding truck cost?
You will note that that the cost of shredding on site usually varies by region. However, on average, it normally costs $100 to send a mobile shredding truck to your location to offer the much-needed shredding services.
Closing Thought
Residential shredding services have proved to be very effective for many people out there. Here, you will have a chance to destroy all those personal documents that you do not need back at home. Since these documents will securely shred, you will have some peace of mind as your confidential information will not get to the public.
Also, the above-mentioned ideas will help you choose a reliable shredding service provider to serve you. Consider hiring the above-mentioned residential shredding services today and you will enjoy more convenience.