When it comes to industrial activities, safety is a very important issue. From wearing the right gloves when working to wearing the right pair of shoes, there are many ways of enhancing industrial safety in the workplace. However, did you know that head protection is the most important? This is because there are many scenarios where employees got injured on their heads in their line of duty. To avert such unfortunate incidents, hard hats have become one of the most important personal protective equipment an employee must have when working. These hard hats, commonly known as helmets, come in various sizes designs and even colors. One of those common hard hats that you are likely to find in most workplace is the pink hard hats. This article will shed more light on pink hard hats and various considerations you should make when choosing one out there.
What Does a Pink Hard Hats Mean?
As we mentioned earlier on, hard hats have come common personal protective equipment in the workplace. However, these hard hats come in different colors, from white to grey. Although the other colors are common, you might be surprised to find an employee wearing a pink hard hat. The pink hard hats is very common among female workers.
If you notice a certain employee is wearing this hat, chances are that the employee is a female worker. The pink hard hat makes the women more visible in the workplace. Since women cannot get enough of pink, this hard hat has become one of the favorite PPE among female employees.
The 6 Best Pink Hard Hats
Since there are different models of pink hard hats, there is need for you to choose the best so that you can optimize the safety of your head. Some of the best models that will not disappoint you include the following:
1. ERB 19199 Americana Full Brim Mega Ratchet Pink Hard Hats
Made by ERB, this hard hat is pink in color and is made of high density polyethylene. With this hard hat, you can be sure that you will enjoy protection from harsh weather elements including the hot sun and rain.
Besides this, the hard hat comes with quick-slide suspensions adjustments from sizes 6 ½ -8. Without removing the helmet, each turn of the ratchet known automatically locks with 50 meshing teeth securing the position.
Its no-slip hold usually maintains the desired fit even in the most physically active jobs, or even extreme weather conditions. You will note that the hinged ratchet fits low on the nape of the neck and is height-adjustable for it to fit properly.
The good news is that the ratchet mechanism is cushioned with thick sponge padding for it to be more comfy. It accommodates a chin strap and comes with a 4-point woven nylon suspension. Finally, the hard hat is made in USA meets the ANSI z89.1 Type 1, Class C,E & G requirements.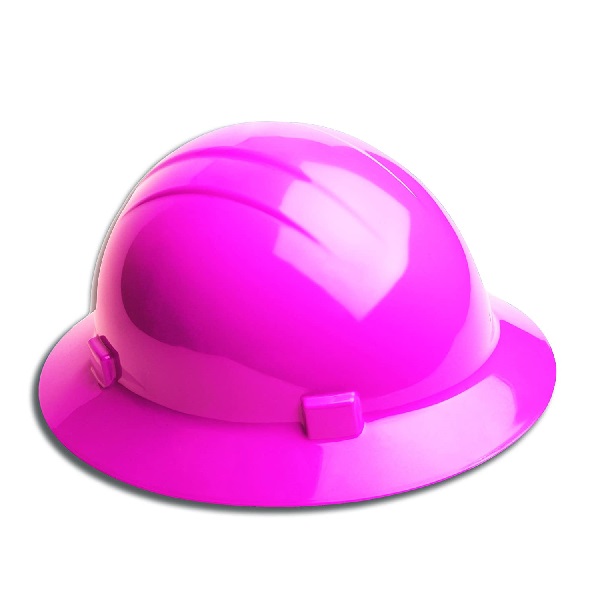 PROS
They are light in weight and confortable.
They are made of durable materials.
Adjustable for perfect fit.
CONS
Mostly linked to women only.
2. Pyramex Ridgeline Full Brim Pink Hard Hats
The above-mentioned helmet is built for the toughest jobs with the ultimate style and comfort. To start with it is constructed from ABS material which is strong and yet ultra-light for weightless protection. Besides being made from a strong material, the helmet comes with a ratchet suspension which makes it easy to adjust and thereby allows the user to modify the fit while he or she is wearing the hard hat.
The hard hat comes with a replaceable soft brow pad, hand-bands, and suspensions. Its 4-point suspensions can actually be converted to a 6-point suspension with the HP6PTSUS. The low profile of the Ridgeline allows for a more natural and comfortable and secure fit that sits lower on the crown of your head.
Therefore, you will enjoy better coverage than you would when wearing a high-profile sitting hard hat. Finally, the hard hat will not disappoint as far as quality requirements are concerned as it meets the ANSI Z89.1-2009 standards for Type 1, Class C, G, and E.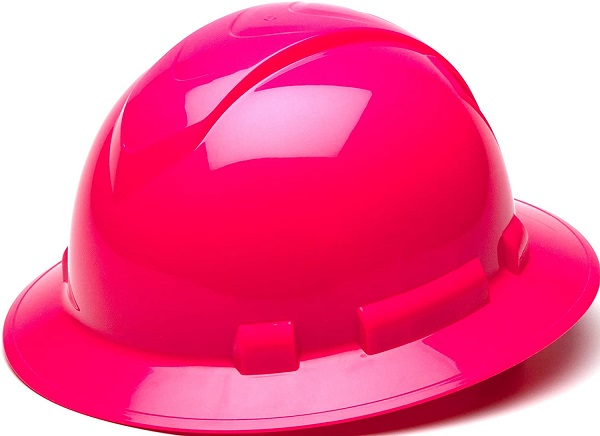 PROS
Perfect value for money.
Adjustable for comfortable fit.
Made of durable materials.
Light and comfortable.
CONS
It lacks ventilation slops.
3. ERB 19769 Americana Cap Style Pink Hard Hats
If you are looking for a pink hard hat made from high density polyethylene, this is the ultimate hard hat for you. To put it into perspective, it comes with fluorescent pink color. Besides having this color, the hard hat comes with a 4-point woven nylon suspension.
It also features a short peak and trims profile. Apart from this, it comes with a moisture wicking brow pad which is removable, washable, and replaceable. This makes it a better choice compared to other models out there. Its accessory slots can accommodate a wide variety of eye, face, and hearing products. Therefore, you can be sure that your head's safety will not be compromised whatsoever.
The hard hat also features a functional rain trough and accommodates a chain strap. Its suspension has retaining slots for your goggles. Its Slide-Lock suspension makes it easy for the user to adjust over 40 different head sizes between 6-1/2 and 8.
You will note that the material used makes the suspension materials is specifically formulated for utmost strength and comfort. In addition, it provides a smooth friction-free sliding action. As far as quality is concerned, this hard meets ANSI z89.1 -2009, Type 1, Class C, E, and G requirements.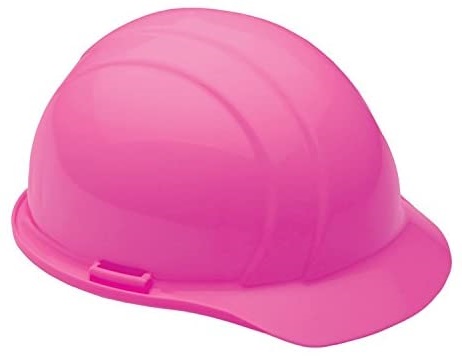 PROS
Warm and comfortable.
Durable materials.
Affordable with great value for money.
Its easy to adjust and wear.
CONS
Its only available in adult size.
4. Portwest PV50 Peak View Protective Vented Pink Hard Hats
To start with, this construction hard hat is made from extra-strong yet lightweight translucent polycarbonate material that allows you to see through the peaks and sides of the work hat. You can be sure that you will be able to do this seamlessly, without having to maneuver your head by a large margin.
As far as practicality is concerned, the above-mentioned full brim hard hat will guarantee you the much needed safety and comfort at the workplace. This is because it comes with a vented design that allows increased airflow around your head. As a result, you will not sweat profusely while working due to overheating.
In addition, the safety hard hat conforms to the UV protection standards. Therefore, you can be sure that you will be safe from the harmful UV rays, from up to 400 nanometers. This feature makes it ideal for use outdoors even when the sun is scorching. The adjustable buckle harness will ensure that the hard hat provides a secure fit whenever you wear it. In fact, it features a 6 point adjustable textile harness ranging from 50 to 66 cm.
Moreover, its soft foam sweatband will offer much-needed comfort whenever you are wearing the hard hat. Finally, the material used to make the hard hat is 100% polycarbonate and is available in an array of translucent shades such as blue, smoke, clear, green, red, orange, and even pink.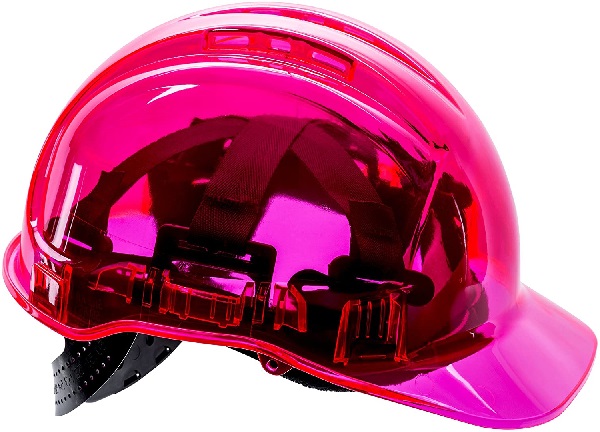 PROS
Classy and stylish.
Light on head.
Easy to asust and use.
CONS
Complains that its internal part is not made of quality materials.
5. RK-SAFETY Adjustable ABS Climbing Helmet
Are you looking for a versatile pink hard hat? The above-mentioned hard hat is the best choice for you. You will note that is designed for climbing, riding, and even construction activities. Besides being versatile, the hard hat comes with a 6 point suspension and features an adjustable strap. Therefore, you can be sure that it will be comfortable and will fit well when in use.
Apart from this, the hard hat comes with high impact ABS and allows air to ventilate through it. Therefore, you will not have to sweat a lot when using this hard hat due to excess heat. As far as its construction is concerned, it is made of a high density polyethylene material.
This hat meets all the quality requirements and is lightweight. In addition, it is risk free and will be delivered to you once you purchase it. This way, you will be able to get the value for your hard-earned money.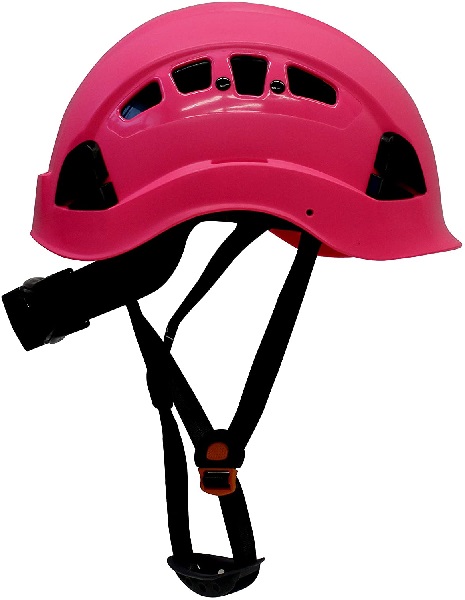 PROS
Has ventilation slots.
Comfortable and light.
Perfect fitting.
Available in a variety of colors.
CONS
Costly than most hard hats.
6. Child's Pink Hard Hats
In as much as adults need to wear hard hats, kits also need to maximize their heads' safety. One way to achieve this is by getting him or her a child's hard hat. The child's pink hard hats mentioned above is designed for children between the age of 2 and 6 years. However, there is larger size fits ideal for kids who are between the age of 7 and 12 years.
The above-mentioned hard hat can stand up a lot of tough and tumble abuse without getting damaged. This is because it is made of durable ABS construction. You will note that ABS is the material used for real construction helmets. It is capable of holding up to extreme temperatures and offers much needed resistance from heat and chemicals and so forth.
Besides being strong in nature, it comes with an adjustable headband and a chin strap. In fact, its 6 point, fully adjustable suspension makes it comfortable for kids to use it. Its removable chin strap will go a long way in ensuring that the hat remains in place even when the kid is active out there.
This pink hard hat comes with a removable and washable sweatband. This way, the helmet will remain clean and hygienic for your kid. Finally, the hard hat comes with a 1 year full replacement guarantee. This means that if anything goes wrong with the hard hat, you will be able to get a replacement within a full year, after purchase. It is simply an incredible hard hat for your kid.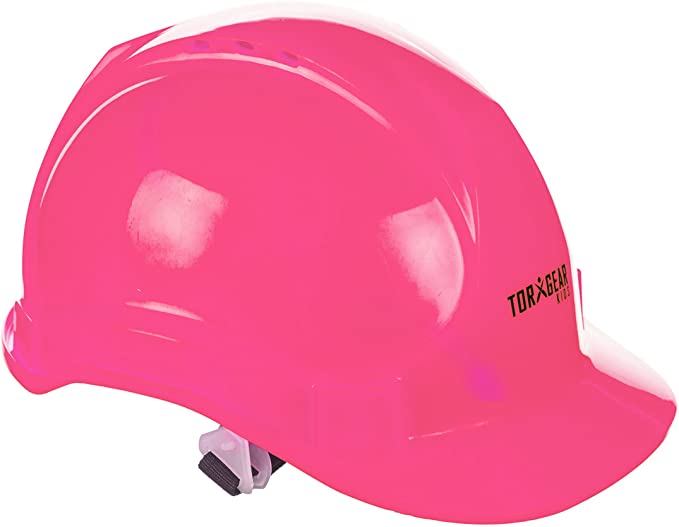 PROS
Has removable sweat bands for easy cleaning.
Has adjustable chin straps fot comfort.
Made of durable materials.
CONS
Only designed for children.
Features To Look Before Buying Pink Hard Hats
1. It should be comfortable
Your hard hat of choice should be comfortable to wear. Since you might have to wear the hard hat for longer hours, there is a need for you to ensure that your hard hat is comfy enough. Fortunately, with today's innovations in headgear and composite materials, these helmets have never been more comfortable. Ideally, your hard hat of choice should have ample webbing built into suspension. Also, it should have some sort of padding for maximum comfort.
2. The hard hat should be light
Wearing a heavy hard hat can be very tiring especially if you have to use it for longer hours. To be on the safe side, you should ensure that it is light enough for you. For it to achieve this objective, it should be made of composite material or even ABS plastics. These materials are not only light but also more durable.
3. It should be ANSI approved
Your head hat of choice should be ANSI Z89.1-2014 approved. You will note that industrial head protections are normally classified as Type 1 for top protection and Type II for lateral impact.
Besides this classification, there are other several class ratings such as G for general, E for electrical, and C for conductive. Therefore, you should be sure to read the standard and analyze your work environment and then choose the right type and class hard hat that you need.
4. Suspension mechanism
The suspension system is a very important factor that you should consider when choosing the best hard hat for your specific needs. You will note that hard hat suspension normally comes in two types. These include:
Pin-lock suspension
Ratchet suspension
Hard hats that have a pin-lock suspension normally have a locking mechanism that can be compared to a regular belt. For you to adjust this kind of hard hat, you need to take it off and then lock the pin to the appropriate hole.
On the other hand, hard hats with a ratchet suspension normally come with a quick ratchet-adjusting knob. For you to loosen or tighten this hard hat, you will need to turn the knob without removing the hard hat from your head.
5. Price
Some pink hard hats will cost an arm and a leg. However, you will find others that will be relatively cheap. If you are operating on budget, you should consider going for the cheaper models that have quality features. This way, you will save more in the long run. Better still, you can ask for a discount and you will save more when buying these hard hats.
Recommended Article
Frequently Asked Questions (FAQ)
Does a hard hat have an expiration date?
Yes. However, 3M recommends that you should replace your hard hat after every two to five years depending on your work environment. In fact, hard hats that will technically expire after 5 years, should be replaced after 2 years of heavy use. By replacing the hard hat, the user will optimize his head's safety.
How often should you replace your hard hat?
Ideally, you should replace it after 3 years. However, there are people who replace their helmets after 2 years. This is still fine as long as the helmet does not last beyond 5 years when in use, you will be good to go.
Sometimes, the hard hat might still be in a good condition even after 5 years of use. However, the material normally deteriorates over time and can become ineffective in the long run. Therefore, to be on the safe side, you should replace it after 3 years.
Are stickers allowed on hard hats?
Well, it depends on the kind and nature of the sticker you want to put on the hard hat. Pressure sensitive and non-metallic stickers are acceptable. Also, tape with self-adhesive backing is acceptable in modern-day hard hats.
However, as you purpose to put stickers on the hard hat, you should not use them to cover up the hard hat damage. In addition, it is advisable that you place stickers at least ½ inch from the edge of the helmet.
Closing thoughts
The pink hard hat is one of the indispensable gears that one cannot fail to have at the workplace. With this personal protective equipment, you will be able to keep head injuries at bay. Since you will be safe when working, your productivity will increase. All you need to do is to choose the right pink hard hat and you will be good to go. The above-mentioned guide has outlined the best pink hard hats you should purpose to buy. Invest in these pink hard today and you will get the value for your hard-earned money.